Rays lament missed chances with bases loaded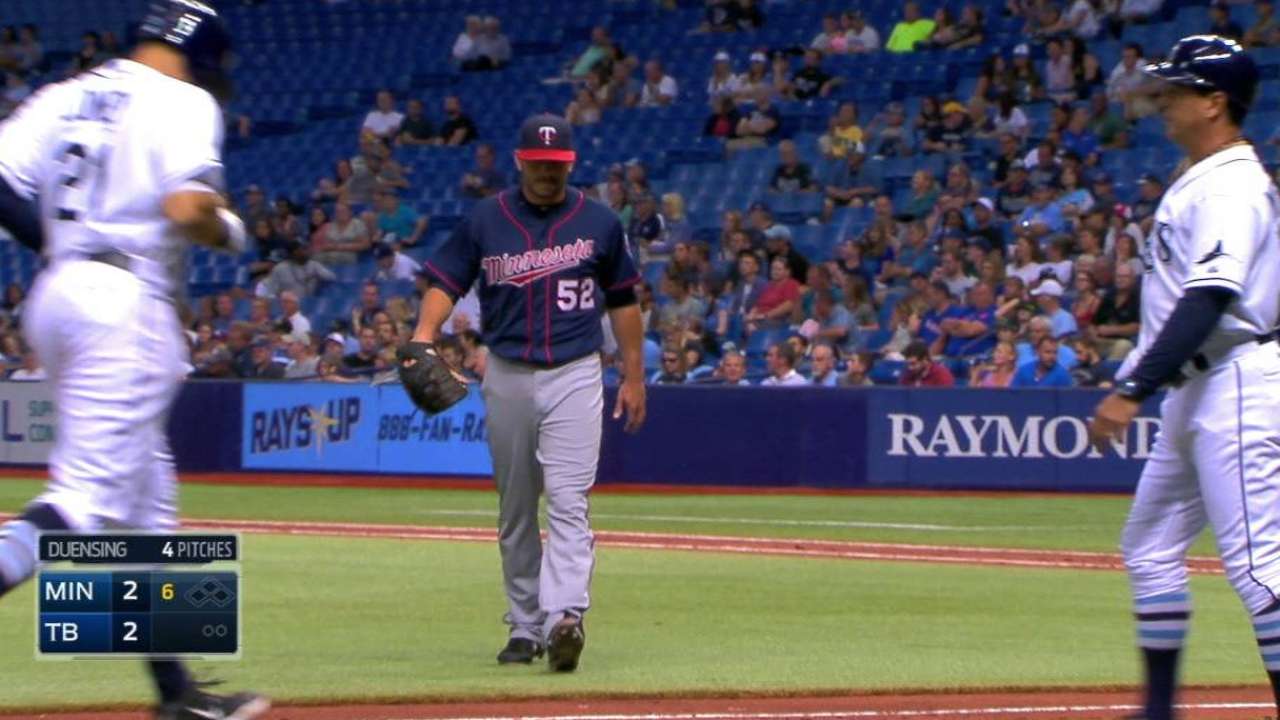 ST. PETERSBURG -- Opportunity came knocking for the Rays on Wednesday night, they just couldn't open the door.
Those missed chances added up to a 5-3 loss to the Twins at Tropicana Field.
"Disappointing loss to say the least," Rays manager Kevin Cash said. "We've talked about it time and time again, when we get opportunities to score you gotta find a way somehow to get those guys across. We did not. We left the bases loaded a couple of times. We got the runners out there."
At the end of the night the Rays went 2-for-11 with runners in scoring position and they left nine runners on base. The way those numbers came to be was the frustrating part.
The Rays had bases-loaded situations in the fourth, fifth, and sixth innings and came away with just two runs despite seven hits, including a home run, a triple, and a double along with four walks. Of those innings, the sixth hurt the most as they loaded the bases with no outs and the score tied at 2, but came away empty handed.
Rene Rivera was the first to hit in that fateful sixth-inning situation and Twins starter Tyler Duffey retired him on a foul pop to first on his last pitch of the evening.
Given Rivera's lack of offensive firepower this season, Cash was asked if he considered pinch-hitting for his catcher.
"I don't know who we really had off the bench right there," Cash explained. "And being a no-out situation, you hate to lose your catcher with [Chris Archer] out on the mound. [Rivera is] the guy he's thrown to predominantly the whole time. So in that situation, no."
While he did not consider pinch-hitting for Rivera, Cash was not pleased with his at-bat.
"[Rivera's at-bat] obviously [was] non-competitive basically," Cash said.
Rivera said he was "just trying to put the ball in play."
"[Duffy] pitched me good," Rivera said. "His cutter was a pretty good pitch. Just trying to get contact. They were playing the infield in so I was trying to get something over the heads of the infielders."
Brian Duensing replaced Duffey and retired Daniel Nava on a popout to second base. Pinch-hitter Brandon Guyer then flew out to left to end the threat.
"You got bases loaded and no outs and they get three outs and you don't score a run, that hurts," Rivera said. "We had a couple of more opportunities in the game to score some runs."
That empty frame would bite the Rays, turing into a swing inning that saw the Twins take a 4-2 lead in the top of the seventh to put the game on ice.
"We're better than that," Cash said. "And I think we know for us to win games going forward we have to make the most of those opportunities when guys are getting on base. It doesn't matter where you're hitting in the lineup. Everybody has roles and jobs to do. If your job is to move the ball, move the ball."
Bill Chastain is a reporter for MLB.com. Listen to his podcast. This story was not subject to the approval of Major League Baseball or its clubs.