Mets tie club record with 40th HR of month
Cuddyer blasts two-run shot into second deck in 8th inning vs. Phillies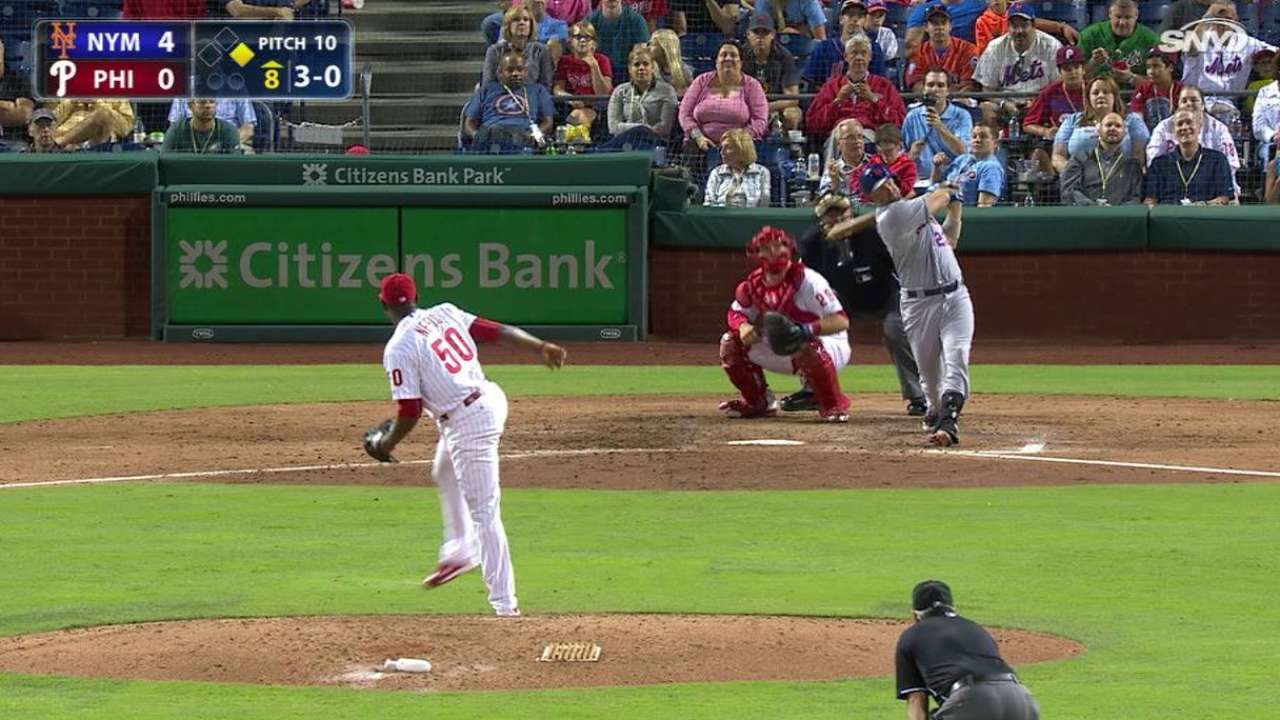 PHILADELPHIA -- Bat struck ball and a few seconds later, Michael Cuddyer's two-run homer settled into Citizens Bank Park's upper deck -- a no-doubter, which Statcast™ projected to land 424 feet from where Cuddyer stood. Yet there was no use ogling it either during or after the Mets' 9-4 win over the Phillies on Wednesday night. The team, after all, is used to this sort of thing.
Cuddyer's eighth-inning homer was the Mets' 40th of August, tying the franchise record for any month that they set in June 2006. And they still have five games left in August.
"You get in the middle of the lineup and you get around some of those guys, in my opinion, there's not a guy who's an easy out," manager Terry Collins said. "Not a guy. They can all hit a homer. They can all be dangerous. And it's nice to have that."
With a home run in each of his last two starts, Cuddyer is the latest guest at the party, but there have been plenty of others. Yoenis Cespedes has seven homers in August. Curtis Granderson has six. Daniel Murphy, Juan Uribe and Travis d'Arnaud all have four, and seven other players have all hit at least one.
As a team, the Mets are averaging close to two home runs per night since July 25, the day their offense transformed from the worst in the National League to the best. They lead the league in homers -- among many other categories -- since that time.
"When you talk about hitting being contagious, that's kind of what it is," Cuddyer said. "Once you get rolling, you stop putting the pressure on yourself. Earlier in the year, I think that's what we talked about and we harped on it: We were putting a lot of pressure on ourselves to score runs, get on base. This last month, month and a half, because we have faith and confidence in the guys around us, ultimately you take the pressure off yourself. And you have success."
Anthony DiComo is a reporter for MLB.com. Follow him on Twitter @AnthonyDiComo and Facebook, and listen to his podcast. This story was not subject to the approval of Major League Baseball or its clubs.