Shaw staking his claim at first base
Lefty's two-run shot breaks a scoreless tie in Chicago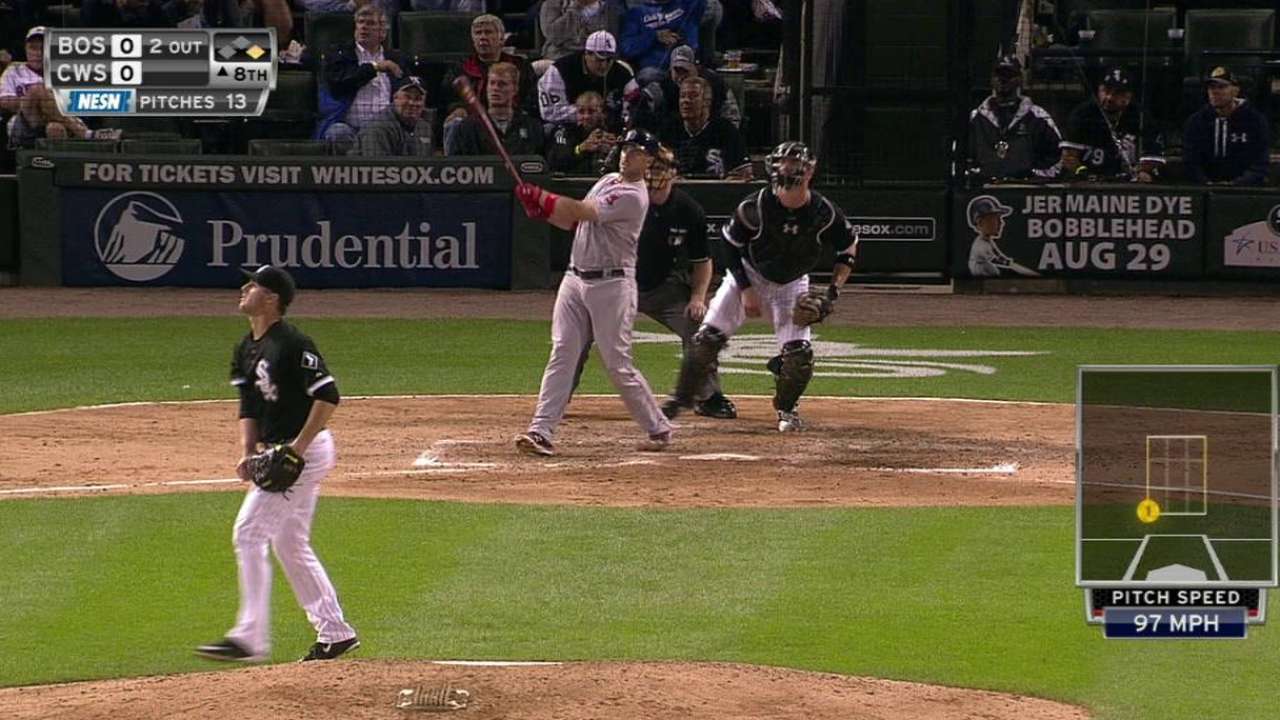 CHICAGO -- For the past two days, Hanley Ramirez has done pregame work at first base, opening up the possibility that he could claim that position for the Red Sox next season and beyond. But Travis Shaw can't worry about that.
All the lefty can do is continue to rake and provide moments like the one Wednesday night, when he crushed a two-run homer down the line in right to break a scoreless tie in the top of the eighth, leading his team to a 3-0 victory.
"No, not really, you can't look at that, that's out of your control," Shaw said of Ramirez's potential move to first. "So I just feel if I continue to do what I've been doing the last three weeks, I'll be in a good situation no matter what."
Since the Red Sox traded Mike Napoli to the Rangers on Aug. 7, Shaw has been able to claim first base and is producing better numbers in the Majors than he did at Triple-A.
Shaw has played 30 games for the Red Sox this season, belting seven homers in 93 at-bats. He is hitting .312 with a .947 OPS.
For whatever reason, nearly all of his production had come at Fenway Park until Wednesday.
On the road, Shaw is 3-for-35 for an .086 average. (It is too small a sample size to think that Shaw is only useful at Fenway Park.)
The 97-mph first-pitch fastball from Nate Jones that he crushed would have left the yard just about anywhere. According to Statcast™, the hit had an exit velocity of 108 mph and traveled 421 feet.
"It was a fastball in," said Shaw. "I was actually looking in. They've been pitching me in the whole series. I was looking for something in that I could drive. He left it kind of middle-in, and I was able to put a pretty good swing on it."
Shaw's performance won't go unnoticed by Dave Dombrowski, the new president of baseball operations for the Red Sox.
"I think everybody that's having success here and doing their job right now is going to be in a situation to be considered for next year, and Travis has done a great job," said interim manager Torey Lovullo.
Ian Browne is a reporter for MLB.com. This story was not subject to the approval of Major League Baseball or its clubs.