McCutchen elevating his game to new heights
All-Star center fielder homers, drives in four during Bucs' win over Marlins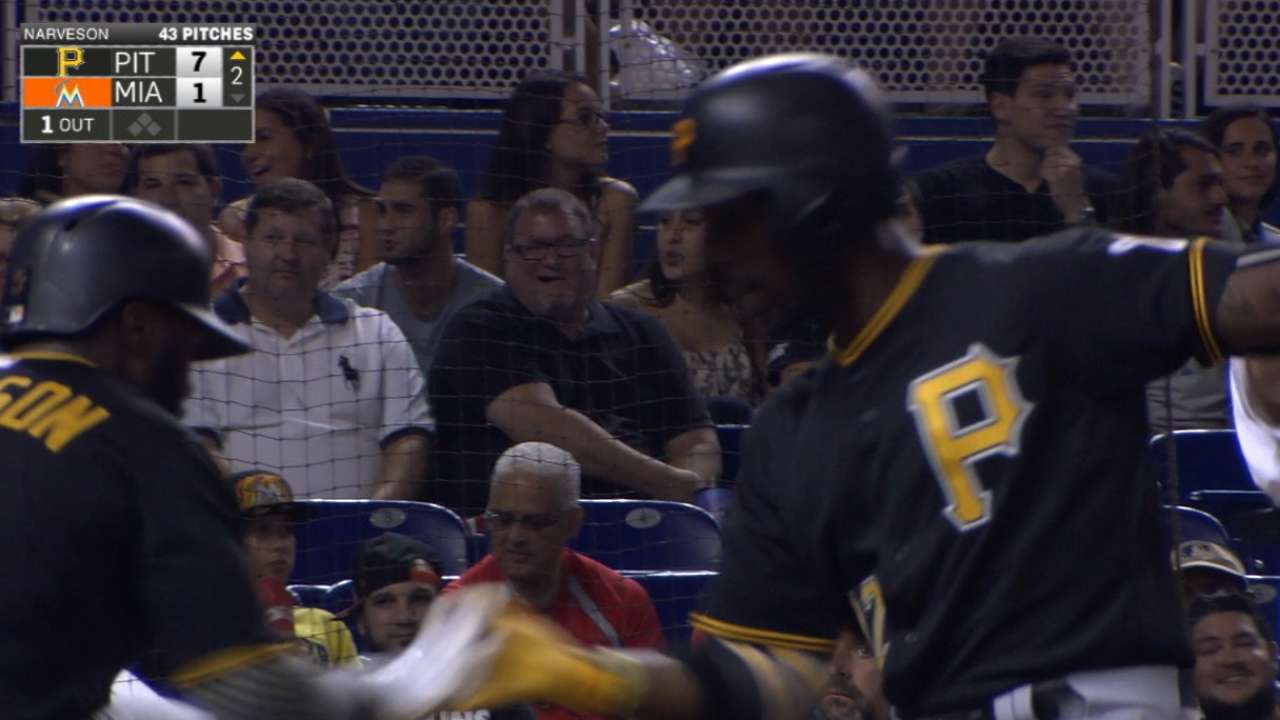 MIAMI -- It may be hard to believe, but Andrew McCutchen -- with a little help from his friends -- has found a way to take his offensive game to another level this season.
McCutchen's 20th home run of the season, a three-run laser into the left-field seats at Marlins Park, capped a six-run second inning in the Pirates' 7-2 win on Wednesday night. The 414-foot blast brought his RBI total to four on the night and 85 for the season.
That number may not be of any great significance on its own, but McCutchen has now driven in two more runs than he did a year ago, and one more than in his 2013 National League MVP campaign. He's 11 away from matching his career-high mark, and it's not even September yet.
"I just think I'm getting a lot more opportunities and I've been able to come through," said McCutchen who drove in another run Wednesday with a first-inning double to left field. "It's good. I just hope I'm able to keep that going."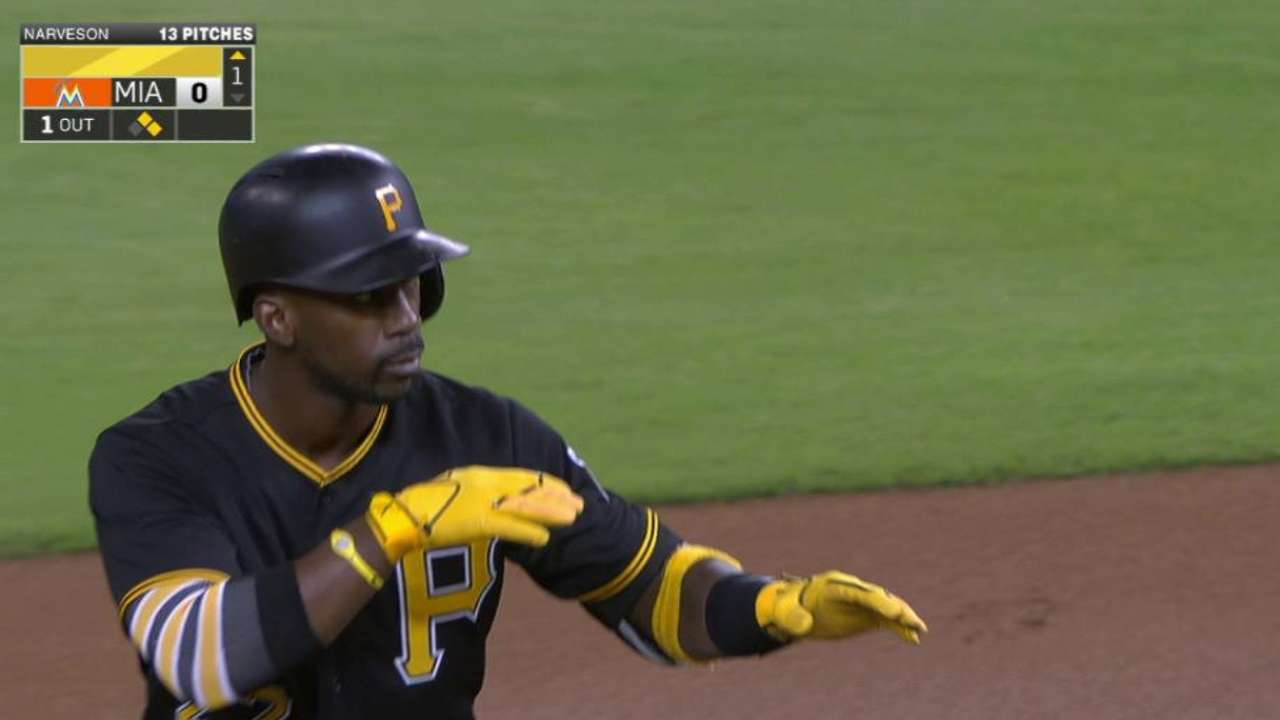 McCutchen has kept it going lately. He is now batting .329 in August, his fourth straight dominant month at the plate after getting off to a slow start in April.
"Just getting pitches and not missing 'em," McCutchen said. "That's it."
The RBI is not always a controllable stat, even for baseball's best hitters. Runners have to be on base in front of them, and they need some protection or teams are less likely to give them pitches to hit.
McCutchen believes he has benefited on both fronts this season. He usually has some combination of Josh Harrison, Neil Walker, Gregory Polanco and Starling Marte in front of him. Marte and Walker batted fourth early in the season, while Aramis Ramirez and Jung Ho Kang have spent more time there recently.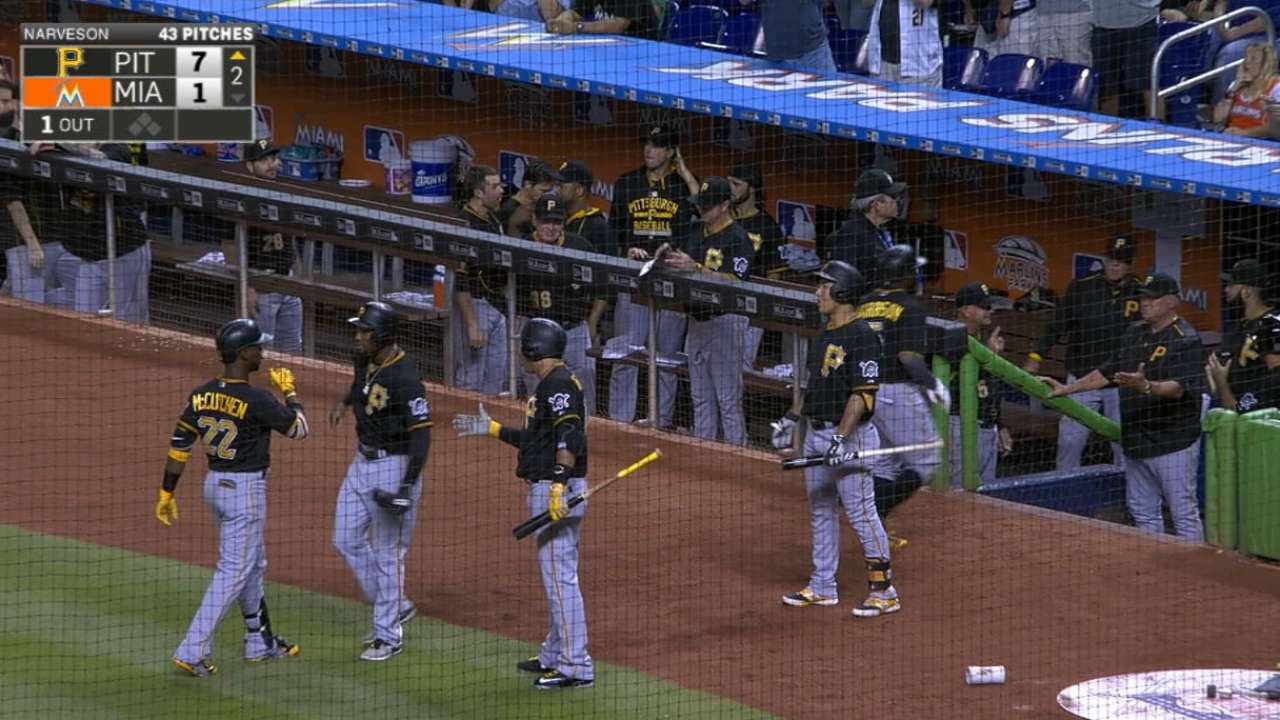 "Those guys are getting the job done, so it's making it easier for me to get more pitches to see," McCutchen said. "And I've been able to come through."
That has been the primary key to McCutchen's run production this season. His overall numbers -- a .300 average, .400 on-base percentage and .521 slugging mark -- are right in line with his career norms. But he has been better than ever at cashing in on scoring opportunities.
McCutchen is batting .394 with runners in scoring position, exceeding his already excellent career mark of .306 and putting him on pace for his first 100-RBI season.
"You look at the batting average with runners in scoring position," Pirates manager Clint Hurdle said. "Cutch is always looking to improve. I think that's one area.
"You like to believe we're getting guys on in front of him at a better rate than we have in the past, which gives him better opportunities."
Adam Berry is a reporter for MLB.com. Follow him on Twitter at @adamdberry. This story was not subject to the approval of Major League Baseball or its clubs.