MLB.com Columnist
Tracy Ringolsby
Tulo doing whatever needed to win
Veteran major reason for Blue Jays' surge to top of AL East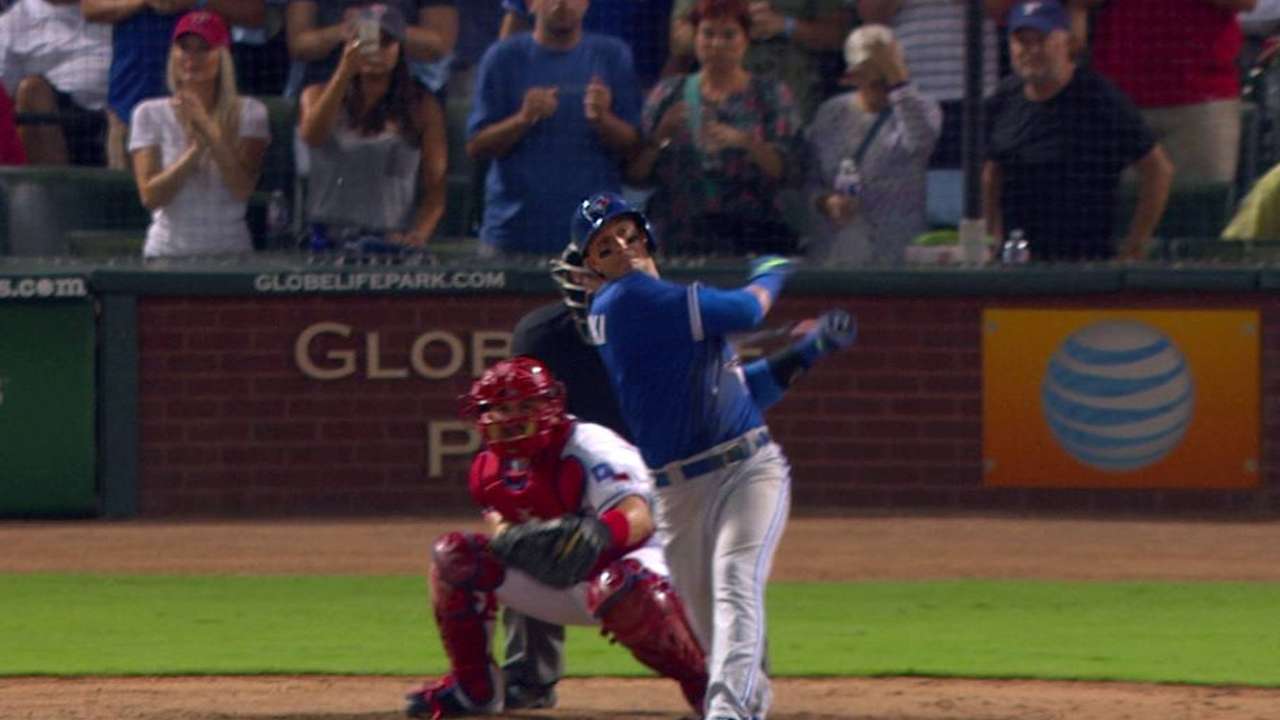 ARLINGTON -- Four weeks later, Troy Tulowitzki still feels unsettled. Oh, he's comfortable in the confines of the clubhouse, enjoys putting on a Blue Jays uniform and looks forward to the challenge on the field.
That's familiar ground, and Tulowitzki is a creature of habit. That's why those hours each day away from the ballpark have become a challenge.
The trade that sent Tulowitzki from the Rockies to the Blue Jays a month ago sent his world into a tizzy. Think about it.
In Wednesday night's 12-4 win over a Rangers squad that is in postseason contention, Tulowitzki was leading off and playing shortstop.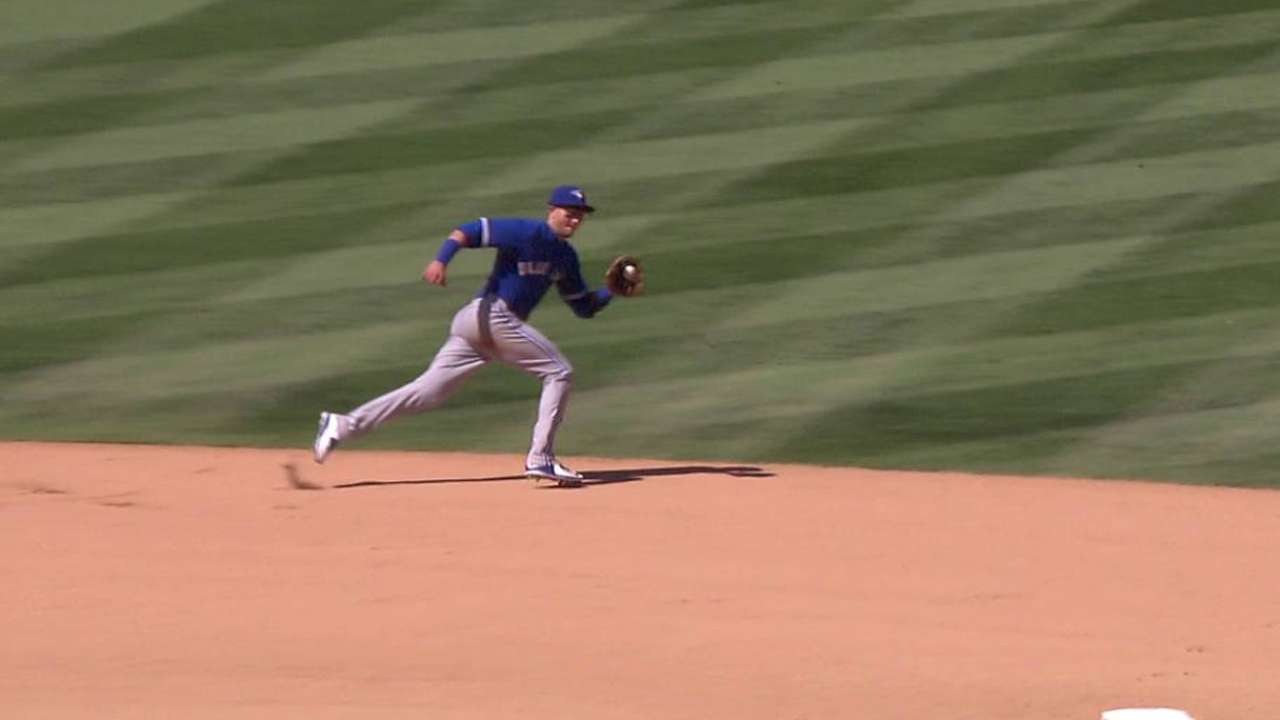 Four weeks ago, Tulowitzki was flying from Chicago, where he had played shortstop the night before for Colorado, to Denver so he could pack some bags and pick up his passport. The next day, Tulowitzki flew to Toronto to join his new team.
"The ballpark is the comfort zone," Tulowitzki said. "Everywhere else is shaky. It hasn't been easy. You just get picked up and thrown somewhere. It's a big blow to the routine. My routine starts when I wake up. We'd been in Denver a long time, had our dogs and home. Now we've been living in a hotel room."
Tulowitzki paused, shook his head and smiled. He is not complaining, understand. Tulowitzki was asked a question about the challenges of having spent more than 11 years in the Rockies' organization -- signing as their No. 1 pick in the 2005 Draft and debuting in the big leagues late in '06 -- and suddenly finding himself a Blue Jay, without warning.
"I'm not the first player that has had to deal with it," he said.
Tulowitzki is the first to admit things are awfully nice in his baseball world. He has gone from worst to first in four weeks of time. Tulowitzki has left behind a Colorado team that is 51-74, the worst in the big leagues, to join a Toronto team that has, in Tulowitzki's four weeks, risen from an American League Wild Card contender to first place in the AL East.
His teammates and manager John Gibbons feel the addition of Tulowitzki was a major factor in their surge.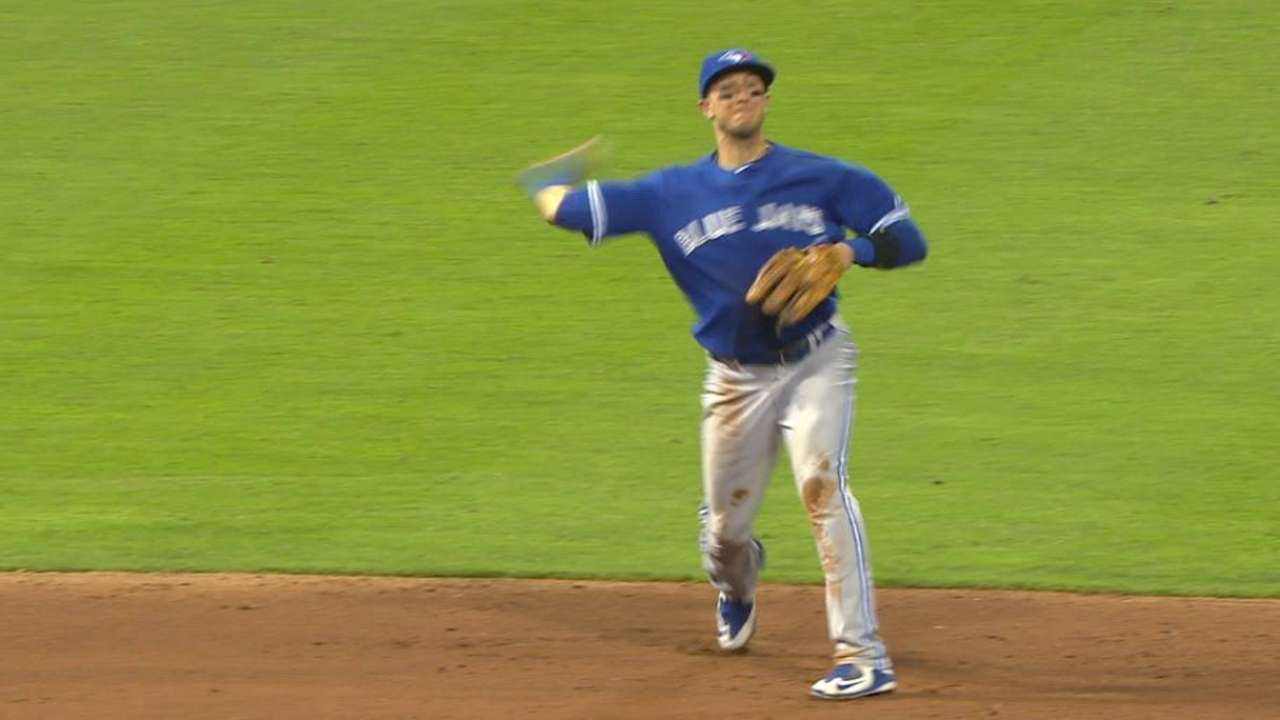 Nobody is downplaying the ensuing acquisition of David Price, a legitimate No. 1 starter. Reliever LaTroy Hawkins, who came with Tulowitzki from the Rockies, has provided leadership in a bullpen where 20-year-old Roberto Osuna is the closer.
Tulowitzki, however, is the guy out there every day, his presence and his spectacular defense providing a confidence that the rest of the team feeds off. Yes, he's hitting only .237 since his arrival.
"I wanted to fit in and make an easy transition, and maybe tried a little too hard," Tulowitzki admitted. "I wanted to go out there and have people say, 'Hey, that trade was good for the Blue Jays.'"
Thing is, as far as Toronto is concerned, Tulowitzki has done all of that.
"I love everything about him," said Gibbons. "Look at our record since he got here, and there are three games he didn't start."
The Blue Jays are 21-5 since Tulowitzki joined the team. They are 21-2 in games he has started.
"He hasn't done what he is capable of [offensively], but that's going to come," Gibbons said. "I'm not worried about that. There is so much more to him.
"Look at his defense. He's the best [shortstop] in the game. ... He is a professional guy who has been around. He goes out and does his job. He fits in really well."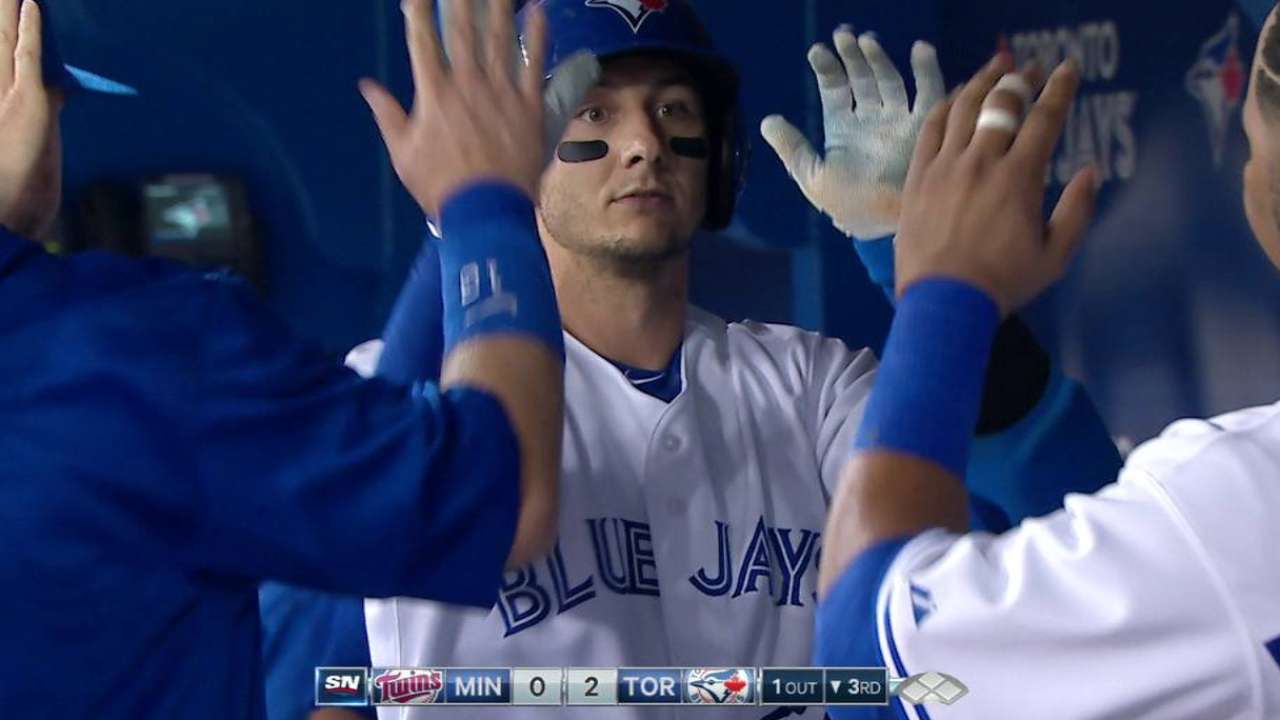 Truth be told, Tulowitzki's job has been simplified in Toronto. With Colorado, he was the face of the franchise. At the age of 30, Tulowitzki was looked at as the wise veteran, and he felt a responsibility that extended past his on-field play. The losing that has hung over the Rockies the past five seasons added to the challenge.
With the Blue Jays, Tulowitzki is merely a part of a veteran clubhouse. There is a lineup that includes designated hitter Edwin Encarnacion, right fielder Jose Bautista, catcher Russell Martin and third baseman Josh Donaldson, and a rotation with Price, R.A. Dickey and Mark Buehrle, each of whom has an All-Star resume.
"I've gone from the role of that veteran who takes care of his business, but also is a guy who is there to teach the young players the ropes, and help them learn to be big league players," Tulowitzki said. "Now I am another guy in the clubhouse.
"For so long, it was not like that [with the Rockies]. It's about team play. It's about a veteran presence being on the field and in the clubhouse."
And it is about being a part of a team approach.
"At times, when you are losing, the environment can make you selfish," Tulowitzki said. "You try to guard against getting to that point, but it can happen. When you are winning, it's easy to just focus on how to win the game, to not even think about what you did. Your whole focus is on what we did."
It's like accepting the role of being asked to hit leadoff, instead of in the middle of the lineup. It's something he had not done in his big league career, and did only briefly at Double-A Tulsa in 2006, but has been asked to do in all 23 starts with Toronto.
"I talked to him about hitting leading off," said Gibbons. "He had never done it before, and [as a manager], you know that can be an issue, because guys identify with certain likes -- like where they hit in the lineup -- so I didn't take that lightly."
Neither did Tulowitzki.
"He told me, 'Put me where you want me,'" said Gibbons. "He said he was here to do what we felt he needed to do for us to win."
And so far, the Blue Jays have done that, even though they know, like Tulowitzki knows, he is even better than what he has shown in his first four weeks as a member of this team.
Tracy Ringolsby is a national columnist for MLB.com. This story was not subject to the approval of Major League Baseball or its clubs.