Twin Cities kids thrilled by Play Ball event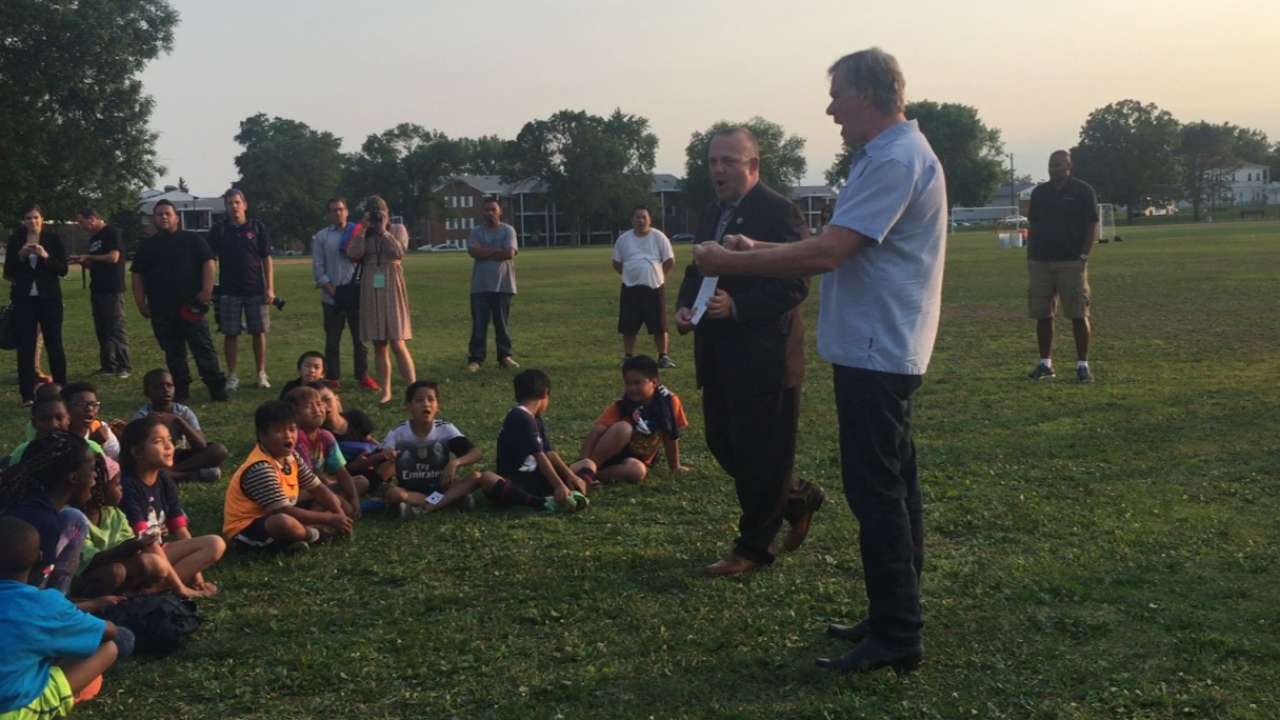 ST. PAUL, Minn. -- Twins first baseman Joe Mauer and manager Paul Molitor were more than 1,500 miles away from their hometown Wednesday night as the team took on the Rays in Florida, but around 60 other St. Paul ballplayers took the field back in Minnesota as part of the Play Ball initiative.
"I have said it many times. I think the capital of baseball in this state probably is St. Paul," Twins president Dave St. Peter said to a crowd of kids ages 8-14. "How can you not say that when you think of the history of baseball in this community and the number of great players that this city has turned out?"
Mayor Chris Coleman greeted the group of enthusiastic young players and formally proclaimed August "Play Ball Month" in St. Paul. More than 125 mayors around the U.S. are hosting activities this month in support of a collaboration between Major League Baseball and USA Baseball to introduce kids to the sport and to help encourage participation throughout the community.
Twins training camp instructors coached the kids for about an hour and a half. Many of the kids were soccer players, but despite that, seemed to accomplish the first goal of the night -- having fun -- while participating in a variety of different baseball drills.
Former Twin Al Newman, a two-time World Series champion with Minnesota, was also in attendance, lending his knowledge to the group. As a kid, Newman attended similar camps and clinics.
"We used to have guys come into the parks every now and then. We had somebody come and teach us how to try to throw and hit," Newman said. "It was just like watching the big boys play. It did inspire me, now when I look back on it, but at the time, it was just a fun afternoon."
Newman said one of the major things he learned was the importance of catching a ball. But more than that, Newman learned about the value of hard work. St. Peter, too, seemed intent on having the group learn lessons that can stretch further than just baseball and softball fundamentals.
"There might be the next Joe Mauer or Paul Molitor sitting out here, but you know what? In my world, and in my view, and I think in the view of Major League Baseball and Commissioner [Rob] Manfred, the great thing about baseball and softball and any game you play in terms of those rules is what it teaches in terms of life skills because, remember, the best baseball players, the best softball players fail probably seven out of 10 times and it mirrors life," St. Peter said.
Betsy Helfand is an associate reporter for MLB.com. This story was not subject to the approval of Major League Baseball or its clubs.