Dodge bat: Hernandez puts scare in Suarez
Los Angeles OF forces Reds SS to take evasive measures, as splintered lumber leads to double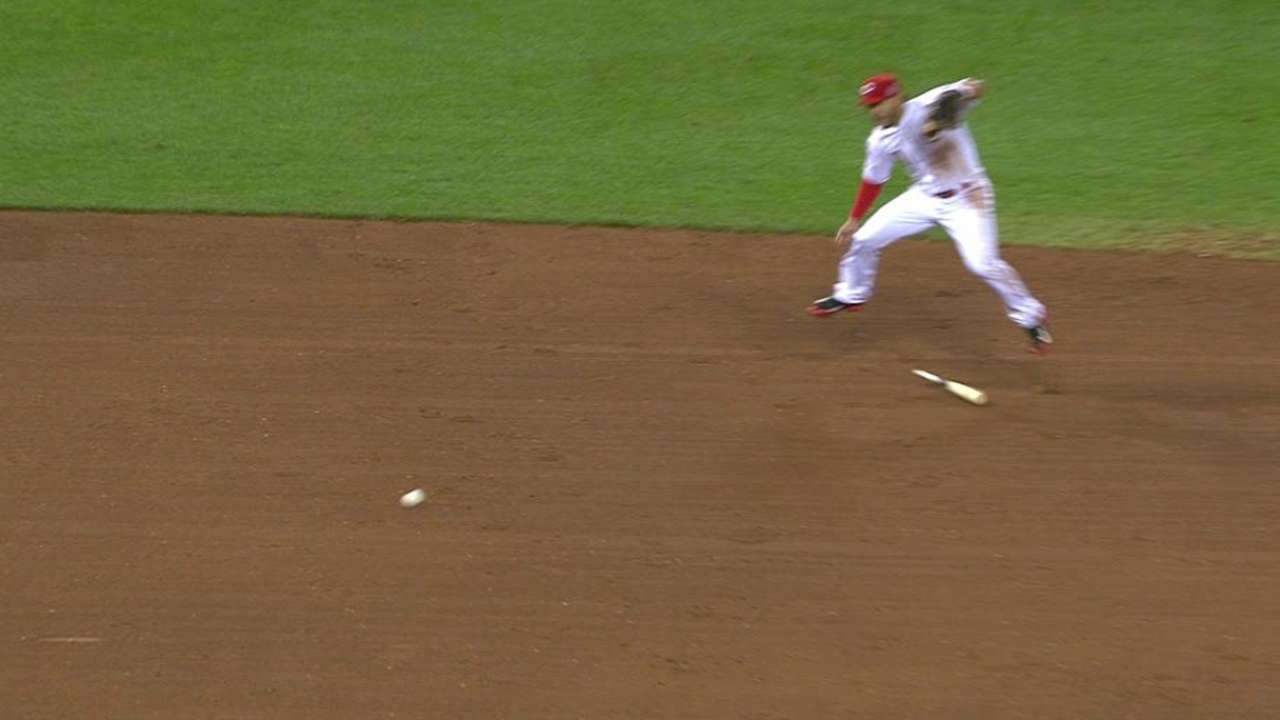 CINCINNATI -- Dodgers center fielder Kiké Hernandez gave new meaning to the term "broken-bat double" in Los Angeles' 7-4 win over the Reds on Wednesday night.
Leading off the sixth inning against reliever Pedro Villarreal, Hernandez hit what would have been a routine ground ball to shortstop if his bat hadn't separated, with the barrel aiming directly at the feet of infielder Eugenio Suarez along with the ball.
"I was yelling at the bat, 'Keep going, keep going,'" said Hernandez. "When I saw he got out of the way, I thought it might be a double. Jimmy [Rollins] hit a ball 100 miles an hour to first base and it was an out. Mine was a double. It's about being smart and placing the ball."
In self-defense, Suarez sidestepped the bat while the ball rolled into shallow left-center, with Hernandez sliding safely into second base ahead of left fielder Ivan De Jesus' throw. Hernandez, who earlier had two singles, was stranded at third base.
"That play, I've never seen that before," said Suarez. "That was crazy. The ball followed the bat. I tried to look for the ball, but I couldn't catch it because the bat was right to me. It scared me, too. The bat was at me harder than the ball. It came at me too hard."
Ken Gurnick is a reporter for MLB.com. This story was not subject to the approval of Major League Baseball or its clubs.