Robinson, Hoiles, Martinez attend Baltimore Play Ball event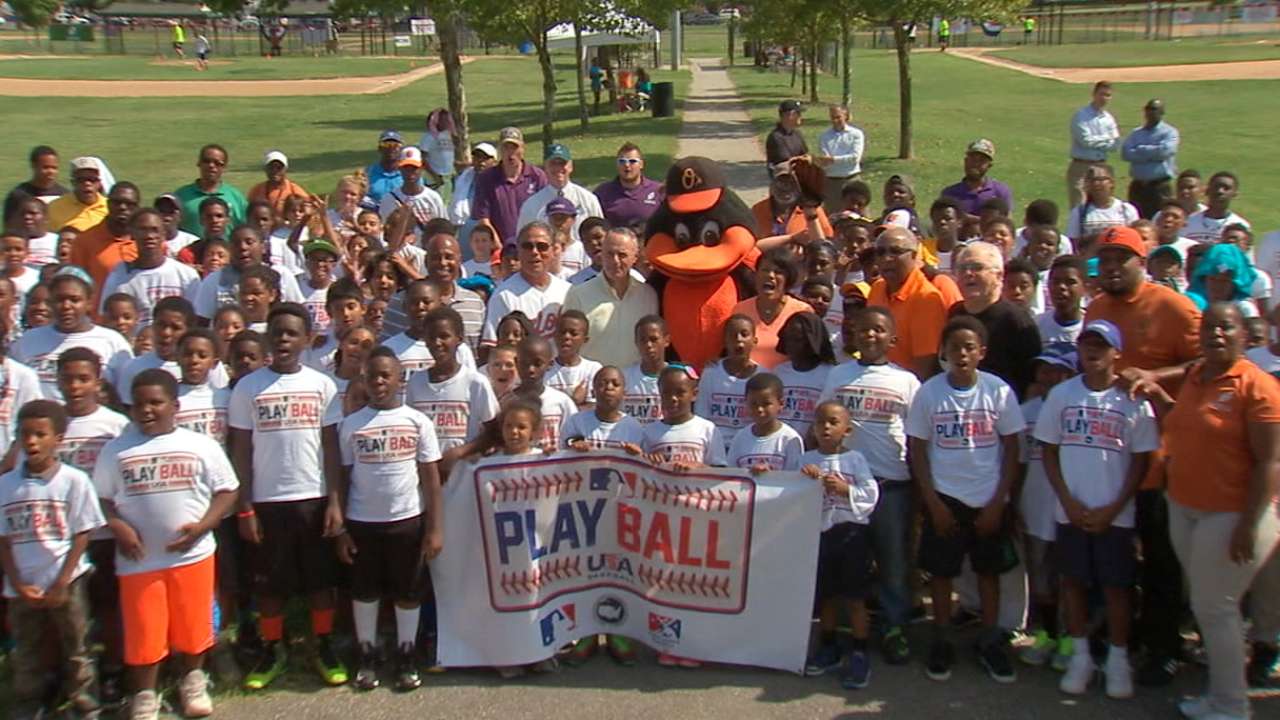 BALTIMORE -- The Orioles were playing on the road on Wednesday, but about a mile west of Camden Yards, the sounds of baseball were in the air.
More than 300 local children were hitting, pitching, running and fielding at Baltimore's Carroll Park as part of the city's Play Ball Month event. MLB Commissioner Rob Manfred and Baltimore Mayor Stephanie Rawlings-Blake were in attendance, and the participants received instruction from the likes of Hall of Famer Frank Robinson and fellow former Orioles Chris Hoiles and Tippy Martinez.
• See more photos from Wednesday's Play Ball Month event
Back in June, MLB and USA Baseball launched the Play Ball initiative to encourage boys and girls of all ages to participate in baseball and softball, whether in organized leagues or in pickup games and other activities with friends. After Manfred spoke at the U.S. Conference of Mayors that month, 125 mayors from across the country, including Rawlings-Blake, signed up to host events in their cities during August, making it Play Ball Month.
"I think that's a demonstration of how important baseball can be in communities, and I really can't think of a better partner than the Conference of Mayors on this project," Manfred said.
After an introduction from Rawlings-Blake, Manfred and others, the kids split up into groups, with each getting a turn at each station. Volunteers from Impact Sports led them through drills, such as pitching, racing around the bases and hitting Wiffle balls off tees.
"I hope that, if you look at the particular activities that we have the kids doing, they're the sorts of things they can do on their own, without a Little League coach, without uniforms, without an umpire," Manfred said. "That was the way we played baseball as kids, and I hope we can reignite that type of play among today's generation."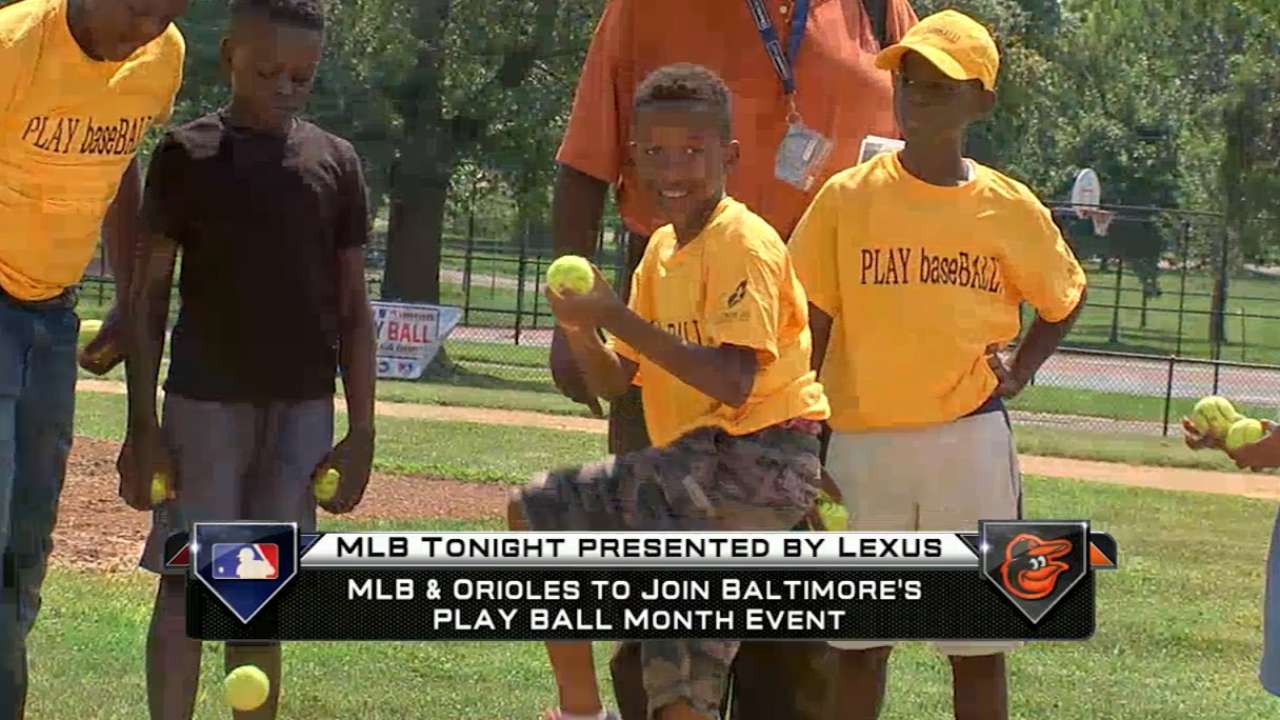 One of the kids taking part was 11-year-old Joseph Hatchett, who has been playing baseball for three years as part of the Baltimore City Recreation and Parks' Play Baseball program. Hatchett said he enjoys the game and wants to keep playing, and he was excited to come on Wednesday to see the mayor and try out the activities.
Hatchett's favorite station was hitting off a tee, where Hoiles, an Orioles catcher from 1989-98, passed along some advice that helped him smack a ball over second base.
"You have to keep your eye on the ball, and don't swing under it -- swing straight," Hatchett said.
Some of the kids even got tips from Robinson, who hit 586 home runs over 21 big league seasons before spending 17 more as a manager, most recently with the Expos/Nationals from 2002-06.
Robinson flew from Los Angeles to be at the event, a trip he said he made because he believes in the importance of the Play Ball initiative, as well as in the value of showing kids that Major League Baseball is invested in them.
"I think in the long run, it'll have a big impact," Robinson said. "Starting with the kids this young, and going with them step-by-step with our programs as they go along, will have a big impact and make things easier for them to be more interested in the game at a later date."
Martinez, who spent 11 years with the Orioles as part of a 14-year career, grew up playing baseball in La Junta, Colo., a town so small that it had only two traffic lights. If he could be discovered there, he believes, so could anyone.
"I'm glad they asked me to do something like this," said Martinez, who helped with pitching drills. "Because these are ballplayers, and hopefully we can find a diamond in the rough."
Whether or not any of the kids at Wednesday's event winds up playing at Camden Yards someday, Manfred hopes that through Play Ball and other programs, they remain involved in the game in some fashion.
"I really do believe that our youth initiatives, Play Ball in particular, are the most important initiatives that we have," Manfred said. "It's about the future of our game, both in terms of the quality of the talent we attract and in terms of the size of our fan base."
Andrew Simon is a reporter for MLB.com. Follow him on Twitter @AndrewSimonMLB. This story was not subject to the approval of Major League Baseball or its clubs.