MLB.com Columnist
Fred Zinkie
Herrera could provide waiver-wire value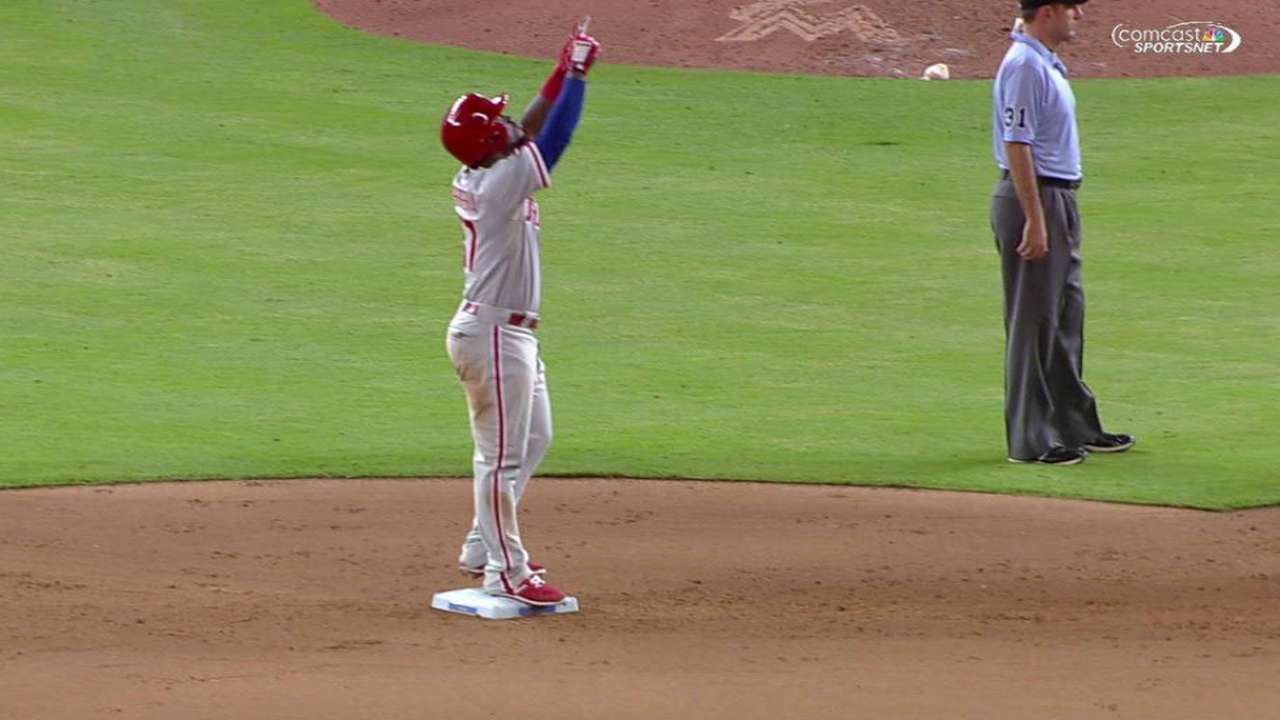 This week's collection of waiver-wire finds includes several sluggers, a speedster and a middle infielder who should be owned in nearly all leagues. Shrewd owners can also find some rarely considered two-start hurlers for the coming week and an under-the-radar reliever who has pitched his way into a closer's job.
Odubel Herrera, outfielder, Phillies
Since July 25, Herrera has hit .337 with 22 runs scored and five steals across 112 plate appearances. His outstanding recent work has earned him a premium spot in the regular lineup, which could maximize his opportunities to accumulate counting stats down the stretch. Because he is eligible at second base and outfield in most leagues, he is the perfect utility player for those in need of late-season steals.
Consider in: 12-team mixed leagues
Domingo Santana, outfielder, Brewers
Owners in deep leagues who need late-season homers should take a close look at the recently recalled Santana. The hulking hitter smacked 18 homers across 354 at-bats in the Minors this season, and he should receive plenty of playing time in September, as the Brewers take a close look at one of the key pieces of the Carlos Gomez trade. Because Santana strikes out often, he is unlikely to provide the necessary batting average for inclusion in shallow-league lineups.
Consider in: 15-team mixed leagues
Stephen Piscotty, outfielder, Cardinals
With a .319 batting average and four homers across his initial 113 Major League at-bats, Piscotty has recently become an important contributor in a veteran Cardinals lineup that is dealing with multiple injuries to key regulars. Piscotty will have to earn his playing time when the veterans trickle back onto the roster, but the 24-year-old will be hard to remove from the lineup if he continues to wield a hot bat.
Consider in: 12-team mixed leagues
Marcell Ozuna, Marlins
A poor first half to the season got Ozuna a trip back to Triple-A on July 6, but since returning to the big leagues on Aug. 15, he has flashed the power that allowed him to smack 23 homers across 565 at-bats a year ago. With a season-to-date .244 average, Ozuna has been disappointing, but not completely overwhelmed at the dish. He has the skills to hit for a respectable batting average and smack several homers down the stretch.
Consider in: 15-team mixed leagues
Chris Coghlan, Cubs
With a career .339 on-base percentage, Coghlan knows how to handle himself at the dish. But there was little to like early in the season about a part-time outfielder who had never exceeded nine homers or 10 steals in a single campaign. The fantasy outlook has recently changed dramatically, as Coghlan has picked up second-base eligibility, and he has utilized a regular role to accumulate 15 homers and 11 steals across 402 plate appearances. His ability to compile counting stats makes him a fine middle-infield option in most formats.
Consider in: 10-team mixed leagues
Carlos Rodon, starter, White Sox
Few young starters have a higher ceiling than Rodon, but it is hard for fantasy owners to commit to a rookie starter with 1.54 WHIP. The southpaw has made some improvements on his erratic control in recent starts, and he owns a 1.23 ERA and a 1.00 WHIP across his past three outings. With 114 whiffs across 106 2/3 frames to this point in his debut season, Rodon has the skills to make a difference in mixed leagues if he can continue to improve down the stretch.
Consider in: 12-team mixed leagues
Kris Medlen, starter, Royals
The combined effect of Medlen's effective second-half relief work and Jeremy Guthrie's 2015 struggles earned Medlen a spot in the Royals' rotation this week. With a 2.95 ERA and a 1.15 WHIP in his career, the right-hander possesses a better resume than any other pitcher who recently joined a Major League rotation. Combine Medlen's talent with the fact that he is now a starter on the club with the Junior Circuit's best record and baseball's top defensive efficiency ratio, and there is no doubt that he should be owned in all leagues.
Consider in: 10-team mixed leagues
Ivan Nova, starter, Yankees
Nova has registered a 4.50 ERA and a 1.34 WHIP across 11 starts since returning from Tommy John surgery this season, but he has made nearly all of his starts at hitter-friendly parks, and several of his outings have come against the most productive lineups in baseball. Nova will be worth consideration in deep leagues next week, when he faces a Red Sox squad that ranks last in the AL East and a Rays lineup that struggles against righties.
Consider in: 15-team mixed leagues
Colby Lewis, starter, Rangers
Many fantasy owners will see the right-hander's career 4.76 ERA and 1.36 WHIP and dismiss him from inclusion on their fantasy squads. However, Lewis has been a key part of the Rangers' second-half surge, as he has posted a 3.19 ERA and a 1.00 WHIP since the All-Star break. Next week, the 36-year-old will travel to a pair of pitcher-friendly parks to face unimposing lineups when he tangles with the Padres and Angels.
Consider in: 12-team mixed leagues
Tom Wilhelmsen, reliever, Mariners
Wilhelmsen was a useful mixed-league closer across the 2012-13 seasons, when he totaled 53 saves and produced a 3.19 ERA. The right-hander was not part of the closer equation in Seattle last season or for most of the current campaign, but after picking up a saves on Sunday and Tuesday, he may be the Mariners' newest stopper. Fellow reliever Carson Smith worked earlier innings in both games, which clearly suggests that manager Lloyd McClendon was saving Wilhelmsen for the final frame. Those in need of late-season saves should pick up the 31-year-old immediately.
Consider in: 12-team mixed leagues
Fred Zinkie is the lead fantasy baseball writer for MLB.com. Follow him on Twitter at @FredZinkieMLB. This story was not subject to the approval of Major League Baseball or its clubs.