Boston, Thompson share special bond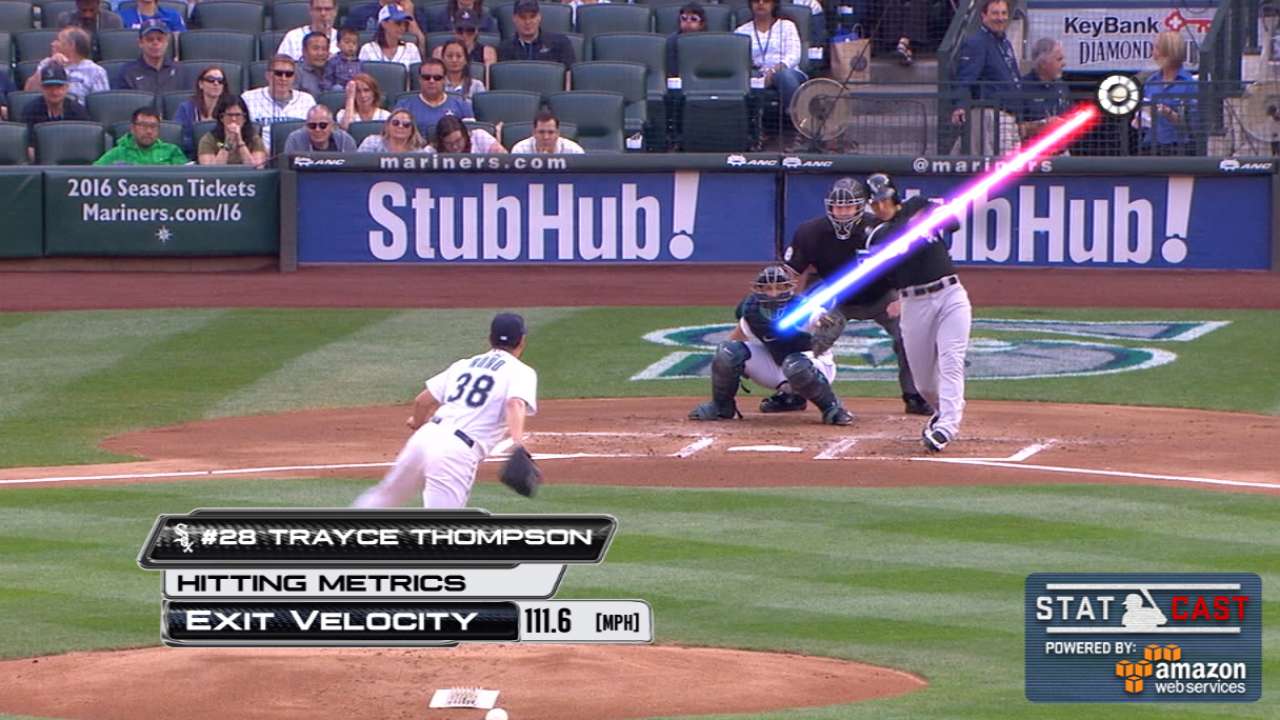 CHICAGO -- There's a special connection between Trayce Thompson and White Sox first base coach Daryl Boston that long predates Thompson's current short stint at the big league level.
Boston served as the White Sox Minor League outfield instructor from 2001-12 and remembers Thompson from his first days within the organization after being selected in the second round of the 2009 Draft.
"From Day 1 that he showed up in Bristol, Tennessee, the first day I saw him, I said, 'Get your glove, let's go. We have some work to do,'" said Boston of his working relationship with Thompson. "From then on, he has been busting his tail to get to the big leagues and stay in the big leagues."
"I've had good years, and I've had bad years and he's always had my back," said Thompson of Boston. "He's always believed in me since the first day I met him. He saw something in me."
Thompson credited Boston with helping develop and refine his defensive play in the outfield, which hit a Major League level before his offense reached the same point. He talked about Boston always being there for extra work during instructional league action or early work at big league Spring Training -- not to mention being the guy Thompson would text or call during a season to get advice in good times and bad.
Now that Thompson has reached the big leagues and knocked out 12 hits in his first 23 at-bats, Boston feels like a proud papa. Like everyone else who knows the 24-year-old Thompson, Boston is not surprised.
"It doesn't surprise me because this stage has never been too big for him," Boston said. "From the first day of big league camp or coming up from A ball to fill in, he's always looked like he belonged. For me, he's been one of our top defenders in the organization. It was a matter of his bat catching up."
"Having my first hit and having him be the first person to tell me congrats -- or make fun of me because it was an infield hit -- that was great," Thompson said. "He's my guy."
Beyond Boston and Thompson's famous family, the outfielder also has been influenced by Nolan Arenado, who happens to be his closest friend. The two respective families are close but the two are inseparable during the offseason, with Thompson referring to the Rockies superstar third baseman as a third brother.
Now Thompson wants to get to the same level of excellence as his friend, who was taken two picks above him in 2009.
"In my opinion, he's the best in the game and not just the best third baseman. He might be the best defender, period, in the game," said Thompson of Arenado. "He deserves everything he gets. He's going to be a household name after this year for sure."
Scott Merkin is a reporter for MLB.com. Read his blog, Merk's Works, follow him on Twitter @scottmerkin and listen to his podcast. This story was not subject to the approval of Major League Baseball or its clubs.