Bowa's issue with quick pitch safety related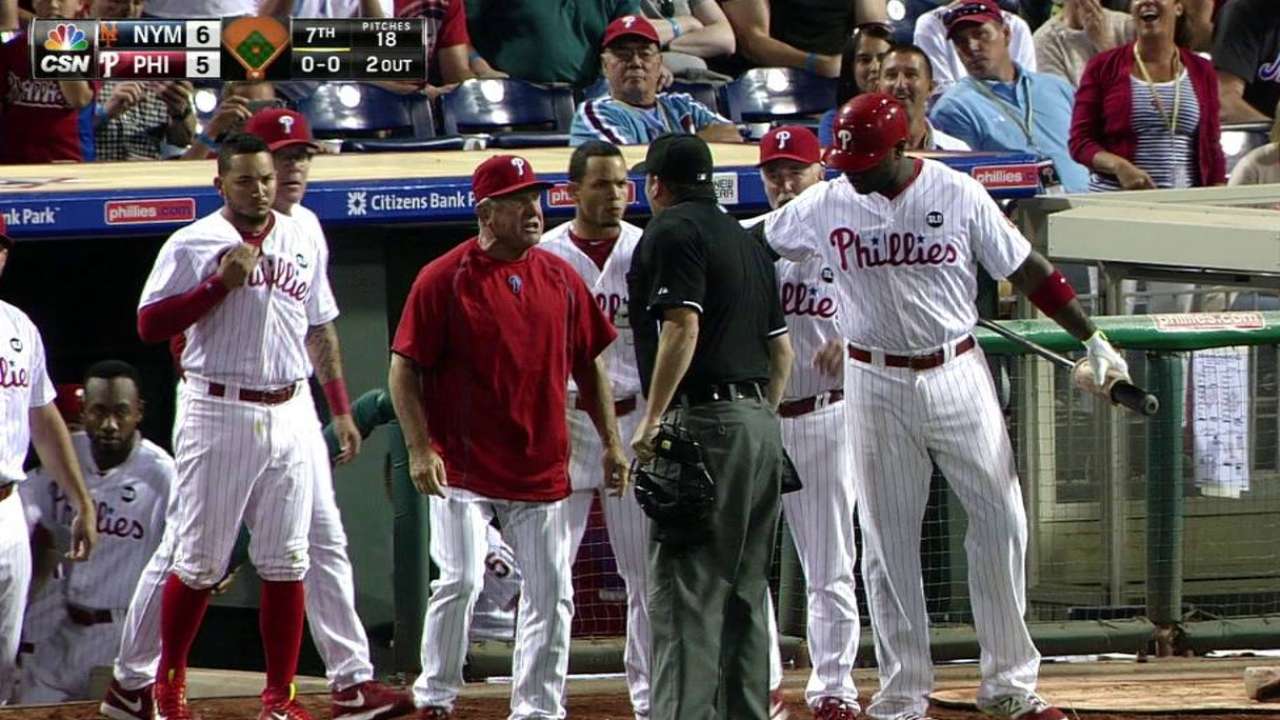 PHILADELPHIA -- Phillies bench coach Larry Bowa has been around the game long enough to know he's going to hear from Major League Baseball over the next few days.
"It will say, 'Dear Larry, I miss you,'" a clearly sarcastic Bowa said on Wednesday afternoon. "[Chief baseball officer Joe Torre's] going to say, 'After further review,' and then I'm going to let him know what the situation was."
In Bowa and veteran outfielder Jeff Francoeur's mind, the quick pitch thrown by Mets reliever Hansel Robles in the seventh inning of the Phillies' 6-5 loss to New York on Tuesday endangered hitter Darin Ruf. Ruf had stepped into the box with his head down, and as home-plate umpire Dan Bellino signaled no pitch, it still came to the plate.
"That's exactly what went down," said Bowa, who was ejected from the game and also had words with Mets first baseman Daniel Murphy. "It had nothing to do with us getting [beaten badly] for two nights. You're going to hurt somebody. That's all it is.
"And the umpire said, 'I called no pitch.' It doesn't matter. The pitch was on the way. So if Ruf looks up. Yeah, he threw a strike. But they make mistakes throwing the baseball. They throw one up and in, and the guy turns around, the ball [could be] 10 inches from his face. There's no reason for that."
On the surface, the ejection didn't have anything to do with the recent struggles the Phillies have had against the Mets, against whom they are just 1-10 this year. At the same time, it certainly didn't help and has to weigh heavily on a relatively young team that is not only playing the role of spoiler but fighting for jobs next year and beyond.
"This is the big leagues ... we're playing for jobs, positions," Phillies manager Pete Mackanin said. "We got beat up the last couple of days. We want to win. Nobody likes it. I don't expect the players to be in a good mood. We want to win and there is a lot of emotion. We've seen it over the years, it just comes out.
"The only grudge I have against [the Mets] is we want to beat them a few times. That's the bottom line. You want to win every night. It's more fun when you win."
Michael Radano is a contributor to MLB.com. This story was not subject to the approval of Major League Baseball or its clubs.