Mets ready to put quick-pitch incident behind them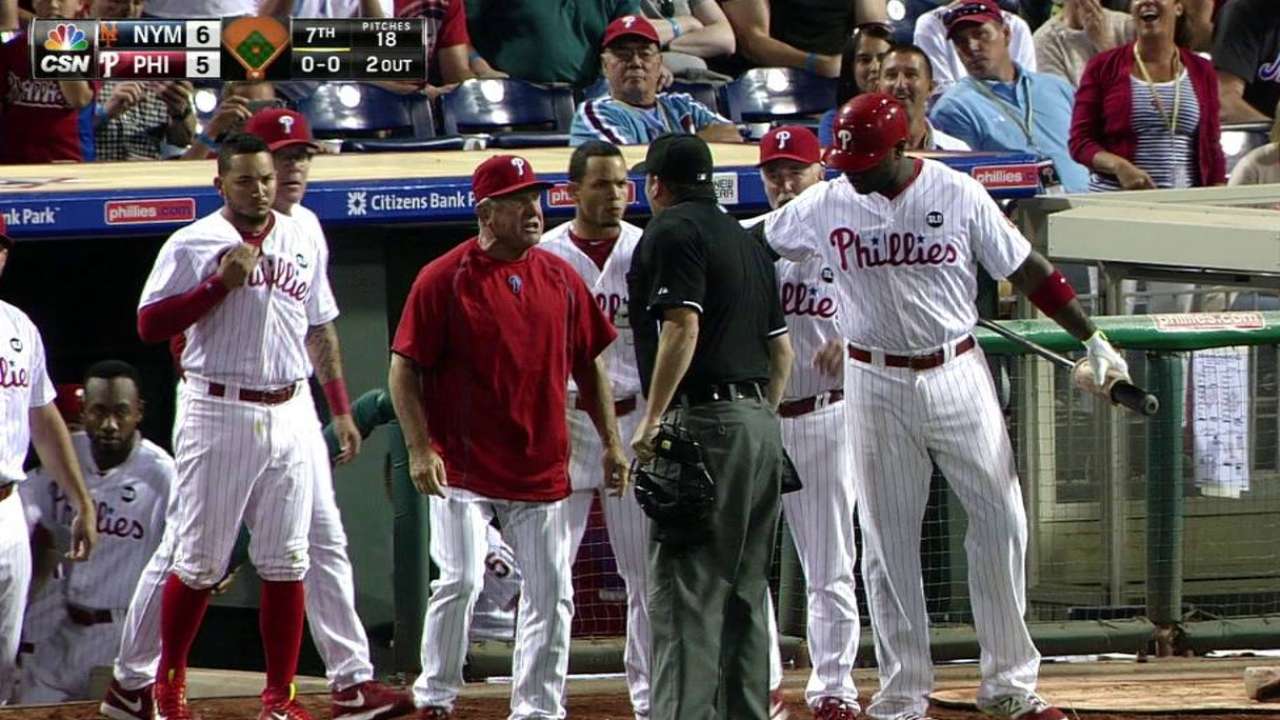 PHILADELPHIA -- By the time batting practice began on Wednesday, Mets manager Terry Collins was ready to chat and joke around the cage with Phillies bench coach Larry Bowa, his longtime friend turned temporary antagonist. Earlier in the day, Collins quipped that Bowa needed "a little bit of time" to cool off after screaming at Hansel Robles and Daniel Murphy during an on-field altercation Tuesday.
Collins was ready to put it in the past, as were his players.
"We have an old enough club that they're not going to be intimidated by that," the manager said, adding that he did not expect a retaliation from the Phillies for Robles' quick pitch to Darin Ruf.
But the Mets took this situation seriously enough for Collins to chat with Robles, instructing the rookie pitcher on how to control his emotions in those types of situations, letting the umpires and managers sort out everything else. The last thing the Mets need, Collins knows, is an ejection in a key spot, a suspension or -- worst of all -- an injury.
Collins wants the Mets to get used to this sort of thing, considering their status as National League East leaders. The Nationals recently added fuel to the division race by realigning their rotation to pit their best three starters against the Mets in early September, for example, which did not escape Collins' attention: The Mets, he figures, will spend the season's final six weeks with bull's-eyes on their backs.
"We should be a target because we're in first place," Collins said. "I've been in the other dugout in these situations, and there's nothing better than going out and beating a team, trying to spoil them and make your season a better place."
Anthony DiComo is a reporter for MLB.com. Follow him on Twitter @AnthonyDiComo and Facebook, and listen to his podcast. This story was not subject to the approval of Major League Baseball or its clubs.