Lindor's presence has him fitting right in
21-year-old earning respect on and off the field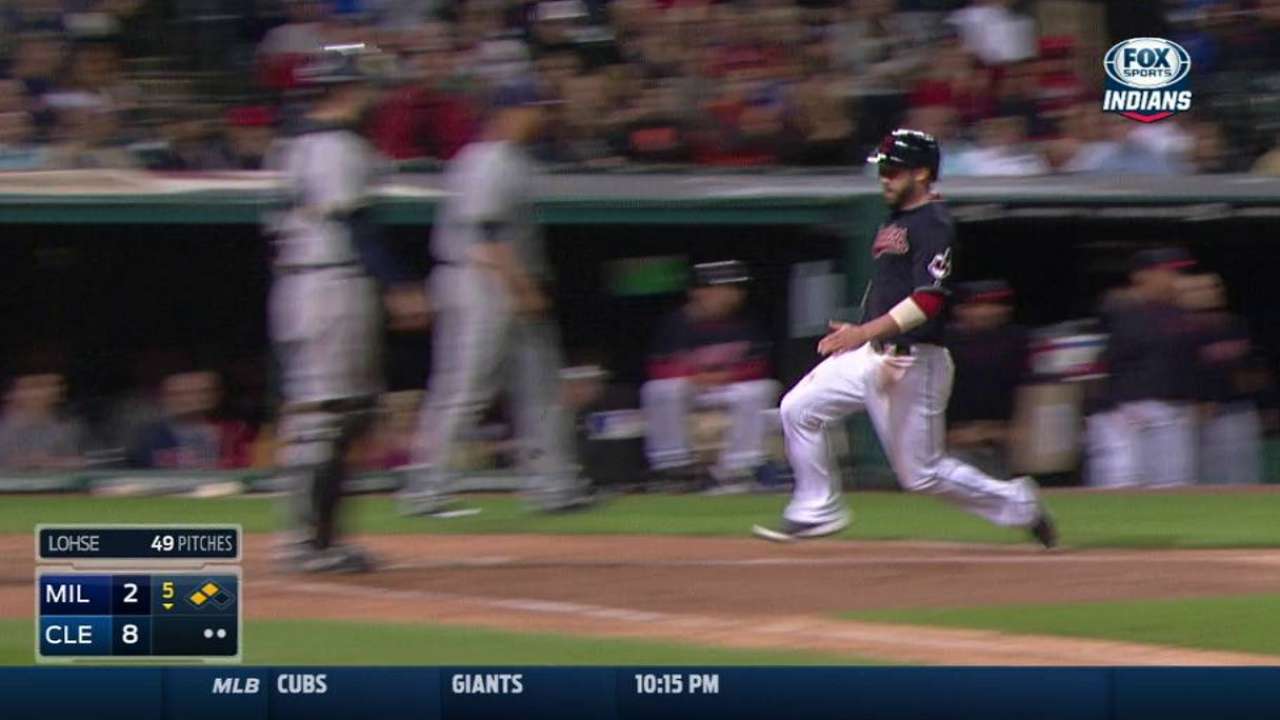 CLEVELAND -- As first-year players are known to do, Francisco Lindor made a rookie mistake in Tuesday's 11-6 home victory over Milwaukee. Not only was it a rookie mistake, but it was a rookie mistake that broke a cardinal rule of baseball: never make the third out of an inning at third base.
The 21-year-old shortstop had just slugged a two-out double down the right-field line, scoring Jose Ramirez and Jason Kipnis to give the Indians a 9-2 lead. Brewers right fielder Domingo Santana's throw to the infield missed the cutoff man and rolled slowly over the pitcher's mound and onto the infield grass.
As Milwaukee third baseman Elian Herrera went to retrieve the errant ball, Lindor broke for third. Herrera grabbed the ball, and a footrace to the bag ensued. Both players dove headfirst. Lindor lost the race, and the inning was over.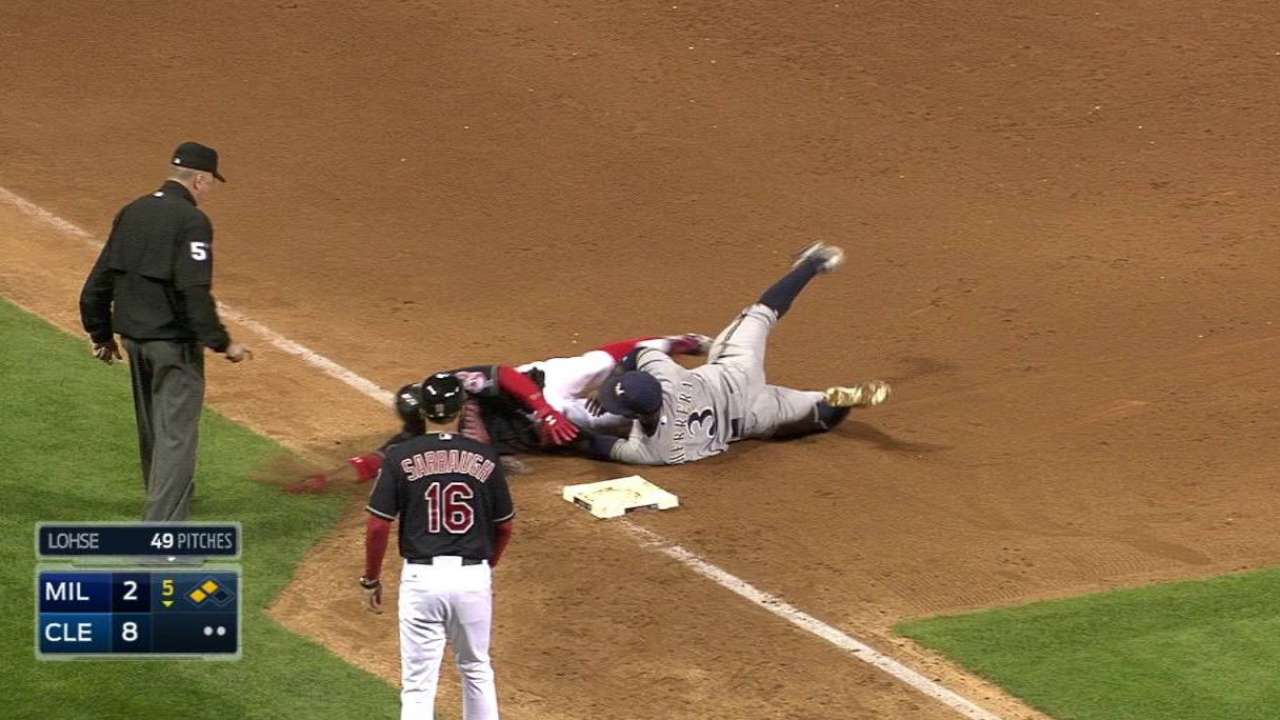 He took a knee in disbelief and peered into his home dugout. His rookie gaffe was met with an unusual reaction -- laughter. Many rookie mistakes are met with sighs from teammates. Lindor's rookie mistakes are being met with ribbing.
He'd already done damage, the Indians were up big, and in the end, the play was inconsequential. Surely, all of that factors into the light-hearted response. But it also shows the impressive presence Lindor brings, and the identity he's already carved out on a Major League club just 63 games into his big league career.
"I think the biggest thing is, you have to be true to your own personality," Indians manager Terry Francona said. "Because if you're not, it's never going to fly in there. But I think that's who he is. … He's just a fun kid to be around. You tell him something, he smiles and says thank you. He's kind of a hard kid not to like."
Francona and Brantley joked after the game about Lindor believing himself to be "invisible" on the basepaths. When asked about his invisibility, though, Lindor's smile quickly faded, and a sliver of what has so quickly earned him the respect of his teammates became apparent, as the rookie quickly owned up to his mistake.
"First of all, it's a really big mistake," Lindor said. "I was the third out at third base."
It's not always easy for a rookie -- even a talented one with a big personality -- to adjust to a big league clubhouse so seamlessly. Lindor simply hasn't had those struggles. From day one, he's carried himself like a 10-year-veteran, and already he's being treated by his teammates as one. When the veterans rib him, Lindor ribs right back. To earn respect, you've got to give respect, something that can be a tough concept for a 21-year-old to grasp.
Thing is, Lindor isn't like most 21-year-olds.
"I think it comes from my teammates," Lindor said. "The amount of freedom they're giving me to enjoy the game and to have fun and to be me, to be Francisco Lindor, which is the little guy always smiling and always trying to mess around. That's me. And they're letting me do that. That's how you build confidence, and I'm glad they're doing it."
August Fagerstrom is an associate reporter for MLB.com. This story was not subject to the approval of Major League Baseball or its clubs.