Utley takes preparatory grounders at third
Dodgers veteran could sometimes fill in for Turner at hot corner when Kendrick returns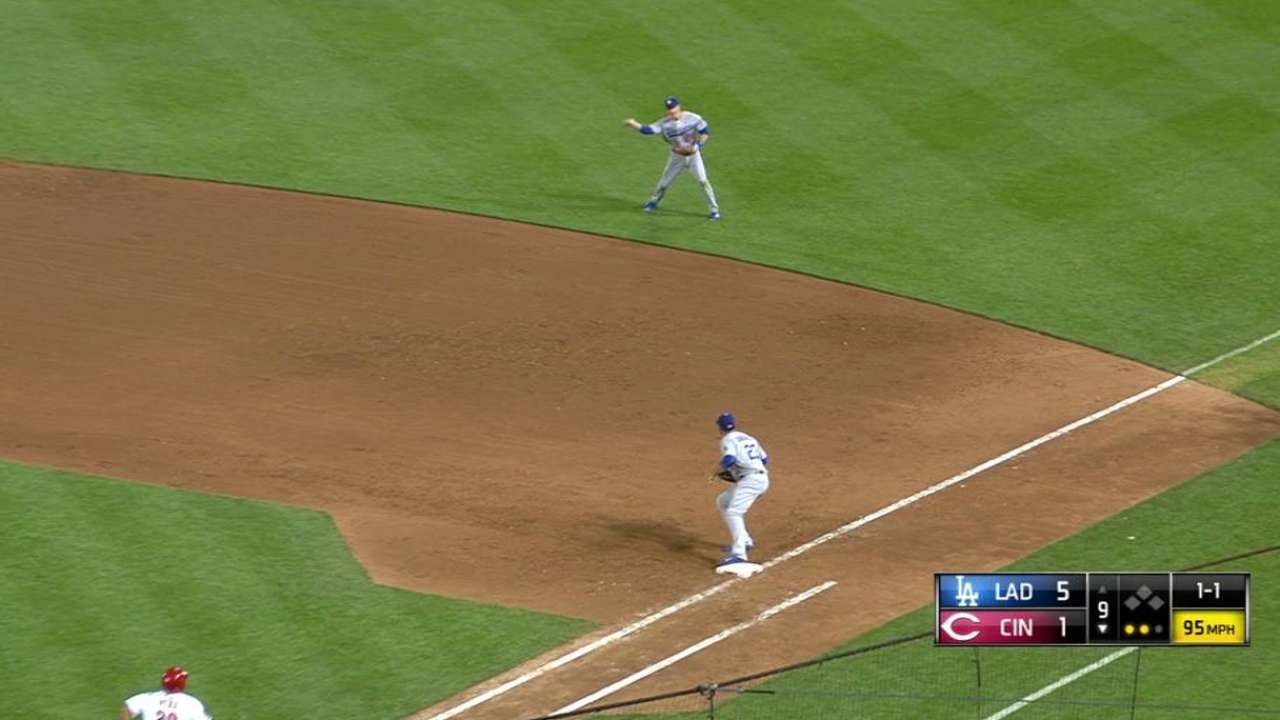 CINCINNATI -- Career second baseman Chase Utley began a potential conversion to third base Wednesday afternoon in a brief workout that included manager Don Mattingly and bench coach Tim Wallach, a former All-Star third baseman.
Utley, acquired last week primarily to fill in for injured second baseman Howie Kendrick, took grounders for less than five minutes at Great American Ball Park.
"Pretty good, I thought," said Mattingly of the session. "The first day, we didn't want to do too much. His arm seemed to have plenty of carry. While playing second [in the night game], we've got to be a little careful, not do too much."
As Mattingly described the difference between playing second base and third base, it sounded like night and day.
"It's definitely a different throw," he said. "Over at third, it is quick. The ball is on you awfully quick. If you're not coming up with it clean, you're pretty much not getting guys. It's a different angle, the ball's on you quickly when you get out of the middle."
The 36-year-old Utley is a 13-year veteran and a six-time All-Star, and he has been considered a solid defender, although he has never won a Gold Glove. He's also never played third base in the Major Leagues, with the only 31 appearances he's made away from second base coming at first base.
At the time of the acquisition, however, management indicated that when Kendrick returned from the disabled list in September, it was hopeful Utley could be used to spell starter Justin Turner at third base as well as Kendrick at second in an attempt to keep all three healthy.
Mattingly said the club believes Kendrick will be able to begin a Minor League rehab assignment for a strained left hamstring later this week.
Ken Gurnick is a reporter for MLB.com. This story was not subject to the approval of Major League Baseball or its clubs.