Greene set for surgery on artery in shoulder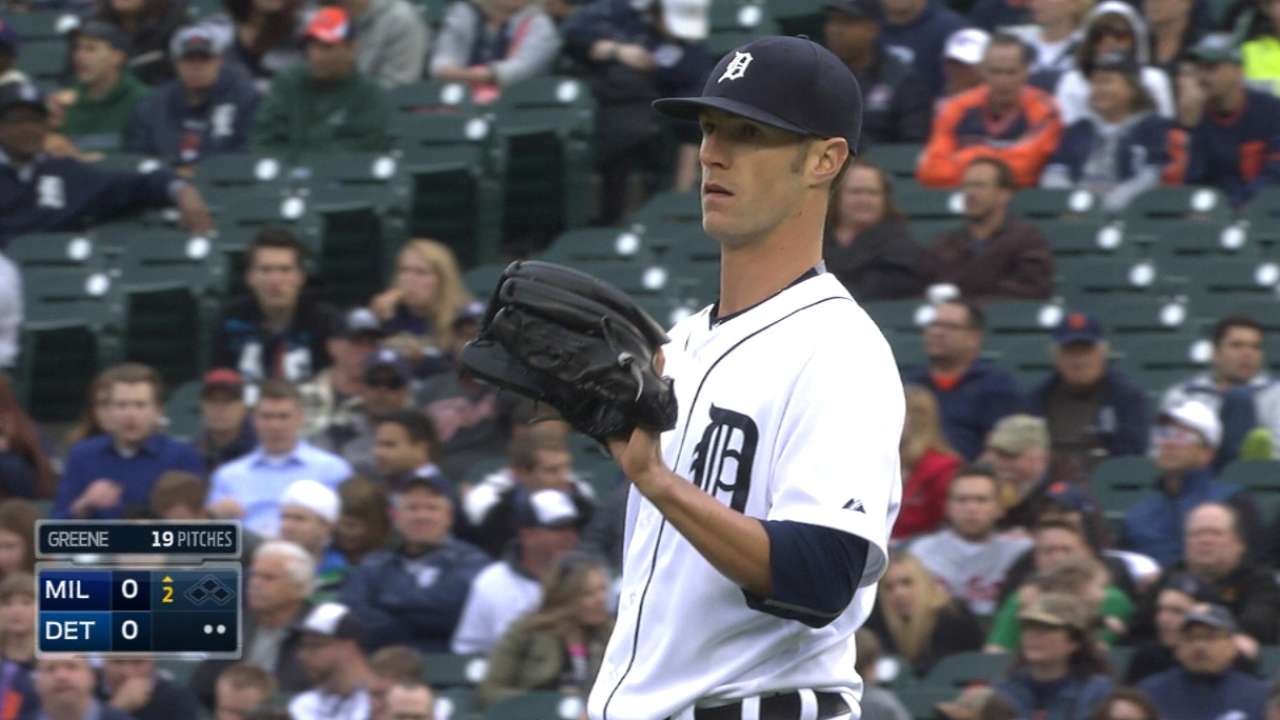 DETROIT -- Tigers right-hander Shane Greene will undergo an operation Thursday morning to repair the circumflex artery in his throwing shoulder, and he will miss the remainder of the season.
The pitcher is expected to be ready for Spring Training, according to manager Brad Ausmus.
According to head athletic trainer Kevin Rand, Greene's blood vessel issue had caused a "pseudoaneurysm" in his right middle finger, leading to numbness and potentially explaining why the righty's season deteriorated so dramatically after a promising start.
"I can't say if it did or didn't [have an effect], but it certainly makes me think that there might be a relation or some type of correlation between the two," Ausmus said Wednesday afternoon.
Dr. Greg Pearl, who on Wednesday confirmed the original diagnosis, will perform the surgery at Texas Vascular Associates, Rand said. If all goes as planned, Greene will be cleared to resume physical activity within two weeks of the operation and can begin throwing after two months.
"What it was doing is the artery was trying to clot, and what happened was the muscles contracted and forced the clot down into the hand, which was why he had the issues in his fingers," Rand said.
Dr. Pearl has worked with former Tigers Kenny Rogers and Jeremy Bonderman, both of whom returned to pitch after being diagnosed with thoracic outlet syndrome.
After starting the season 3-0 with a 0.39 ERA, Greene pitched to a 9.35 ERA over his last 15 games (13 starts). On May 15, he left an outing against the Cardinals with "mild ulnar neuritis," though Rand said that ailment affected a different finger and was unrelated to the pseudoaneurysm.
Greene was optioned to Triple-A Toledo in June and later utilized as a long reliever with the Tigers before being optioned again in early August.
Worth noting
• Tigers pitcher Kyle Lobstein made his fifth rehab start Tuesday with Toledo, allowing one run over five innings. Ausmus said the left-hander will start once more with Toledo before a decision is made on his future. Lobstein has been on the disabled list since May 24 with a sore left shoulder.
• Rand said Anibal Sanchez (rotator cuff strain) is undergoing physical therapy and is scheduled to resume throwing sometime during the Tigers' series against the Royals in Kansas City, which begins Sept. 1.
Alejandro Zúñiga is an associate reporter for MLB.com. Follow him on Twitter @ByAZuniga. This story was not subject to the approval of Major League Baseball or its clubs.