Twins activate Boyer, place Graham on DL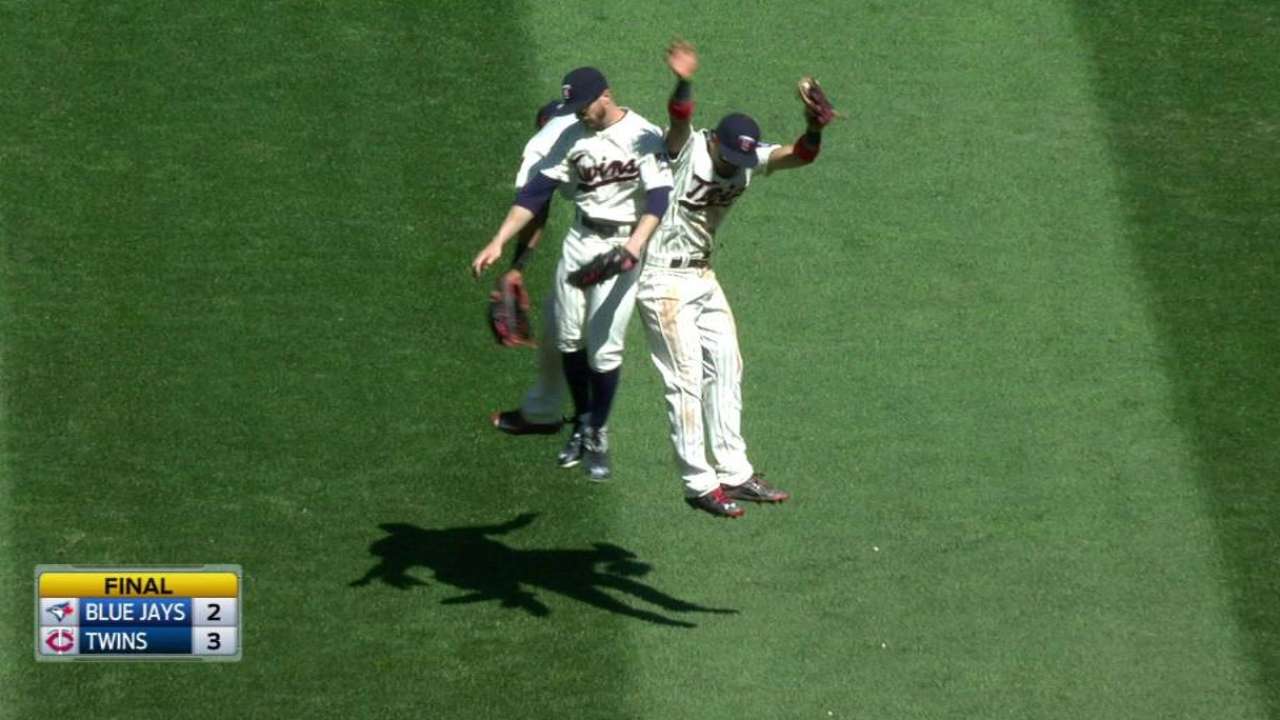 ST. PETERSBURG -- The Twins reinstated right-hander Blaine Boyer from the 15-day disabled list on Wednesday and placed Rule 5 Draft pick J.R. Graham on the 15-day DL with right shoulder inflammation.
Boyer made an immediate impact on Wednesday, tossing two scoreless innings in the Twins' 5-3 win over the Rays.

"It was nice to have Blaine available," Twins manager Paul Molitor said. "We found a way to hang on."
Boyer said pregame the injury was actually more in his forearm than his elbow, but after rest and rehab he threw a bullpen session without any issues on Monday, and said he's healthy and ready to go.
"It's great," Boyer said. "It was more of a thing where I was feeling some stuff in my forearm. My shoulder was tired and I was sort of compensating in some ways and getting aches. So we got an MRI just to make sure. The MRI came back fantastic, which was great. The doctor actually said for a pitcher my elbow looked outstanding. So it gave me confidence to just rehab and then when I started throwing I was able to throw max effort and not hold anything back."
Graham is 1-1 with a 5.15 ERA in 34 games this season. He's struck out 47, walked 17 and allowed 10 homers in 57 2/3 innings. He said he felt shoulder soreness after his outing on Tuesday, when he picked up his first Major League win, and it didn't get any better on Wednesday. His velocity was down on Tuesday, as his fastball averaged 94 mph, which is two miles slower than his season-average of 96 mph, according to Brooksbaseball.net.
"I came in yesterday and thought it was just normal soreness, but I woke up this morning and it was still sore," Graham said. "It's just a little sore and weak and just kind of rest it up. It should be fine. Nothing I'm too worried about. Just rest it up and come back in September."
With Ervin Santana lasting 2 2/3 innings, Graham was awarded his first win on Tuesday after recording two outs. But he didn't notice it until he checked the box score on his phone, and the Twins didn't celebrate his first win after the game. But Graham received the game ball on Wednesday, and that was good enough for him.
"I walked in this morning and they gave me the ball so that was exciting," Graham said. "It was just a little delayed. But Molitor came up to me today and apologized. But I got the ball and that's all I need."
Rhett Bollinger is a reporter for MLB.com. Read his blog, Bollinger Beat, follow him on Twitter @RhettBollinger and listen to his podcast. This story was not subject to the approval of Major League Baseball or its clubs.