Elias replaces Nuno in Mariners' rotation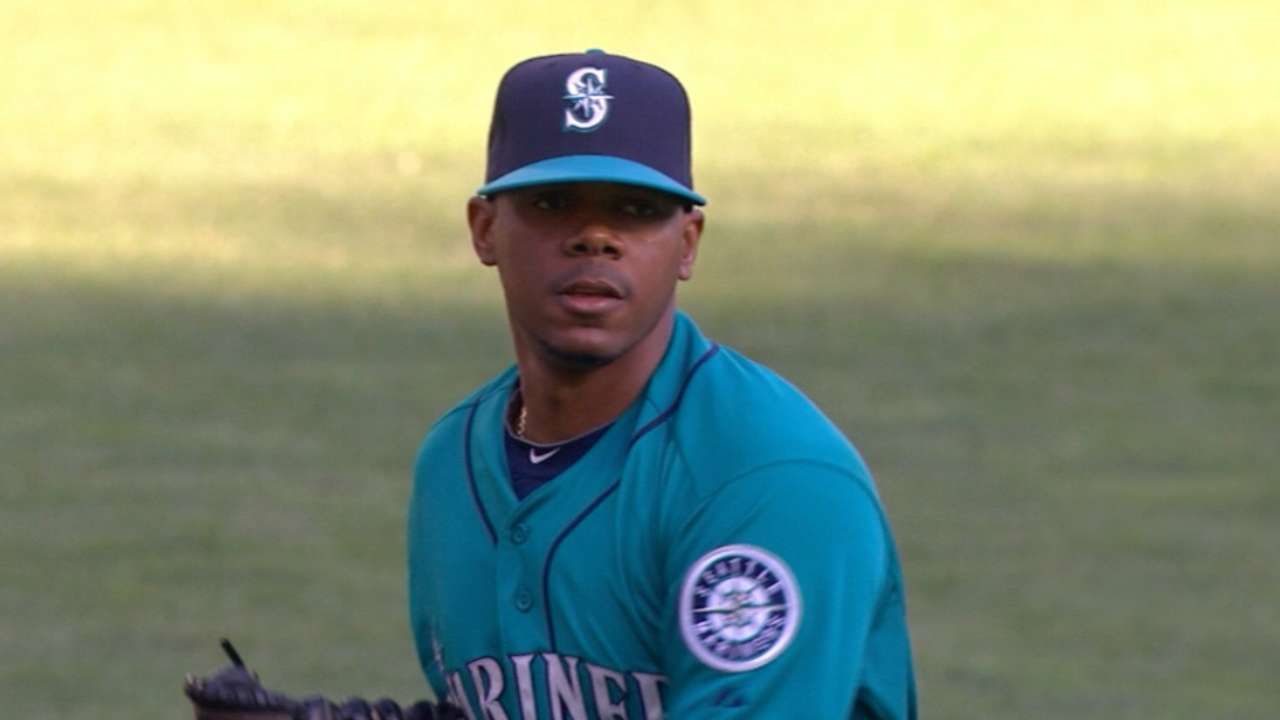 SEATTLE -- Roenis Elias will return to the Mariners' rotation on Thursday for the first time in two months, replacing Vidal Nuno for the opener of a four-game series against the White Sox at U.S. Cellular Field, manager Lloyd McClendon said Wednesday.
Elias is 14-18 with a 3.97 ERA in 43 games for Seattle over the past two seasons, including 42 starts before pitching one inning out of the bullpen on Monday after being recalled from Triple-A Tacoma.
Nuno started four games after J.A. Happ was traded to the Pirates on July 31, going 0-1 with a 4.58 ERA after posting a 2.02 ERA in 21 relief appearances this year.
The Mariners had Elias in the bullpen the past week to help fill the void created by veteran Joe Beimel going on the disabled list. With Charlie Furbush also on the DL, the only lefty relief candidates were rookies Edgar Olmos, Rob Rasmussen and David Rollins.
Nuno, who last started on Sunday, needed time to recover from that 6 2/3-inning outing before he could be available to help in the bullpen. Now that he's rested, McClendon is making the switch to Elias in the rotation.
"He's a starter, not a bullpen guy," McClendon said. "Nuno is a swing guy. He'll swing for us. He may start again."
McClendon said he's uncertain about the status of rookie left-hander Mike Montgomery, who is scheduled to start Sunday against the White Sox. Montgomery is 0-4 with an 8.33 ERA over his last nine games, and he lasted just 1 1/3 innings in Tuesday's 6-5 victory over the A's.
Elias went 10-12 with a 3.85 ERA in 29 starts last year before going 4-6 with a 4.22 ERA in 13 starts this season. He didn't pitch well after being sent down to Tacoma (7.34 ERA in 12 starts), though he's coming off one of his better outings, as he allowed two runs in seven innings in Oklahoma City.
With five weeks remaining in the regular season, the 27-year-old Cuban will be given a chance to make a push to be part of Seattle's rotation plans in the future.
"I would say it's an important stretch for all of our young players -- pitchers and position players," McClendon said. "We're doing a lot of evaluating."
Worth noting
• Beimel played catch in the outfield for a second straight day prior to Wednesday's game, and he is on target for a bullpen session on Friday as he comes back from a fatigued shoulder that landed him on the DL last week. McClendon said Beimel likely will throw one Minor League rehab inning for Tacoma next Monday or Tuesday, and if all goes well, he should be ready to rejoin the Mariners when he's eligible to come off the DL on Sept. 4 during the upcoming road trip.
• Brad Miller made his second start of the season in center field on Wednesday after playing left field Tuesday. The shortstop continues playing more of a utility role now that rookie Ketel Marte is getting a long look at that position.
"He's very athletic," McClendon said of Miller. "He almost got to a ball yesterday that I'm not sure any of our other left fielders would even have come close on. He's intriguing. I just want to see him all over the outfield and see what he can do."
Greg Johns is a reporter for MLB.com. Follow him on Twitter @GregJohnsMLB, read his Mariners Musings blog, and listen to his podcast. This story was not subject to the approval of Major League Baseball or its clubs.