MLB.com Columnist
Richard Justice
Fiery Gomez only knows one speed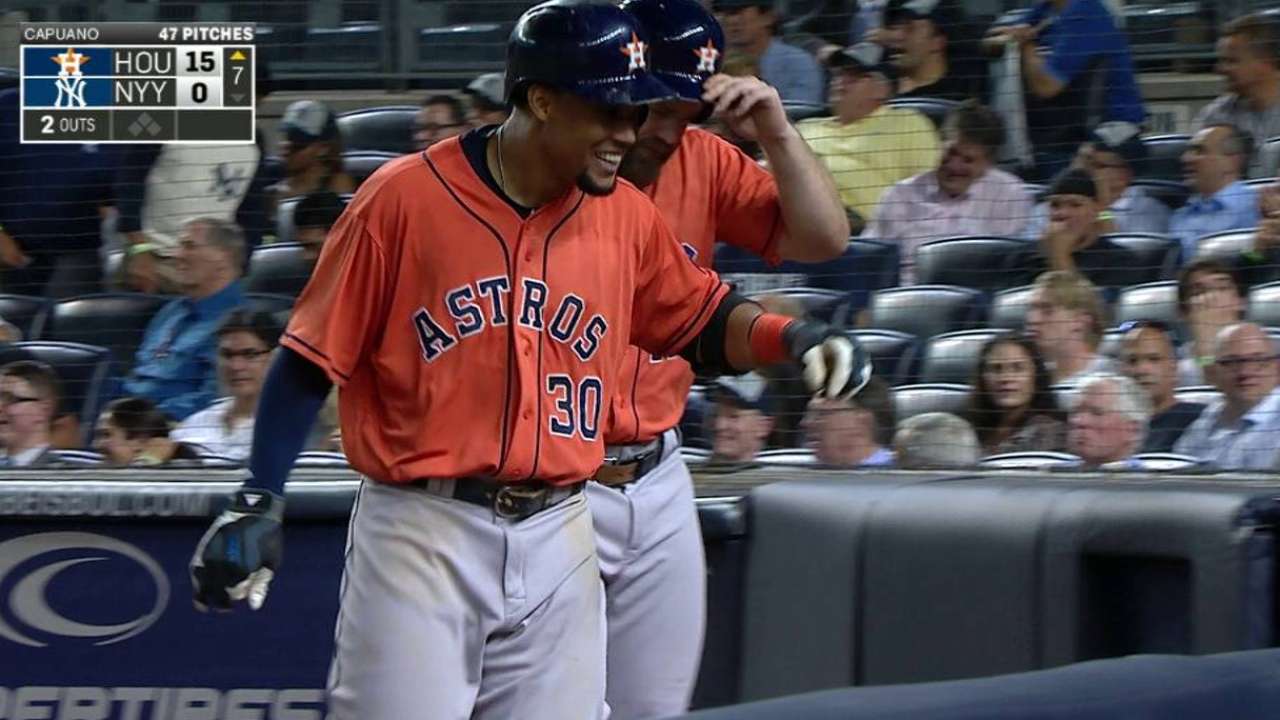 This is one of the reasons the first-place Houston Astros wanted Carlos Gomez. Sure, they wanted the spectacular plays in center field. They wanted the power, the stolen bases and all the other stuff that has defined his nine seasons in the Major Leagues.
They also wanted Gomez's fire and emotion. They loved that part of his game, too. With some guys, you wonder how much they really love baseball. With Gomez, there's never a doubt. He takes every at-bat seriously. Doesn't matter if the score is 3-2 or 9-0.
As Gomez said the other day, "This is who I am. I care. I'm always going to care."
Does Gomez's fire burn too brightly at times? Well, that probably depends on where you're sitting. You love him if he's your teammate. If not, there's a good chance he's going to infuriate and irritate.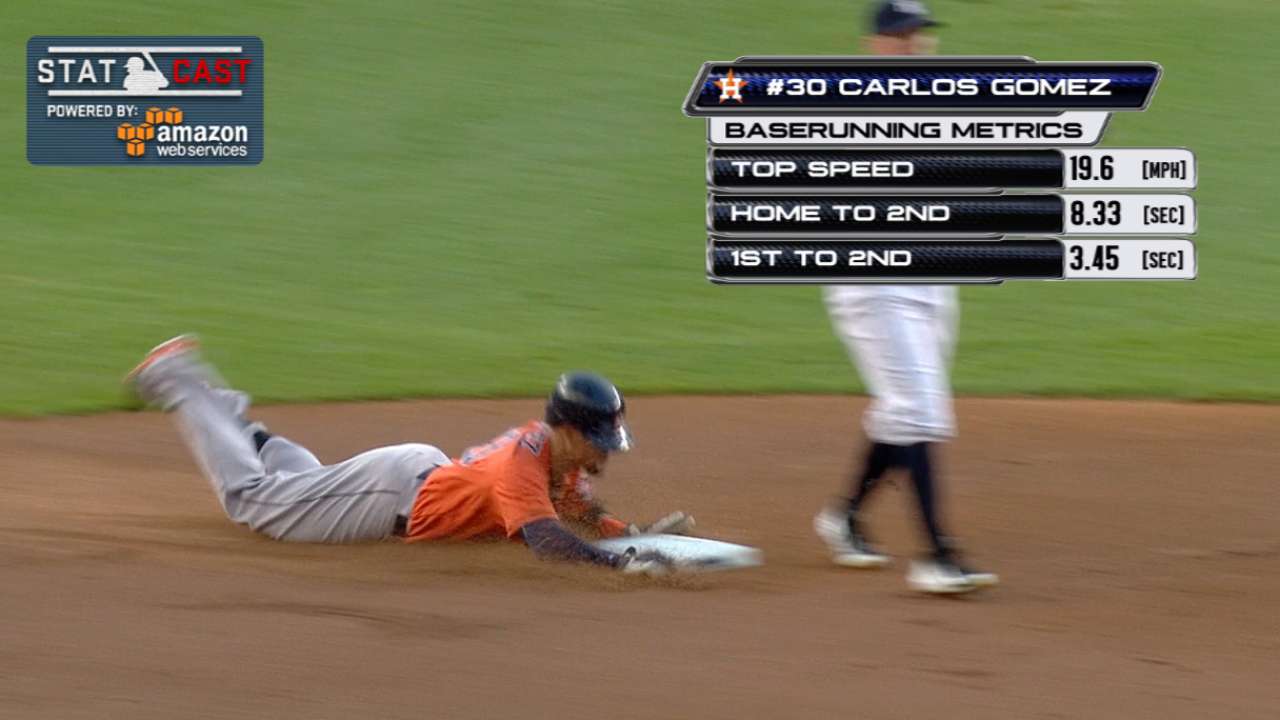 Two years ago, Gomez stood at home plate for a couple of seconds and admired a home run against the Braves. In this way, he violated one of baseball's unwritten rules about "playing the game the right way."
On the other hand ...
As Giants slugger Barry Bonds once told Astros closer Billy Wagner, "If I hit one of your 100-mph fastballs out of the park, shouldn't I be allowed to stand there and admire it?"
We digress.
That night, two years ago, Braves first baseman Freddie Freeman screamed at Gomez as he circled the bases. Others joined in. Gomez, feeling challenged, screamed back and gestured defiantly.
Atlanta catcher Brian McCann straddled the third-base line in front of home plate to block Gomez's path, and that's when both dugouts emptied. Afterwards, neither side back off.
Fast forward to Tuesday night at Yankee Stadium. Houston was up, 9-0, in the top of the sixth inning when Gomez flung his bat down after hitting a routine fly ball to center field.
Someone from the Yankees' dugout screamed at Gomez. Gomez screamed back. Dugouts emptied, etc. Afterward, Yankees manager Joe Girardi used the phrases, "Play the game the right way," and, "Show a little professionalism to the pitcher."
"I just think it's a little too much," Girardi said.
Girardi also knows that different players express their emotions in different ways. Not all of them are going to see this kind of outburst as a bad thing. Sometimes, it's what drives them.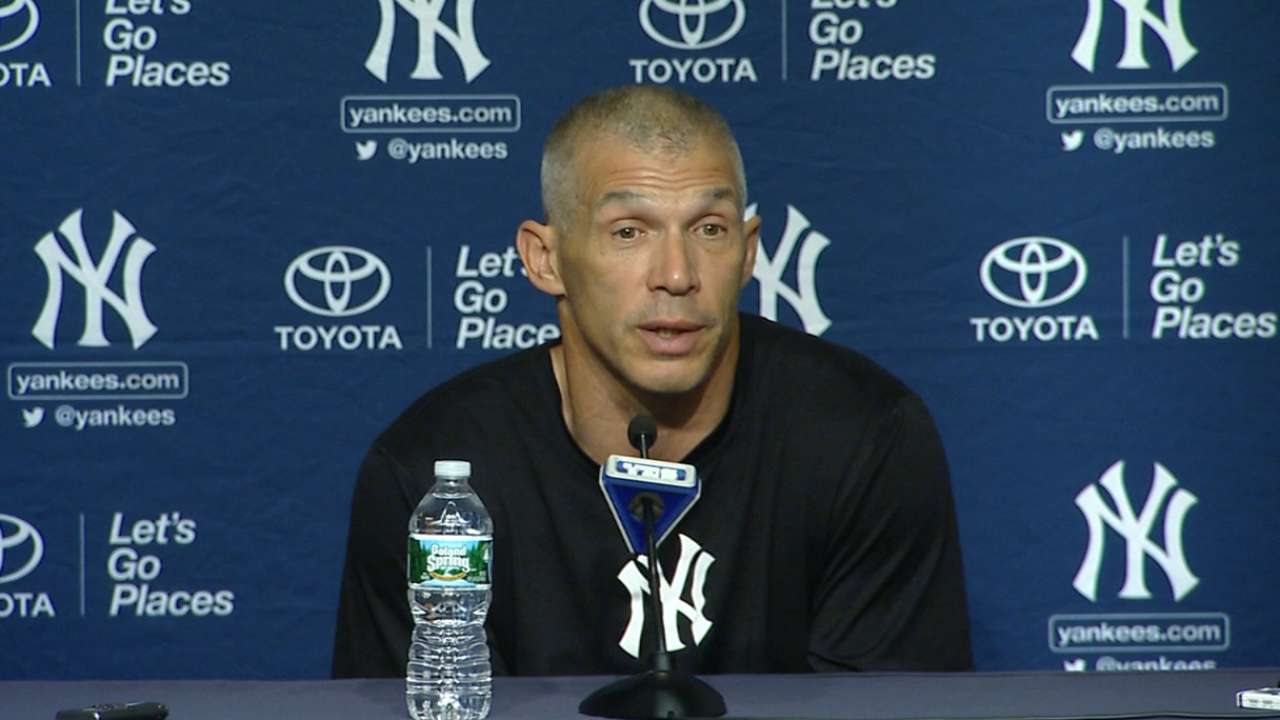 As Giants outfielder Hunter Pence once said, "I have to play angry. That's what works for me."
At a time when the Yankees were down by nine runs, Girardi surely was ticked off by plenty of things on Tuesday night.
Again, though, this is Carlos Gomez. This is who he has always been. Fans want players to care as much as they care, and there has never been any doubt in that respect as it pertains to Gomez.
Gomez is feeling some frustration himself. He began Wednesday hitting just .191 after being brought in to help the Astros finish what has been a magical 2015 season with their first playoff appearance in 10 years.
Gomez's frustration bubbled over during the last homestead when he snapped a bat over his leg after a tough out. Funny thing is, he threw his bat on Tuesday during a game in which he had a double, a homer and four RBIs.
With a game like that, Houston hopes Gomez is snapping out of his funk at a time when the games get more important by the day. His at-bats have become more and more competitive lately, and partly because of his long track record of producing and partly because of all that fire, one club executive said, "He may just carry us right through September."
Regardless, the Astros know how Gomez will approach it: He will play at 100 mph. He will care. And at times, he'll wear his emotions on his sleeve. That kind of fire can ignite a club during a long season.
It may irritate an opponent or two along the way. That's the price of having a player whose passion is right there for the whole world to see. The Astros are happy to have it on their side.
Richard Justice is a columnist for MLB.com. Read his blog, Justice4U. This story was not subject to the approval of Major League Baseball or its clubs.