Dodgers trio among 10 top prospect performers Tuesday
No. 1 prospect homers for Triple-A, No. 2 throws six scoreless for Tulsa, No. 9 blasts his 28th homer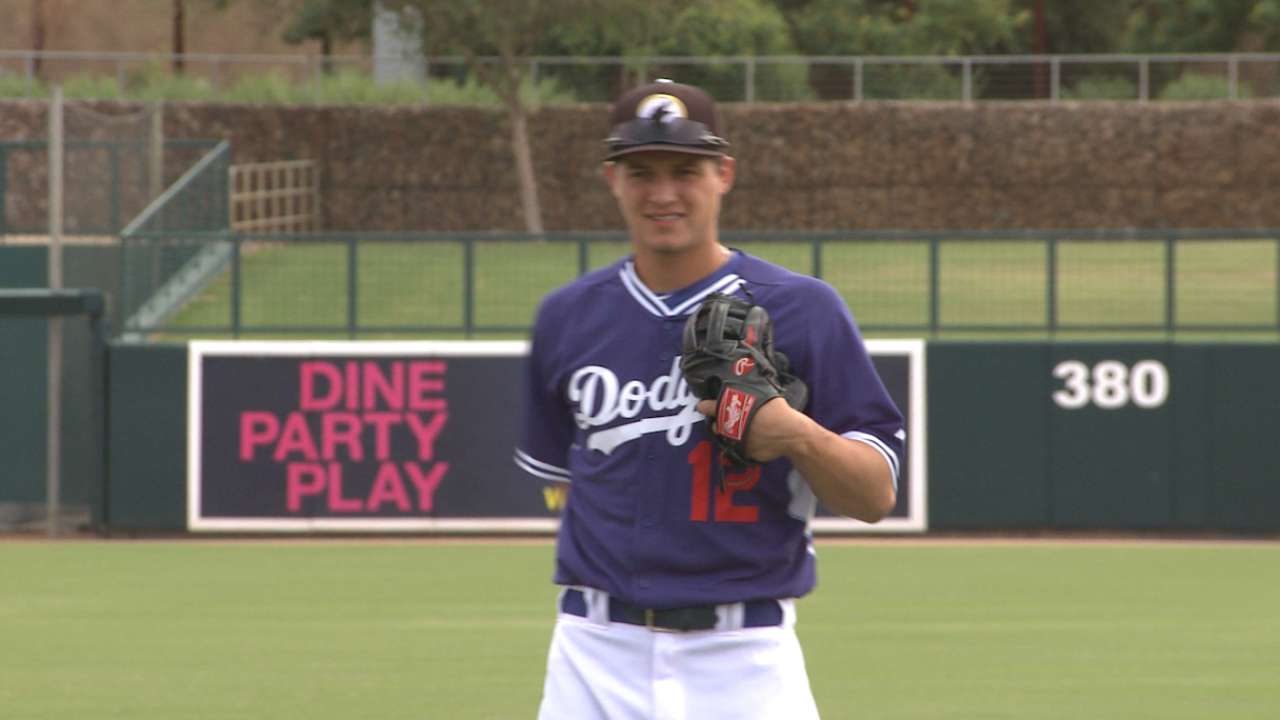 Both of the Dodgers' highest-rated prospects had excellent nights, while a top slugger climbed closer to catching the Minor League home run leader.
No. 1 prospect (No. 2 overall) Corey Seager homered in a 2-for-5 game in Triple-A Oklahoma City's 8-2 triumph over Albuquerque. The blast was his 12th since joining the Oklahoma City Dodgers on May 1 and he's hit three homers in his past five games to bring his season line to .277/.330/.445.
At Double-A Tulsa, No. 2 prospect (No. 4 overall) Julio Urias allowed four hits while fanning three in six scoreless innings. He did not earn a decision in the Drillers' 1-0 loss and has not dropped a start since Aug. 1.
The 19-year-old right-hander began his year with Tulsa before undergoing eye surgery in May. His recovery kept him out until early July, when he made two short appearances for the Arizona League Dodgers and then one for Class A Advanced Rancho Cucamonga.
Urias returned to Tulsa on July 26 and has yet to give up more than three earned runs in a start since.
No. 9 prospect Cody Bellinger also went long for Class A Advanced Rancho Cucamonga. The homer was his 28th of the year, which put him in a tie for fourth in the Minors. He's only two blasts behind a trio of deadlocked leaders, and currently occupies the seventh spot in the Minors with 94 RBIs.
Selected in the fourth round of the 2013 Draft, Bellinger has already collected 100 extra-base hits and 152 RBIs in 213 career games.
The rest of the 10 best performances from top Minor Leaguers
• Angels No. 1 prospect (No. 22 overall) Sean Newcomb tossed seven no-hit innings for Double-A Arkansas in a 1-0 win over Tulsa. Newcomb struck out six batters while allowing just one walk in his seven scoreless frames. He threw 64 pitches before being pulled, and has allowed just four earned runs in five Double-A starts (28 total innings). The 6-foot-5 southpaw is 2-0 at Double-A and lowered his ERA from 1.71 to 1.29. Newcomb is currently in the Minor League lead with 158 strikeouts on the season.
• Cubs No. 13 prospect Eloy Jimenez refuses to cool down for Class A Short Season Eugene. The 18-year-old left fielder went 2-for-4 with two homers (his first career multi-homer game) and three RBIs during the first game of a doubleheader against Spokane. The Emeralds prevailed, 5-1, and Jimenez has collected at least one RBI in seven of his past eight games. He is in the midst of a six-game hitting streak and is hitting .285 with six homers and 27 RBIs in 44 games since joining Eugene in mid-June.
• Mariners No. 1 prospect (No. 49 overall) Alex Jackson went yard again for Class A Short Season Everett. The right fielder finished 1-for-4 with a solo shot on Tuesday, his fourth homer in the past two weeks. While Jackson is still fighting to get his .237 average up, he hasn't lacked for power. The dinger was his sixth since joining the AquaSox in late June and he also has 10 doubles and 20 RBIs in that time.
• Orioles No. 10 prospect David Hess worked through his first career complete game on Tuesday afternoon. The 22-year-old right-hander out of Tennesssee Tech delivered seven innings of one-hit ball for Class A Advanced Frederick in the first game of the Keys' doubleheader. Hess' near perfect performance included one walk and five strikeouts as Frederick took down Potomac, 4-0. Selected in the fifth round of last summer's Draft, Hess has spent all season in Advanced ball and stands at 9-4 with a 3.58 ERA in 25 starts. He has not lost in his past 12 outings, a run that began on June 27.
• Rays No. 2 prospect (No. 45 overall) Blake Snell is still dominating for Triple-A Durham. The 6-foot-4 southpaw tossed five innings of five-hit, one-run ball for the Bulls, and has not allowed more than one earned run in any of his seven Triple-A outings. Snell has been an absolute force all season and is 13-4 with a 1.31 ERA in 23 appearances on the year. He's controlled the strike zone, firing 151 strikeouts against 48 free passes.
• Reds No. 5 prospect Keury Mella posted his best start since being shipped from the Giants organization at the Trade Deadline. Assigned to Class A Advanced Daytona in early August, he started 2-1 with a 4.40 ERA through three starts before stepping up his game Tuesday. The right-hander hurled seven scoreless innings, allowing three hits and four walks while striking out six Clearwater hitters in a 2-0 loss. He's 8-4 with a 3.23 ERA this season.
• Rockies No. 9 prospect Raimel Tapia was outstanding for Class A Advanced Modesto, going 3-for-5 with three runs, a triple, homer and three RBIs in a 13-3 win over Lake Elsinore. The breakout night made up for a 1-for-15 skid coming into Tuesday and Tapia is hitting .309/.340/.471 with 11 homers and 66 RBIs in 119 games for the Nuts.
Alex M. Smith is a reporter for MLB.com. This story was not subject to the approval of Major League Baseball or its clubs.