Thompson's confidence gets big boost
Rookie shows he belongs in big leagues, just misses cycle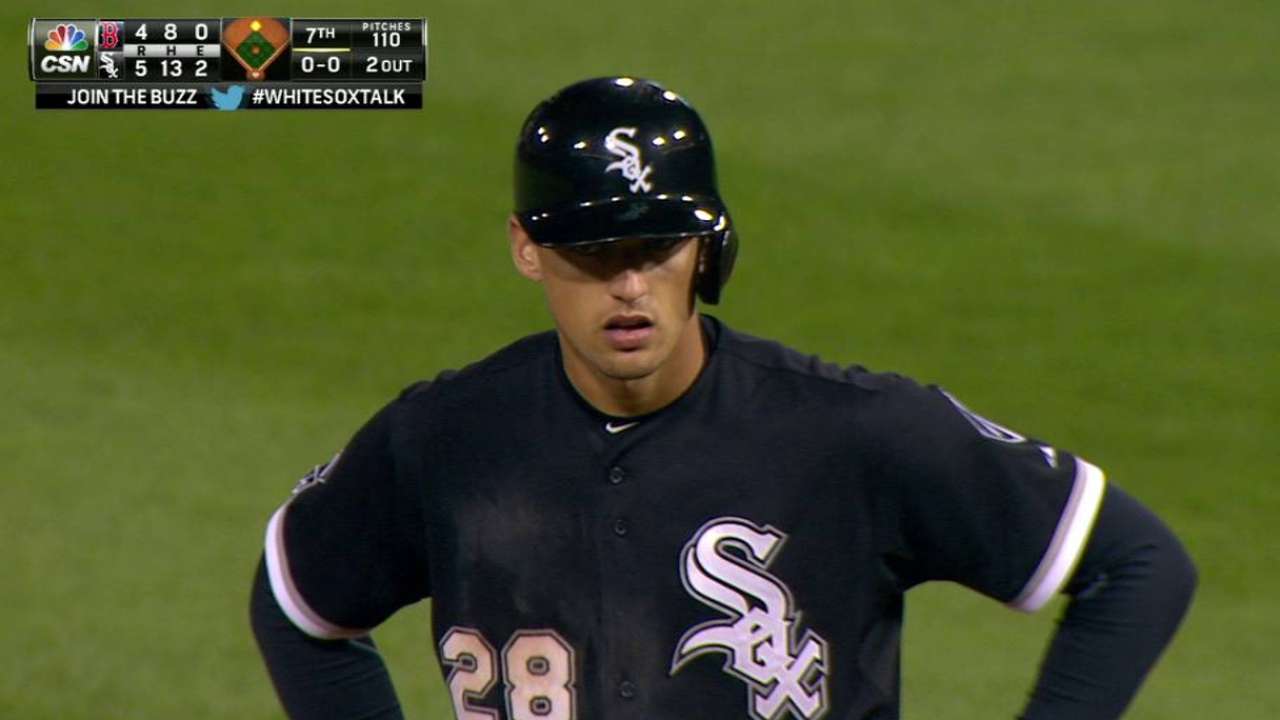 CHICAGO -- When Trayce Thompson arrived to the White Sox from Triple-A Charlotte on Aug. 3, first-base coach, mentor and friend Daryl Boston reinforced a point that the rookie already lived by and understood.
"My first day, DBo told me, 'It's all about confidence and knowing you can play here,'" said Thompson, following the White Sox 5-4 victory over the Red Sox on Tuesday night at U.S. Cellular Field, a comeback that was sparked by the right fielder. "I took that to heart, and I think that has helped me a lot."
Thompson's current level of confidence checks in at the next rung above sky-high. He finished a home run short of the cycle during the second of this three-game set, and his two-run double to left off losing pitcher Wade Miley with two outs in the seventh ended up as the game-winner.
In 23 at-bats to date, Thompson has knocked out 12 hits and five extra-base hits. He has 10 hits in 17 at-bats against left-handers, where he has been used almost exclusively, with Adam LaRoche in the lineup against righties. But this success against southpaws might get Thompson more regular playing time.
Have a night, Trayce. 3-4, 3 RBI's, now batting .522 on the season! pic.twitter.com/UuWklh1Dks

— Chicago White Sox (@whitesox) August 26, 2015
If his name is called against Rick Porcello on Wednesday, Thompson certainly has the belief he'll continue to succeed.
"I know I can hit righties, but it's manager Robin [Ventura's] call," said Thompson, who is the No. 14-ranked prospect in the White Sox organization. "I don't think about that at all, just try to do my thing and prepare like I'm playing. Even before the lineup comes out, I still prepare like I'm playing. There's kind of a lot of situations where I come into the game later anyway, so I'm always ready, I'm always ready to help contribute."
"It's going to get there," said Ventura of Thompson facing more righties. "We talked about improvements you've seen with guys from Spring Training and then you get to see them again. His has been a big jump. He belongs here and he knows that. The way he's taking his at-bats, he's going up there being aggressive and confidence is high with him right now."
Sticking to the same routine every day has been crucial to success in Thompson's mind. He's also not trying to do too much in each at-bat, taking what the pitcher is giving him and trying to stay at least even thought-process wise with the man on the mound.
Miley beat Thompson with a fastball in the sixth, inducing a ground ball to third baseman Pablo Sandoval, and marking the only time he was retired in four at-bats. The 24-year-old was looking for the fastball again in the seventh with a 1-0 count and Melky Cabrera and Avisail Garcia on base.
"He just kind of left some pitches up in my first two at-bats," said Thompson, who finished with three RBIs. "He gave me a changeup my first at-bat and a curveball my second at-bat. In my last at-bat, I knew he would try to beat me with his fastball, because he did it before. Just keep it simple, not try to do too much. Just seeing it and hitting it.
"Baseball is a game of confidence anyway, whether you're in Rookie ball or the big leagues. You have to be confident to have success to start."
Scott Merkin is a reporter for MLB.com. Read his blog, Merk's Works, follow him on Twitter @scottmerkin and listen to his podcast. This story was not subject to the approval of Major League Baseball or its clubs.