Cano sets MLB record with 30-double season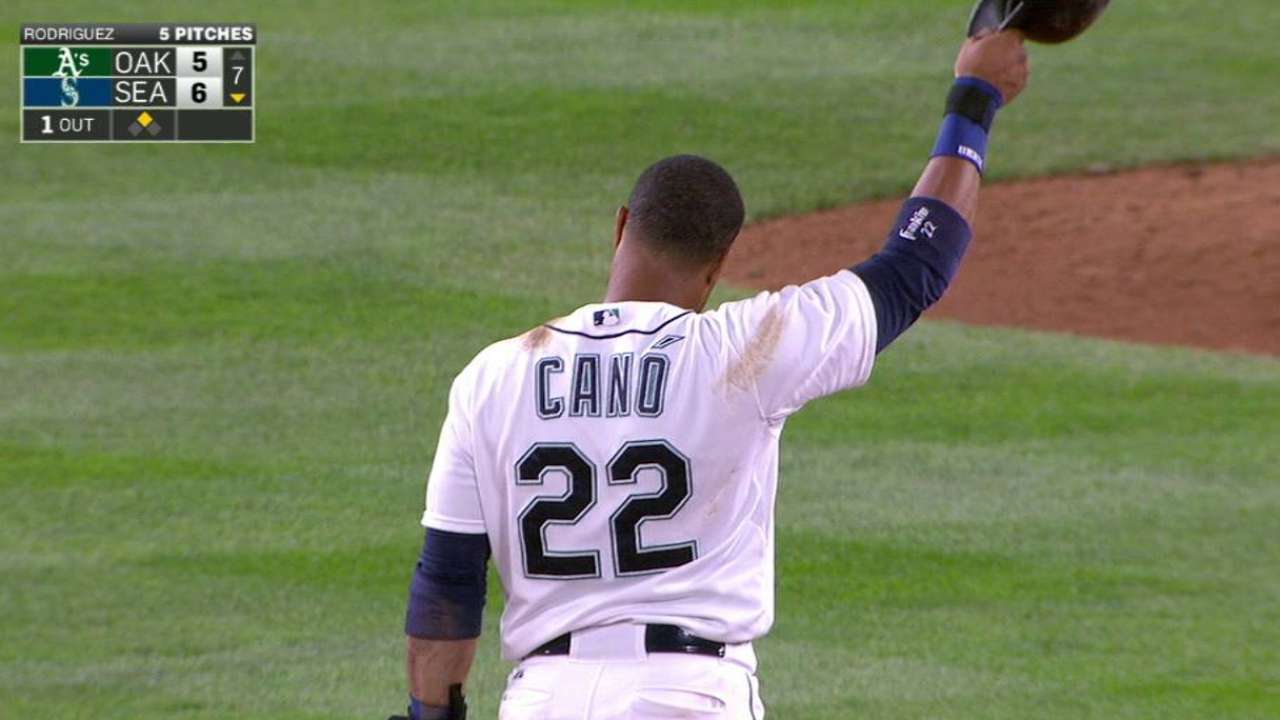 SEATTLE -- Normally when Robinson Cano reaches second base with a double, the bag stays put. But on Tuesday night, Safeco Field needed a new second base as Cano's trophy room gained another piece of hardware.
With a bloop double to left in the seventh inning of the Mariners' 6-5 win over the A's, Cano became the first player in Major League history to record 30 doubles in his first 11 seasons.
"Any time you can have your name in the record books and it says, 'The only in the history of the game,' that's pretty special. There's been a lot of great players that have played this game," said Mariners manager Lloyd McClendon. "Eleven straight years is just amazing. You just don't see, well, you've never seen it before. It's pretty good."
Cano joined Stan Musial, Honus Wagner, Tris Speaker, Joe Medwick and Ed Delahanty as one of six players to post 30 doubles in 11 straight seasons.
With no one on base in the seventh, Cano lofted a 1-0 changeup that landed just inside the left field line. The 32-year-old second baseman ran hard out of the box and turned toward second without hesitating, just beating the throw from left fielder Mark Canha. A member of the Safeco Field grounds crew came out to replace second base as Cano saluted the 17,498 fans in attendance.
"Honestly, I thought I was going to be out," Cano said. "I was a little far away. I saw [Canha] made the throw to the right of the base and I said, 'You know what, I'm going to try to sneak in here.'"
Cano became one of four active players with 11 30-double seasons, joining Albert Pujols, David Ortiz and Adrian Beltre, and one of 26 players since 1901 to post 11 30-double seasons.
Cano's first double came as a Yankee on May 10, 2005 against… the Seattle Mariners. That was news to Cano after Tuesday's game.
"No way," Cano said with a smile. "Wow! I didn't know that."
Cano followed with five doubles in his next four games and finished his rookie season with 34 two-baggers. He has 442 career doubles, tying him with Don Mattingly and Dick Bartell for 113th all-time.
It has been an up-and-down season for Cano, who has returned to form after struggling through April and May. Extending his doubles streak is a mark of consistency in what has been a tough season for the Mariners.
"We're going to go out there and compete every day. You just gotta keep fighting and compete," Cano said. "I feel blessed. Honestly, it's something that takes a lot of hard work, a lot of dedication, family, friends, people who support your career and to be able to accomplish that, you have to be blessed."
The double wasn't even Cano's most impactful hit of the night -- that was an RBI infield single in the fifth to cut Oakland's lead to 5-4 -- but it was the one that put him alone in the record books. It also gave his teammates something to celebrate.
"Shoot, I think you know everybody in this locker room is really really lucky to play with someone like him," said Logan Morrison, who hit a two-run homer on his 28th birthday Tuesday. "Really cool to see and I hope he gets 12 straight years, 13 straight years and so on and so on."
Andrew Erickson is an associate reporter for MLB.com. This story was not subject to the approval of Major League Baseball or its clubs.