Top of the order to you: Tribe trio on fire
Kipnis, Lindor, Brantley reach base 11 times in win over Brewers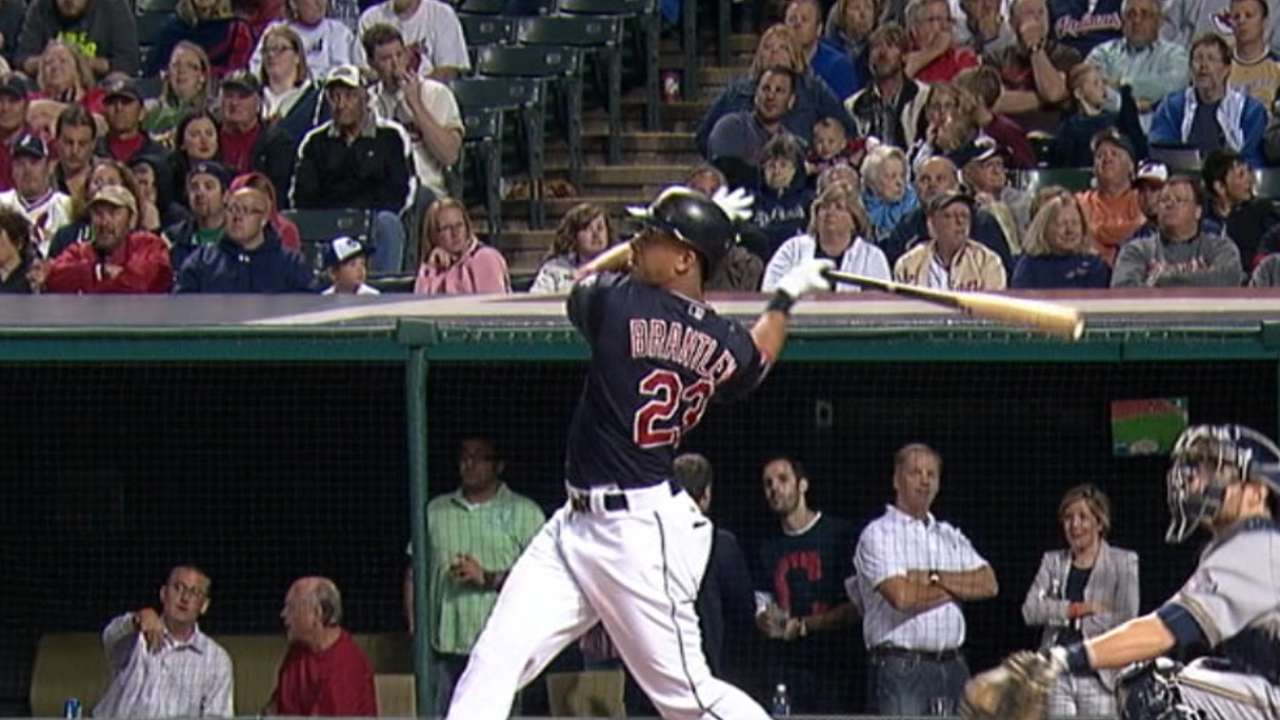 CLEVELAND -- Francisco Lindor was standing on first base when Michael Brantley hit his second home run in Tuesday's 11-6 win over the Brewers at Progressive Field. As the pair trotted around the bases, Lindor looked feverishly over his shoulder at his new friend and teammate, smiling. When Lindor crossed home plate, he eagerly awaited Brantley's arrival, smiling. When Brantley met Lindor at home, the duo performed their new signature handshake, which they call "The Professional."
Brantley and Lindor, whose budding friendship may lead to a blockbuster buddy movie in the future, represent two-thirds of the top of an Indians lineup that's looking better and better by the day. The other piece of that puzzle is All-Star second baseman Jason Kipnis.
Eric Stratton, rush chairman. Damn glad to meet ya. (Google "Animal House," kids.) pic.twitter.com/YMx88t8GMo

— Cleveland Indians (@Indians) August 26, 2015
The trio reached base 11 times on Tuesday. Brantley homered twice, Kipnis scored three runs and Lindor's 3-for-4 showing raised his season batting average to .306.
"The whole team is having fun," Lindor said. "Not only us three. The whole team is having fun. We're in this. We're enjoying the ride."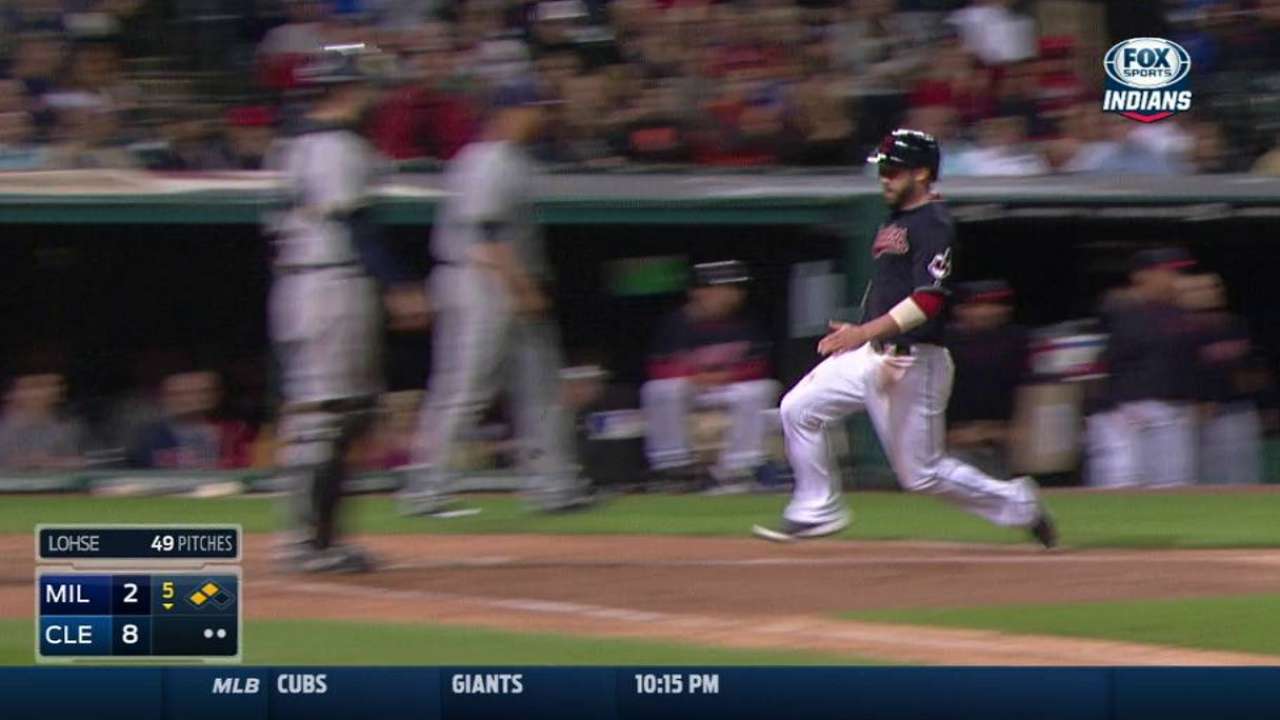 Following the victory, the Indians still own a record of just 59-66 and are tied for last place in the American League Central. For a team predicted to win the World Series by some at the season's beginning, the team's record can't be viewed as anything but a disappointment.
Yet, there are reasons to smile.
The dominance of the front end of Cleveland's rotation with Corey Kluber, Carlos Carrasco and Danny Salazar has been well-documented. And now, with the emergence of Lindor, the troika atop the Indians' batting order appears equally promising. The kicker is, all six are under 30 years old, and all six are signed to team-friendly deals that will keep them in an Indians uniform through at least the 2018 season.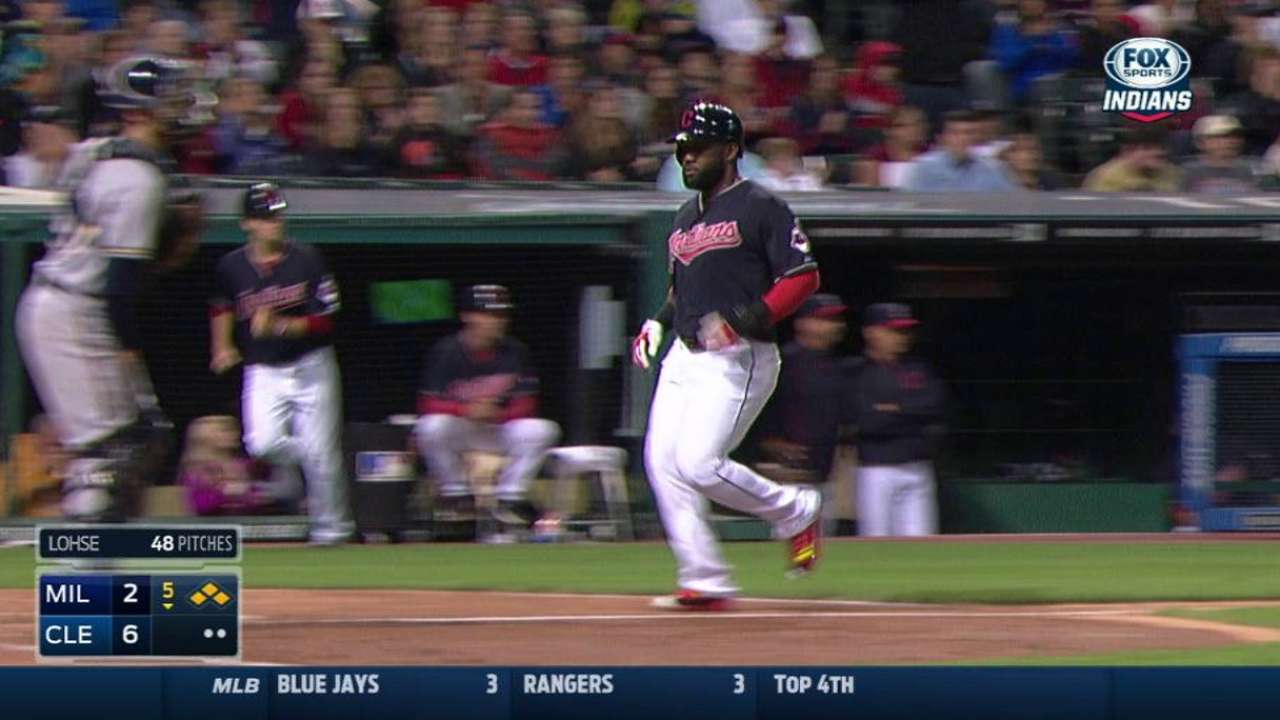 "I enjoy being part of it, whether I'm in the middle, the back or I'm just watching them because I got a day off," Lindor said. "I'm having a blast watching them. I love it."
"Regardless of what our record is, we don't ever want to show up at the ballpark and go through the motions, and that won't ever happen," Indians manager Terry Francona said. "But I think it's been easier with some of the enthusiasm with some of the younger guys. I think it's actually helped everybody else. Just because your record isn't what you want, you just can't throw it in. We need to play every game the best we can. That'll never change."
August Fagerstrom is an associate reporter for MLB.com. This story was not subject to the approval of Major League Baseball or its clubs.