Given 2nd chance, Tulo comes up big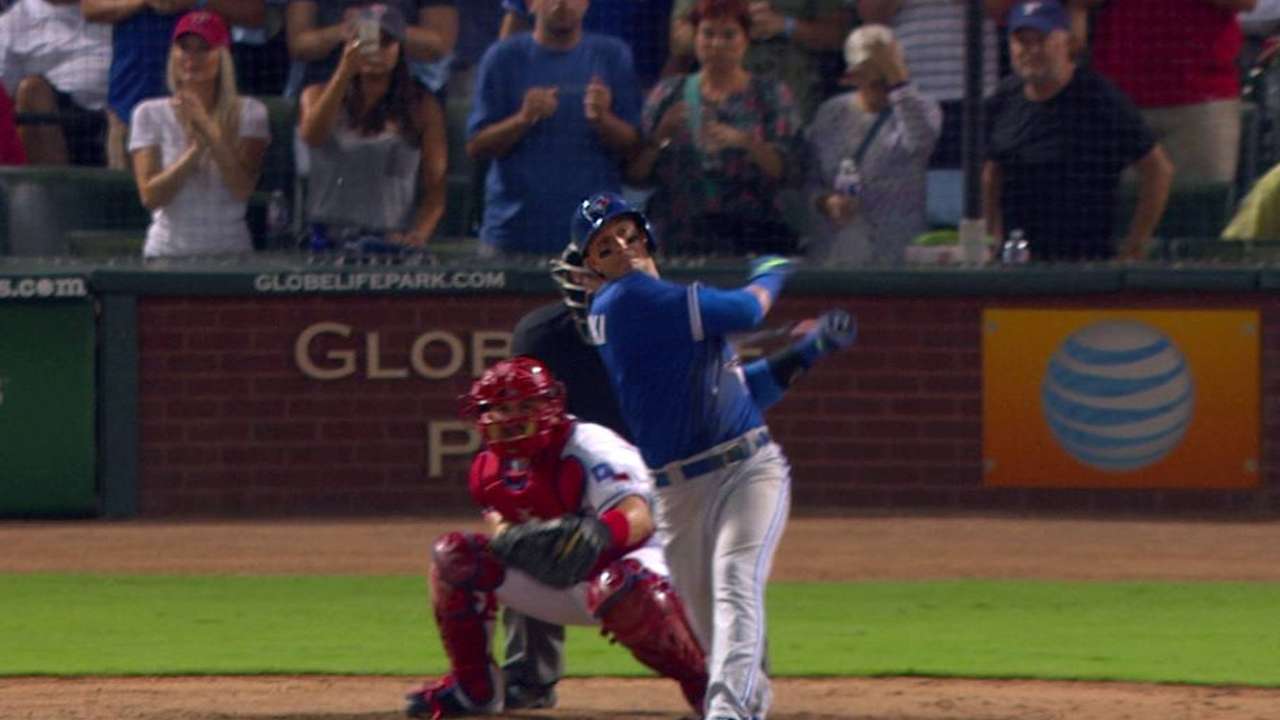 ARLINGTON -- Troy Tulowitzki had his shot at redemption on Tuesday night, and this time he found a way to come through when the Blue Jays needed him the most.
Tulowitzki hit a game-tying single when Toronto was down to its final out in the top of the ninth inning, paving the way for the Blue Jays to escape with a 6-5 victory over the Rangers after Josh Donaldson reached base on a throwing error charged to the normally sure-handed Adrian Beltre.
The situation Tulowitzki encountered brought back memories of an at-bat against the Yankees' Andrew Miller on Aug. 14. In that game, Tulowitzki had the bases loaded and fought through an epic at-bat before finally succumbing to a strikeout on the 12th pitch. This time the results were much different.
"He's starting to get some hits the last couple of games, but he's one of the best players in baseball, he has been for a number of years," manager John Gibbons said. "He had that chance tonight, and he got it done.
"You look back at that time against the Yankees he had that battle with Miller at the end. Right guy, right time, and he came through. But he's starting to heat up, he looks good, he's starting to throw some line drives out there."
Tulowitzki's tenure in a Blue Jays uniform got off to a rough start, with a .186 average and .609 OPS over his first 16 games. There have been signs of life recently, though, and he now has six hits and two walks over his last last four games.
The fact that Tulowitzki is turning things around should hardly come as a surprise. He is one of the elite hitters in the game for a reason, and he has looked noticeably more comfortable and no longer appears to be pressing at the plate.
"I think I'm just trying to relax as much as I can and then try to help us win games any way that I can," said Tulowitzki, who went 3-for-5 with an RBI and a run scored vs. Texas. "Defensively, baserunning, doing whatever I can. I think the last two days, I just had some balls fall, and trying to get more comfortable with my surroundings might help a little bit, but I haven't done anything different."
One of the biggest debates surrounding the Blue Jays in recent weeks has been where Tulowitzki should hit in the batting order. Gibbons has been peppered with questions about his current configuration, which has Tulowitzki in the leadoff spot followed by Donaldson, Jose Bautista and Edwin Encarnacion.
A more traditional order would have the club insert the speedy Ben Revere into the top spot while moving Tulowitzki down to the middle part of the order. Gibbons has been clear all along about his preference, which is backed by Tulowitzki's career .371 on-base percentage, compared with a .326 mark for Revere.
The strategy makes sense based on the numbers, and the ideal scenario played out on Tuesday night. Russell Martin led off the ninth with a walk, and pinch-runner Ezequiel Carrera later advanced to second on a grounder by Kevin Pillar. Revere walked, and pinch-hitter Justin Smoak hit a fly ball to center field. leaving the game in Tulowitzki's hands.
It was an at-bat Tulowitzki wouldn't have received had he been lower in the order.
"Those guys, they come around one more time, and I love having your best hitters getting one more shot at it," Gibbons said of his batting order. "Josh came up with the tie game. We caught a break there. I don't think I've ever seen Beltre throw a ball wide, so we definitely caught a big break there. He's one of the best ever. Things are going our way, that's really the only way I can sum it up."
Gregor Chisholm is a reporter for MLB.com. Read his blog, North of the Border, follow him on Twitter @gregorMLB and Facebook, and listen to his podcast. This story was not subject to the approval of Major League Baseball or its clubs.