Rookie trio leads Twins to series-opening win
Sano, Rosario go deep while Buxton tallies a pair of hits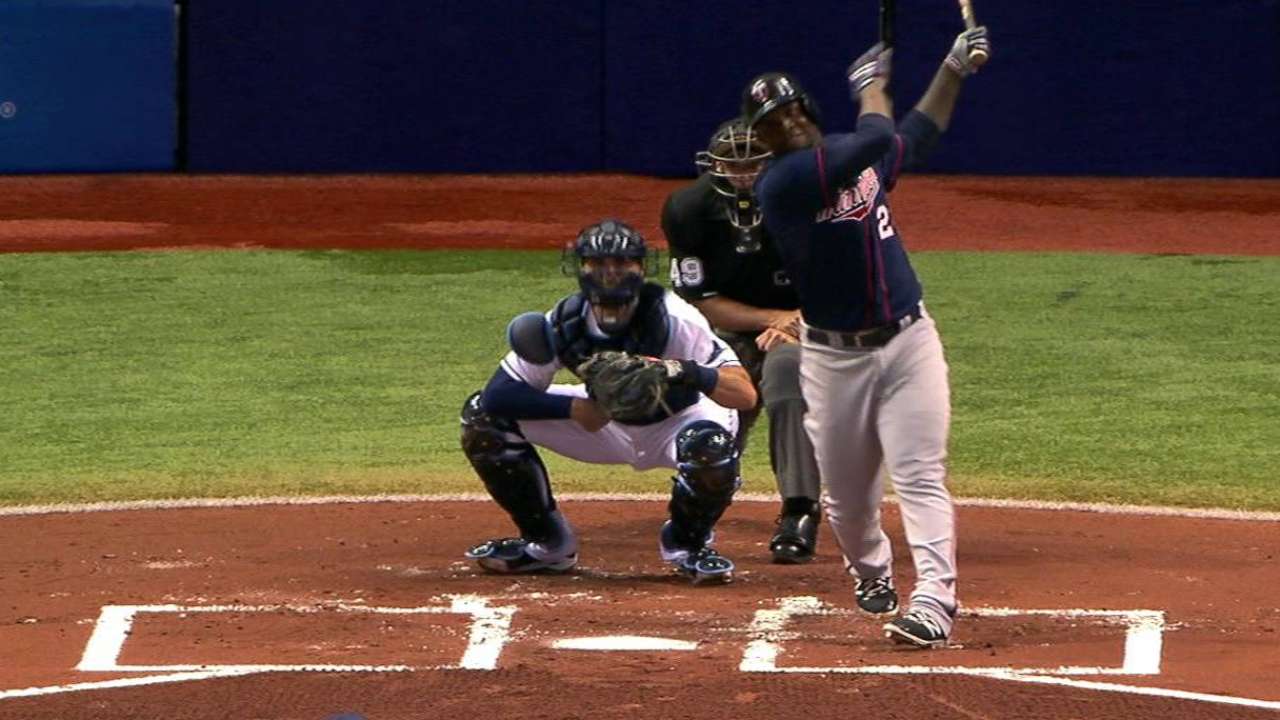 ST. PETERSBURG -- After years of hearing about top prospects Byron Buxton, Miguel Sano and Eddie Rosario, the future is finally here for the Twins, and the trio came up big yet again on Tuesday against the Rays.
Buxton, Sano and Rosario combined to go 5-for-13 with two homers, a triple, a double, two walks, five RBIs and five runs scored to help the Twins to an 11-7 win over the Rays at Tropicana Field. It was the fifth straight victory for the Twins, who now trail the Rangers by a half-game for the second American League Wild Card spot. Minnesota improved to 5-0 with Buxton and Sano in the lineup together.
The three rookies have impressed veteran right fielder Torii Hunter, as they haven't shown any fear despite being in a pennant race late in the season.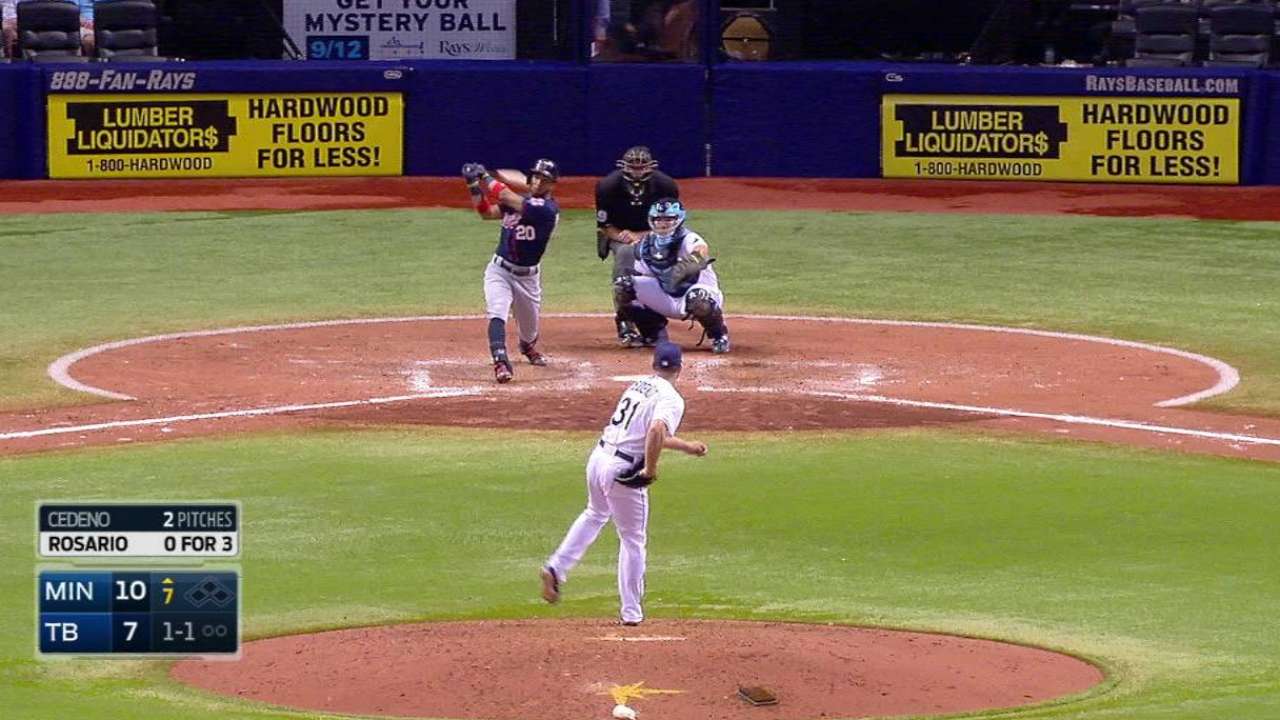 "I tell these guys that winning is a mentality and losing is as well, but these guys here won in the Minor Leagues," Hunter said. "They learned from [Double-A manager] Doug Mientkiewicz who won a World Series and went to the playoffs. So you can tell by the way they play the game and have good at-bats. And Buxton is out there playing a great center field. They have a fire about them I really like."
Sano continued his recent tear, smashing a three-run blast in the first inning for his fifth homer over his last eight games. He's homered in the first game of all three series on the road, and has 12 homers in just 45 career games.
"He's a different animal," Hunter said. "As far as hitting, he's pretty mature. He has a great idea and has great at-bats. He waits for his pitch. He takes pitches I'd never take. He's very polished and that's probably why he's going to be one of the best hitters the Twins have ever seen."
Twins manager Paul Molitor also had glowing words for Sano, who has helped spark the offense since being called up on July 2. The Twins reached double-digits in runs scored for the fourth time this month.
"It starts with Sano," Molitor said. "We have a lot of guys who are contributing, but he seems to be in the middle of a lot of things we're doing offensively. You'll see some strikeouts, but he gets walks. After his homer, you saw him be patient and take his four balls. So he's a big reason why our offense is flowing."
Buxton was also a sparkplug, going 2-for-4 with a walk and a ground-rule double, while Rosario hit a solo blast in the seventh and tripled in the ninth to reach 10 on the year to break the franchise's rookie record, which was previously held by Tony Oliva.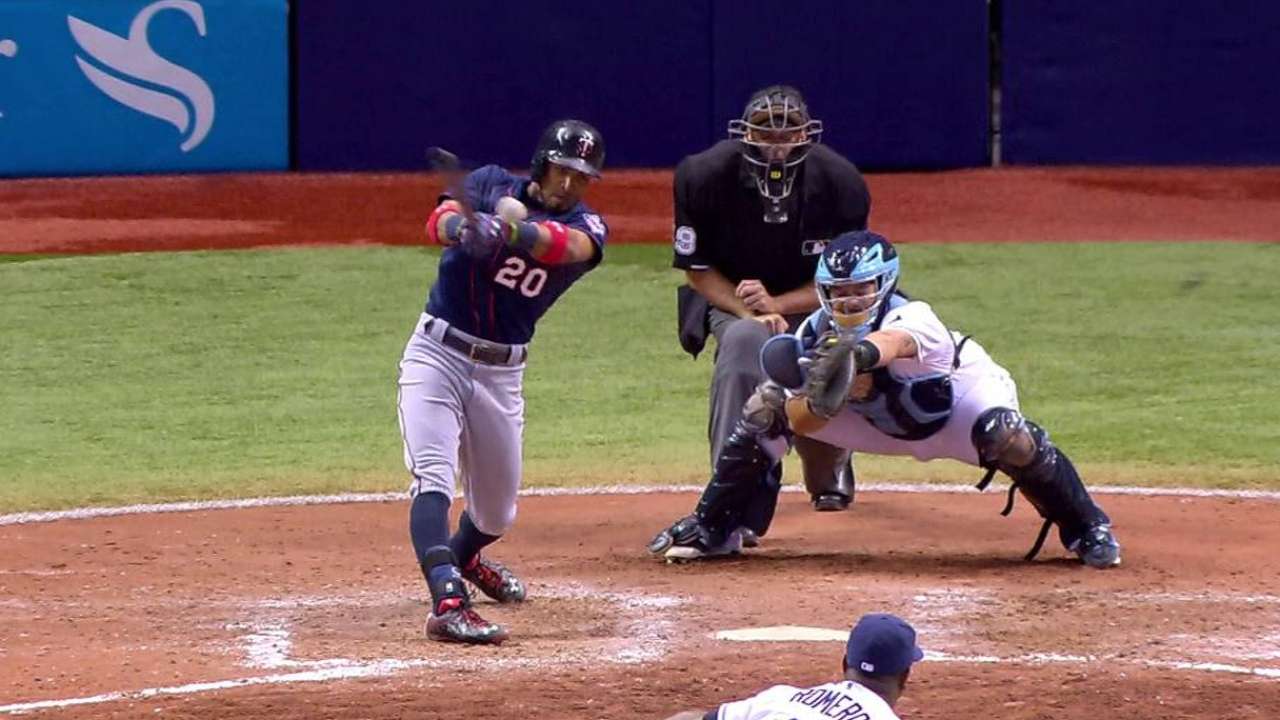 "It's a good thing, obviously, because double-digit triple seasons don't happen very often," Molitor said. "He's taken advantage of his opportunity to play on a fairly consistent basis. He's got gap power and he knows how to run the bases, so it's manifested itself into breaking that record."
Rhett Bollinger is a reporter for MLB.com. Read his blog, Bollinger Beat, follow him on Twitter @RhettBollinger and listen to his podcast. This story was not subject to the approval of Major League Baseball or its clubs.