'Sparkplug' Gordon matches career high in steals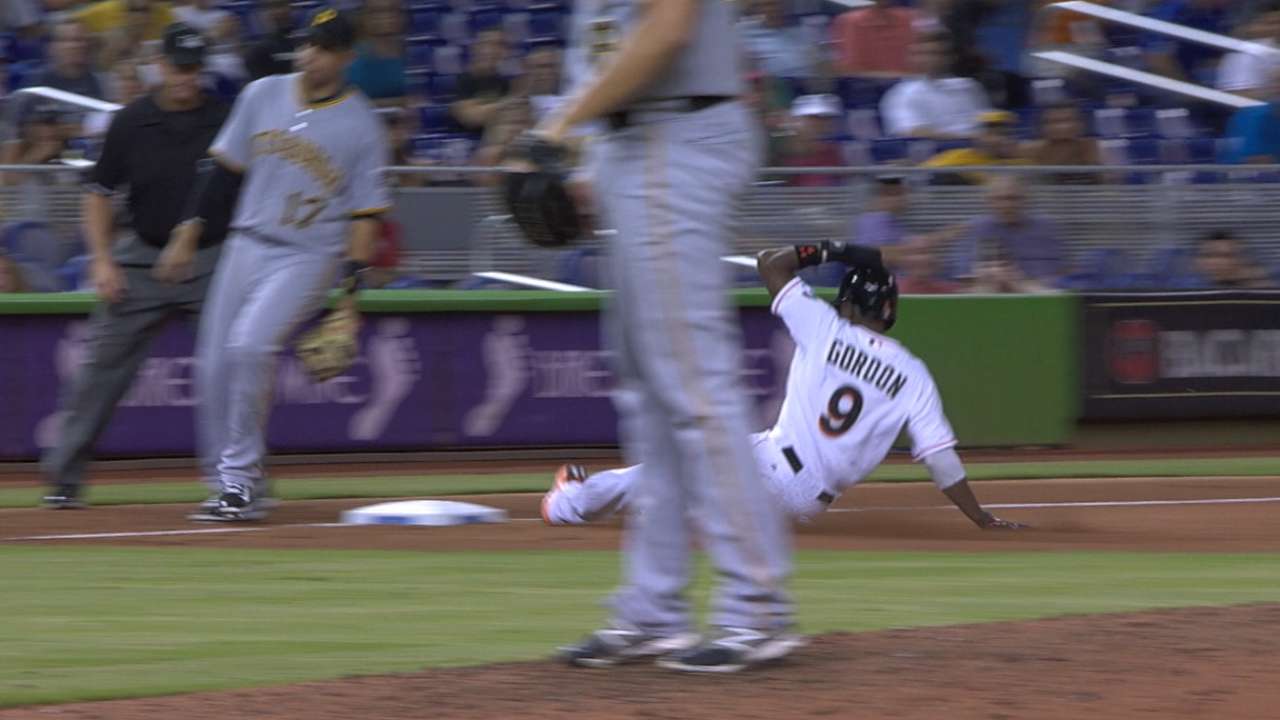 MIAMI -- Tuesday's contest had Dee Gordon's name written all over it, and -- not by coincidence -- the Marlins earned a 5-2 victory over the Pirates. The speedy second baseman put his stamp on the game by tying a career high with four stolen bases, notching two hits and scoring two runs.
"To see him be able to grab four bags tonight was huge for us because he is the catalyst," manager Dan Jennings said. "He was our sparkplug."
It was the 21st time in Gordon's career that he recorded a multi-hit and multi-stolen base performance. Meanwhile, the four steals -- which boost his season total to 45 -- marked the third time he swiped as many bags in a game (the last coming on May 22 vs. Baltimore).
"It's tremendous," Jennings said. "He's leading in the batting race and has had a great year running the bases. Has he been picked off or thrown out a little more than he wants to? Absolutely. But it's something he's learning as he goes."
Gordon's 2-for-4 night lifted his batting average to a Major League-best .333. His 45 steals rank second in the Majors behind only Billy Hamilton's 54, while they also tie Juan Pierre's 2004 season total -- which ranks 10th most in a season in club history.
The 27-year-old got the Marlins on the board in the fourth inning when he singled, stole second and scored on Justin Bour's double. He then reached on a bunt single, stole second and scored on Martin Prado's double in the sixth inning to put Miami up 3-1.
Gordon swiped his final two bags in the seventh inning after reaching on a fielder's choice.
"I was just trying to get into scoring position and help my team," he said. "I was able to get some opportunities to run."
Steve Wilaj is an associate reporter for MLB.com. This story was not subject to the approval of Major League Baseball or its clubs.