Peralta downplays team's 'dead arm' concerns
Right-hander's velocity down in loss vs. Indians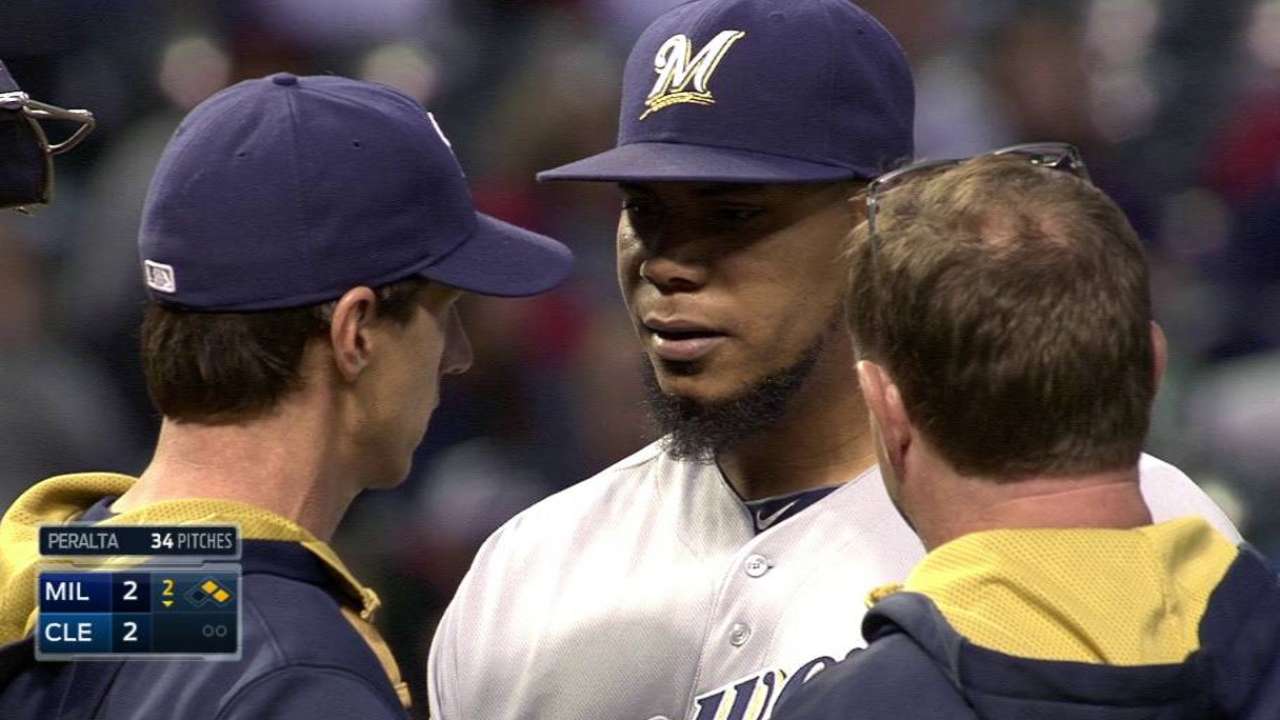 CLEVELAND -- Surrounded by concern in the clubhouse in the wake his 2 2/3 innings of diminished velocity, big Brewers right-hander Wily Peralta said the same thing many different ways.
"I feel fine," Peralta said after Tuesday's 11-6 loss to the Indians. "There's nothing wrong. I'm not hurt or nothing. I feel fine."
For good measure, he added later: "I feel 100 percent. I feel great."
He did not look great, which is why manager Craig Counsell and head athletic trainer Dan Wright visited the mound in the second inning, and why they will continue to monitor Peralta very closely in the days ahead. The 26-year-old was a 17-game winner last season and Milwaukee's most valuable pitcher, and he is arbitration-eligible in the coming winter.
So when he was pitching at 89-91 mph against the Indians, it raised eyebrows. Peralta's average fastball velocity entering the game was 94.5 mph, and he touches 97-98.
On Tuesday, the issue was so evident that that home-plate umpire Tim Timmons made a comment to Brewers catcher Jonathan Lucroy.
"My thought process is that [it is] maybe, possibly, a dead arm," pitching coach Rick Kranitz said. "If he feels fine and the ball's not coming out, that was my first thought, that after his rehab [from an oblique injury that forced Peralta to the disabled list for two months from late May to late July] that's what it is. He's saying he's fine. But certainly, there wasn't much there."
The Indians took advantage, scoring twice in each of the first two innings and mounting a threat in the third that prompted Counsell to go to the bullpen.
"We'll try to get to the bottom of it, but he's fine," Counsell said. "Certainly, it's not the same guy. He was 89-90 a lot of the night. So it's concerning. We'll try to figure out what's going on."
If it is indeed merely a case of "dead arm," what is the prescription?
"You've got to throw through it," Kranitz said. "If he's fine, he's fine. You just have to pitch. You have to go back out there and go, and he needs to go back out there and pitch and be who he is. That's throwing 94-97, 98. That's the guy he needs to be."
"I've never seen him like that -- just coming out throwing 89," Lucroy said. "Hopefully he's OK and he can get his velocity back up. We're going to need him."
Peralta had Tommy John surgery on his elbow as a Minor Leaguer in 2007, but had never been on the Major League DL before this season.
"I felt good. I don't really worry about velocity," he said. "I know my velocity is there. Today it wasn't, but I don't worry about that. … I'm just going to do my same routine that I've been doing and my next game try to have a better one. Try to give the team a chance to win. I won't do anything different because I know my velocity is going to be there."
Adam McCalvy is a reporter for MLB.com. Follow him on Twitter @AdamMcCalvy, like him on Facebook and listen to his podcast. This story was not subject to the approval of Major League Baseball or its clubs.