Padres cry foul after Harper gets foul call
Ball appears to miss foot of Nats slugger, who eventually walks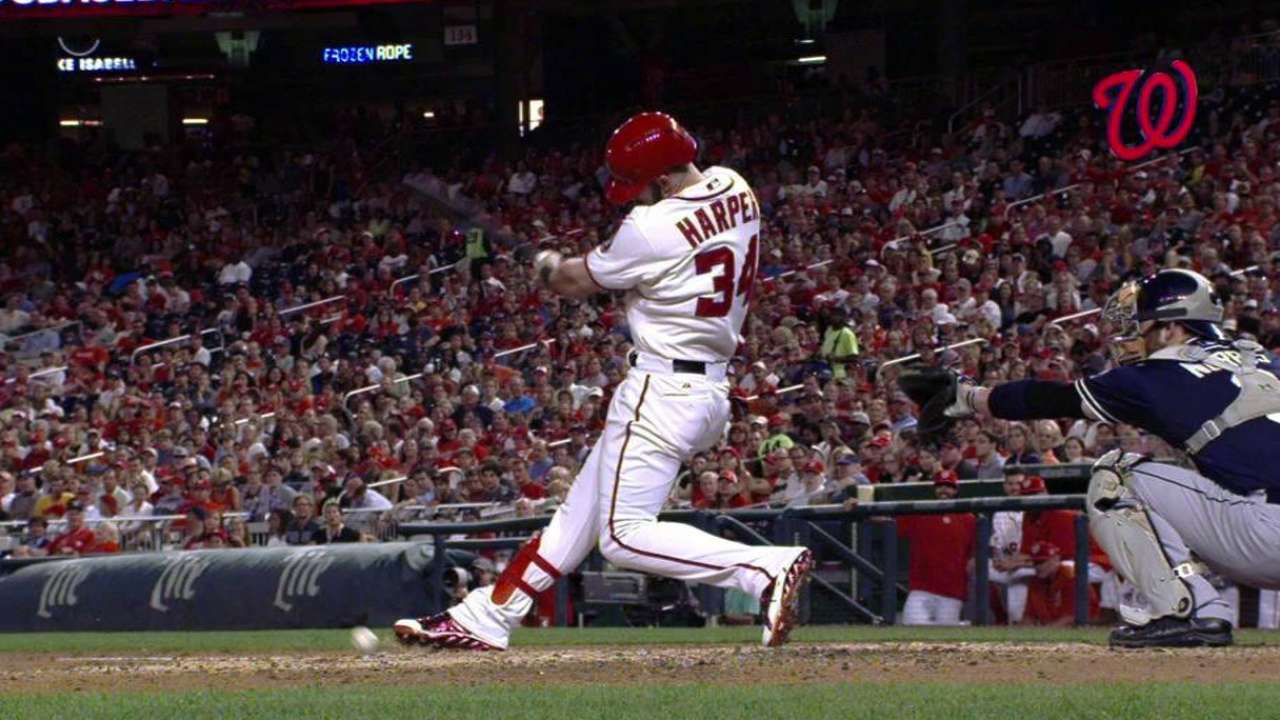 WASHINGTON -- Ryan Zimmerman's grand slam in the sixth inning Tuesday might have been the critical at-bat in the Nationals' 8-3 victory over the Padres, but it certainly didn't rate as the most momentous.
Two batters before Zimmerman unloaded on a Bud Norris pitch, breaking open what was a close game, left-handed reliever Marc Rzepczynski appeared to get Bryce Harper on an inning-ending ground ball to first baseman Yonder Alonso, keeping the game at 4-2.
But he didn't. Or did he?
On a 2-1 pitch, Harper hit the ball toward Alonso, but winced in pain and also dropped into an immediate crouch as if he had fouled the ball off his right shin, which is protected with a guard.
The umpires immediately signaled for a dead ball, only the Padres felt otherwise.
"I came back in and watched the video. Harper's a great player, but it didn't hit him," Rzepczynski said. "That missed him by a couple feet. It didn't even come close to his feet.
"[The] explanation was, once you call a dead ball, it's not reviewable. Obviously, my job's coming in and getting him out. [I'm] kind of upset that that play didn't work out. It might've turned the whole game around."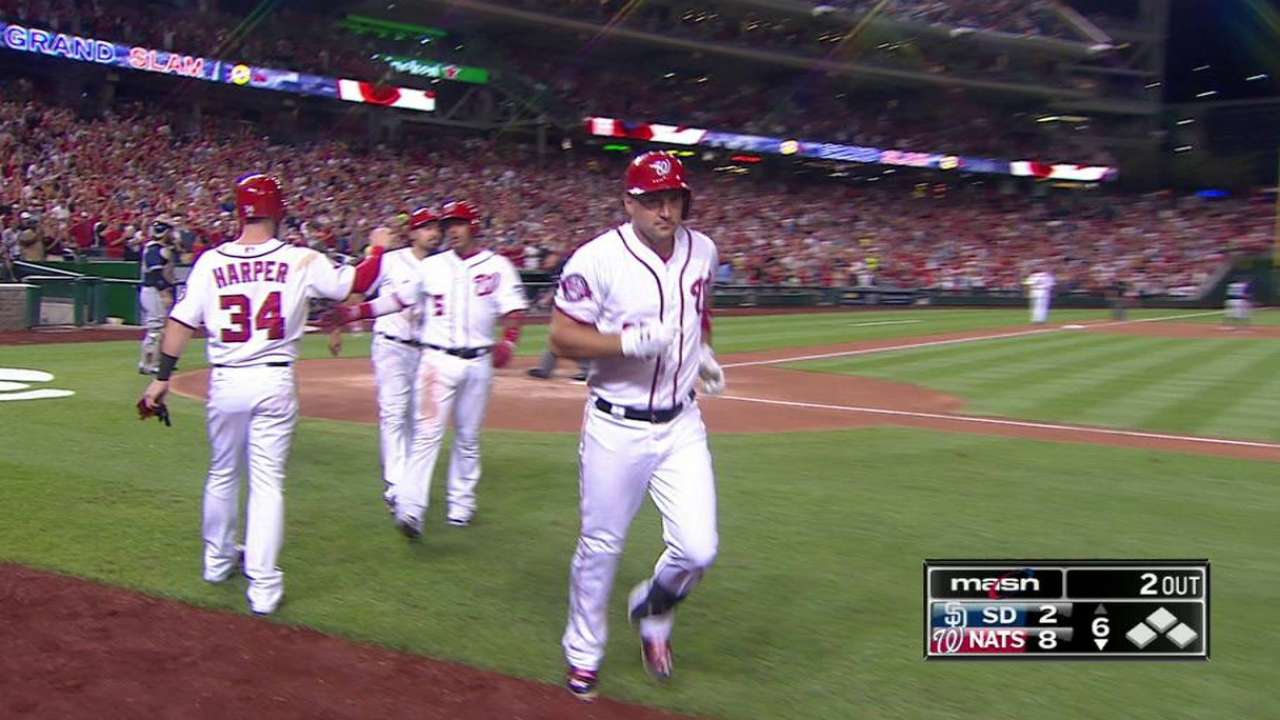 Rzepczynski ended up walking Harper, and Norris came in and then served up the grand slam as the Padres went from down two runs to down six.
"After we looked at the replay, it was an easy way to see that it didn't hit the player. Umpires miss calls, coaches miss calls, they have a very tough job. It's very unfortunate because it played a role," said Padres interim manager Pat Murphy, who was ejected the following inning by home-plate umpire David Rackley.
"It was not the correct call. But it's our responsibility to get the next guy out."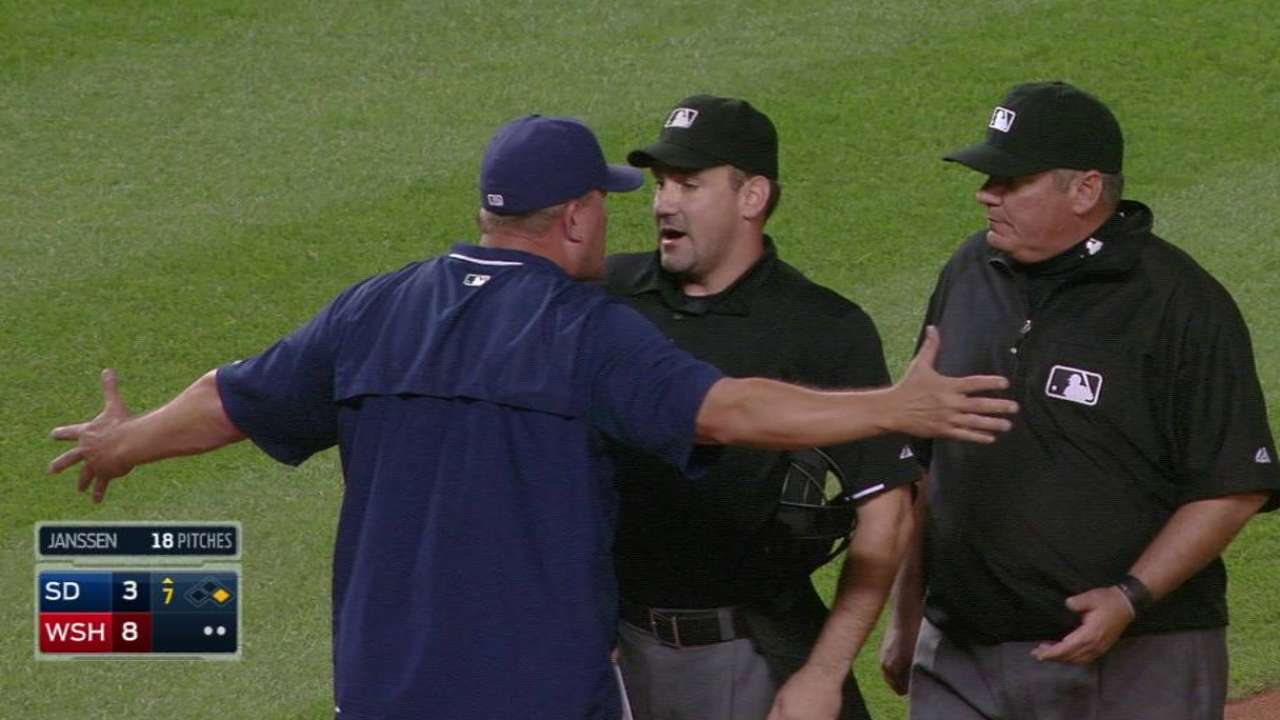 Padres starting pitcher James Shields, who started the sixth inning and got two quick outs before leaving after allowing an infield single off his right foot to Anthony Rendon, was upset after the game at what Harper got away with.
"That's a terrible call. There's no doubt about it. The ball was two feet in front of him, and Harper's acting like it hit him," Shields said. "Bottom line is, that's a game-changer, we're out of that inning, we don't have to use Norris there and tax our bullpen.
"We've got to be able to get that call right, because then we're down one going into the eighth and ninth."
Corey Brock is a reporter for MLB.com. Keep track of @FollowThePadres on Twitter and listen to his podcast. This story was not subject to the approval of Major League Baseball or its clubs.