Piling up pitches: Reds' rookies laboring
Lamb tallies 108 over five innings to continue exhausting trend among rotation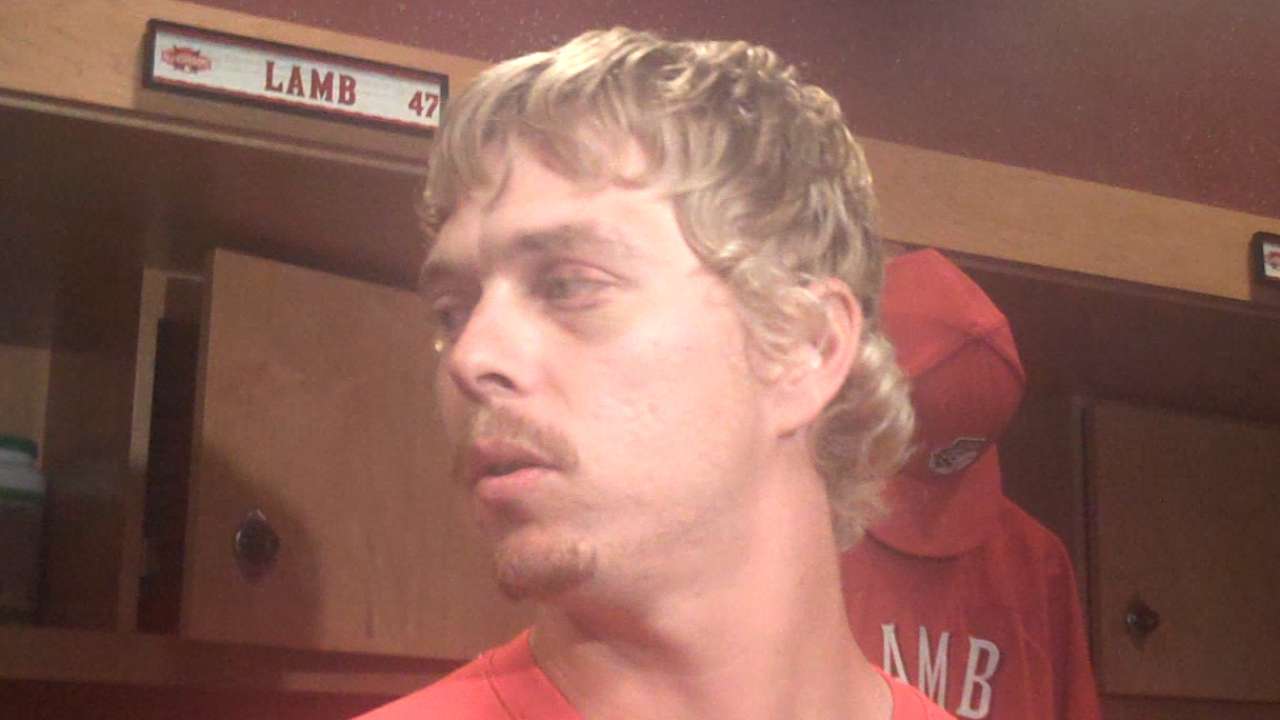 CINCINNATI -- In his third Major League start, and second vs. the Dodgers, Reds rookie John Lamb has followed the trend that has plagued the all-rookie rotation by racking up a lot of pitches in a short amount of time.
In the Reds' 5-1 loss to Los Angeles on Tuesday, Lamb lasted only five innings, during which he threw 108 pitches. His line was respectable, but not remarkable, as he gave up three runs and five hits with three walks, six strikeouts and Justin Turner's two-run homer in the third inning.
What hurt Lamb were long at-bats and lengthy innings. He did not retire the side in order at any point. The left-hander racked up 30 pitches through the first inning, and 72 over three innings. After he gave up back-to-back doubles to lead off the first for a run, his two-out walk of Scott Van Slyke on a full count forced him to use seven more pitches to escape while avoiding more damage.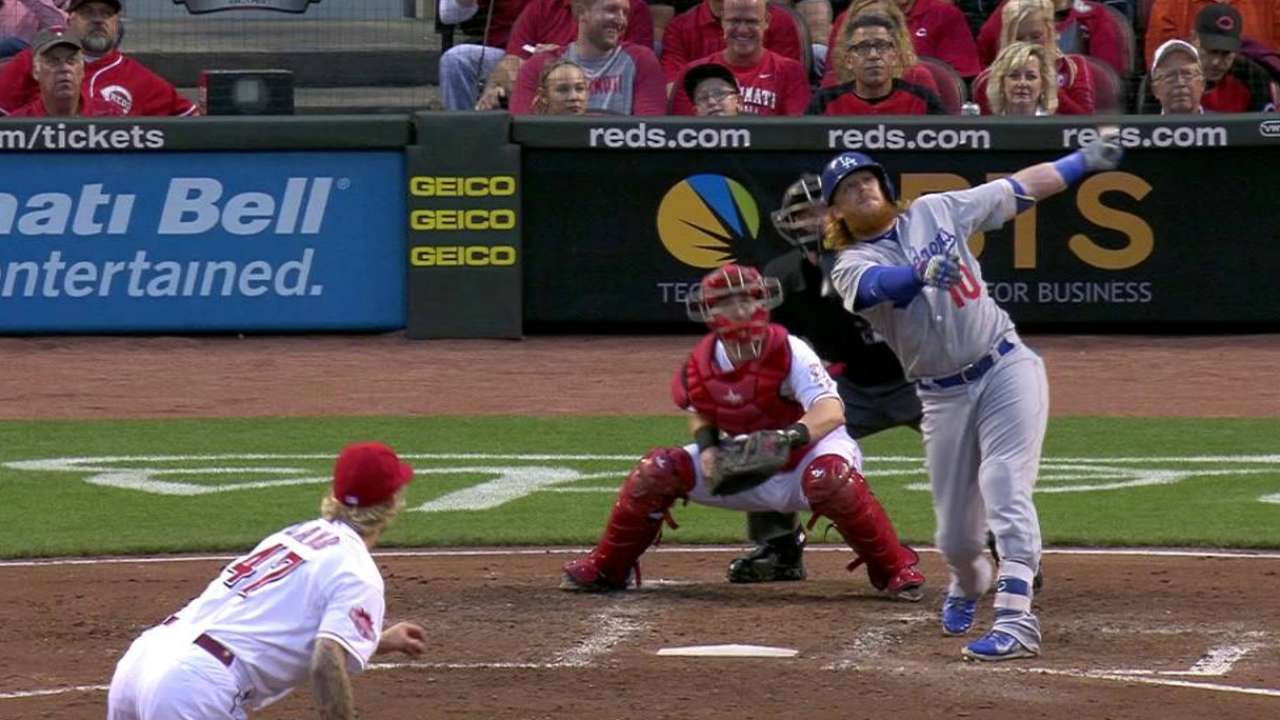 "Without a doubt, I would like to take myself deeper, and the club deeper, in the game so we don't have to go to the 'pen," said Lamb, ranked by MLB.com as the Reds' No. 21 prospect. "It's just learning the importance to get ahead, stay ahead, execute pitches, apply pressure to the hitter and the general situation that I'm in control out there when I'm doing well. It's definitely a learning experience. There's nothing really to chalk it up to."
Acquired from the Royals in the three-for-one trade that moved ace Johnny Cueto, Lamb is 0-2 with a 6.06 ERA in his three starts. In 16 1/3 innings, he's given up 11 runs, 22 hits and five walks with 21 strikeouts as he tries to establish himself with a new club.
Lamb had 112 pitches in 5 1/3 innings his last time out vs. the D-backs on Thursday as he hung in there for a depleted bullpen. In his debut at Los Angeles, he got through six innings with 99 pitches. Lamb is hardly alone among Cincinnati starters in learning how to navigate through big league lineups.
The pitcher Lamb replaced in the rotation, Michael Lorenzen, often was around 100 pitches by the fifth. Keyvius Sampson had 100 pitches over only four innings on Monday for a no-decision vs. Detroit. Sampson threw 95 pitches in 3 1/3 innings in the outing before that vs. Kansas City. Wednesday's starter, David Holmberg, needed 96 pitches to get through five innings vs. the D-backs on Friday while he was pummeled for five runs and 11 hits.
"[Lamb] was kind of like Keyvius yesterday -- right around the zone, but not on the plate enough early in the at-bat to create more swings," Reds manager Bryan Price said. "The at-bats kind of dragged on a little bit. He was around the plate. He competes well. The kid's got a good presence about him.
"He'll be fine, but our success is going to be in large part based on our ability to command and make good quality pitches early in the at-bat and get these guys in swing mode, get some early outs and save on pitch counts."
Mark Sheldon is a reporter for MLB.com. Read his blog, Mark My Word, follow him on Twitter @m_sheldon and Facebook and listen to his podcast. This story was not subject to the approval of Major League Baseball or its clubs.