Bucs can't match outfielders in holding runners
Pirates get assists from Marte, Polanco, but allow Marlins to steal five bases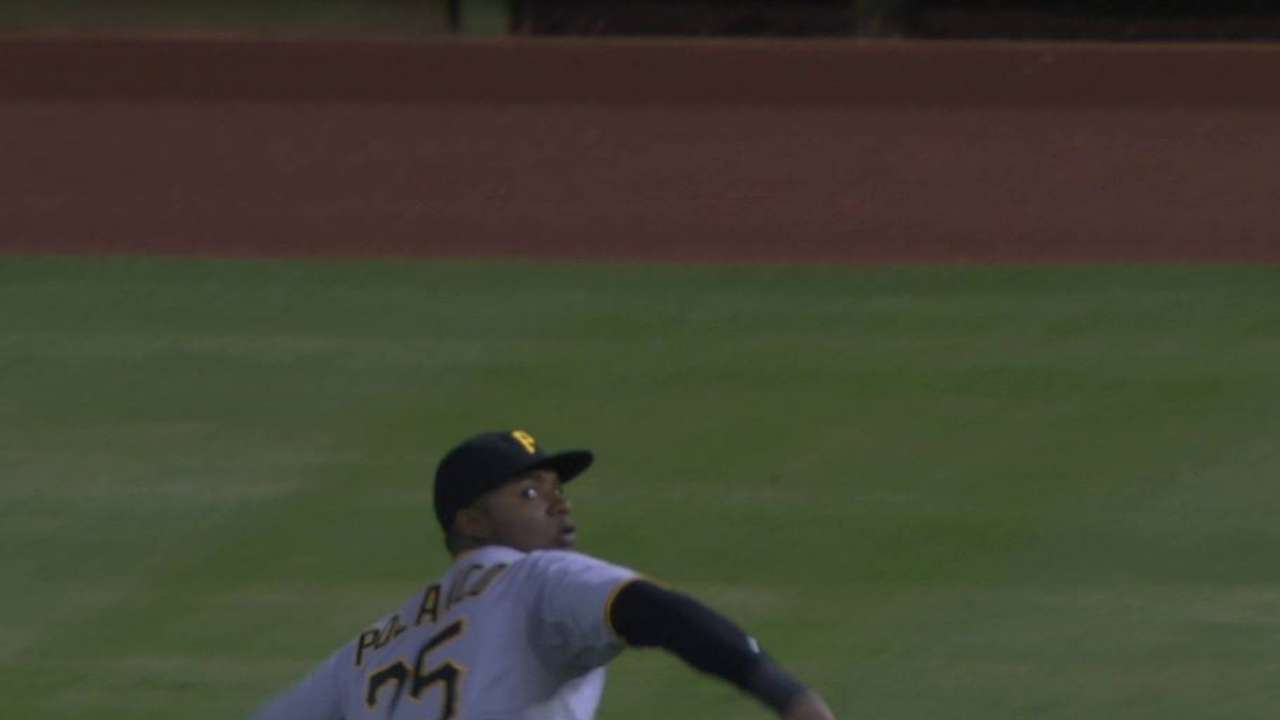 MIAMI -- The Pirates had an unusual time trying to contain the Marlins' aggressive running game Tuesday night.
Pittsburgh's corner outfielders each gunned down a runner at third base, making Miami pay for its attempts to take an extra base. But the Bucs' battery struggled to slow down Marlins speedster Dee Gordon, who had four of Miami's five steals in a 5-2 loss at Marlins Park.
"The stolen bases played a little bit, but I think that's one of the strengths of that club," Pirates manager Clint Hurdle said. "They're probably trying to utilize it."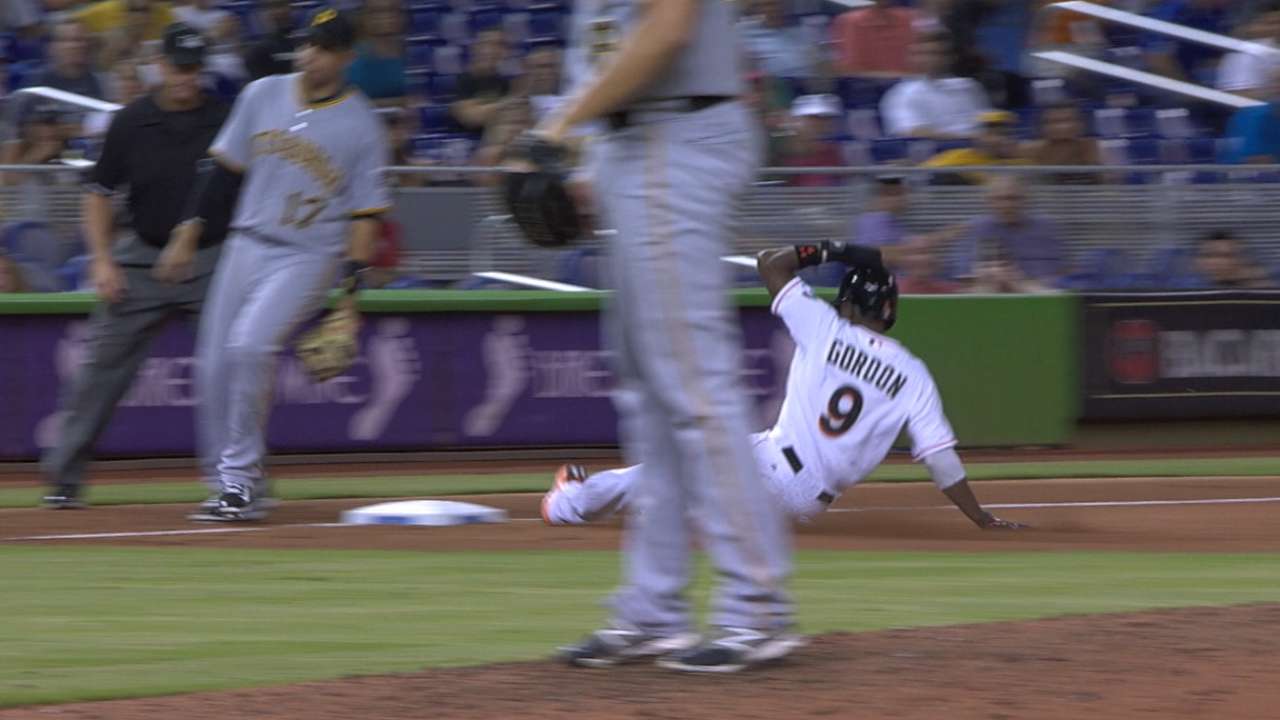 It's also been a recurring weakness for the Pirates this season, one of the few they possess as a team. Pittsburgh has allowed its opponent to steal five bases four times this season, permitting a Major League-leading 109 stolen bases overall.
On several occasions this season, the Pirates have had to re-emphasize the importance of controlling the running game, a task that more often falls on the Bucs' pitchers than catchers Francisco Cervelli and Chris Stewart.
That was the case Tuesday night, Hurdle said, although Gordon is a nightmare for any team. The Marlins' leadoff man is second in the Majors with 45 steals this season, trailing only the Reds' Billy Hamilton.
Gordon twice stole second base against starter Charlie Morton and Cervelli, and he came around to score both times.
"I thought Charlie did a real nice job early. The release times were good," Hurdle said. "Then the one situation he ran, we were slow to the plate. When you're slow to the plate with a guy like that, you're not going to get him."
It wasn't just Gordon's speed on the bases that hurt the Pirates, either. His first hit was an infield single, and his second was a bunt for a base hit.
"If he just puts the ball in play, there's a decent chance he's going to get on base; it's almost like you need to try to strike him out," Morton said. "If he gets on base, he's stealing tons of bases."
That's exactly what happened in the fourth and sixth innings, when Gordon stole second and eventually came around to score. Gordon stole second and third against reliever Jared Hughes in the seventh inning, but Hughes managed to strand him there.
"Good thing was he didn't cross the plate against me, at least. He does that a lot," Hughes said. "If you can find a way to keep him off the bases, that's what you want to do."
The Pirates' corner-outfield arms, meanwhile, potentially saved a pair of runs. Starling Marte turned a potential triple into an out in the third inning, throwing out Adeiny Hechavarria from the left-field corner.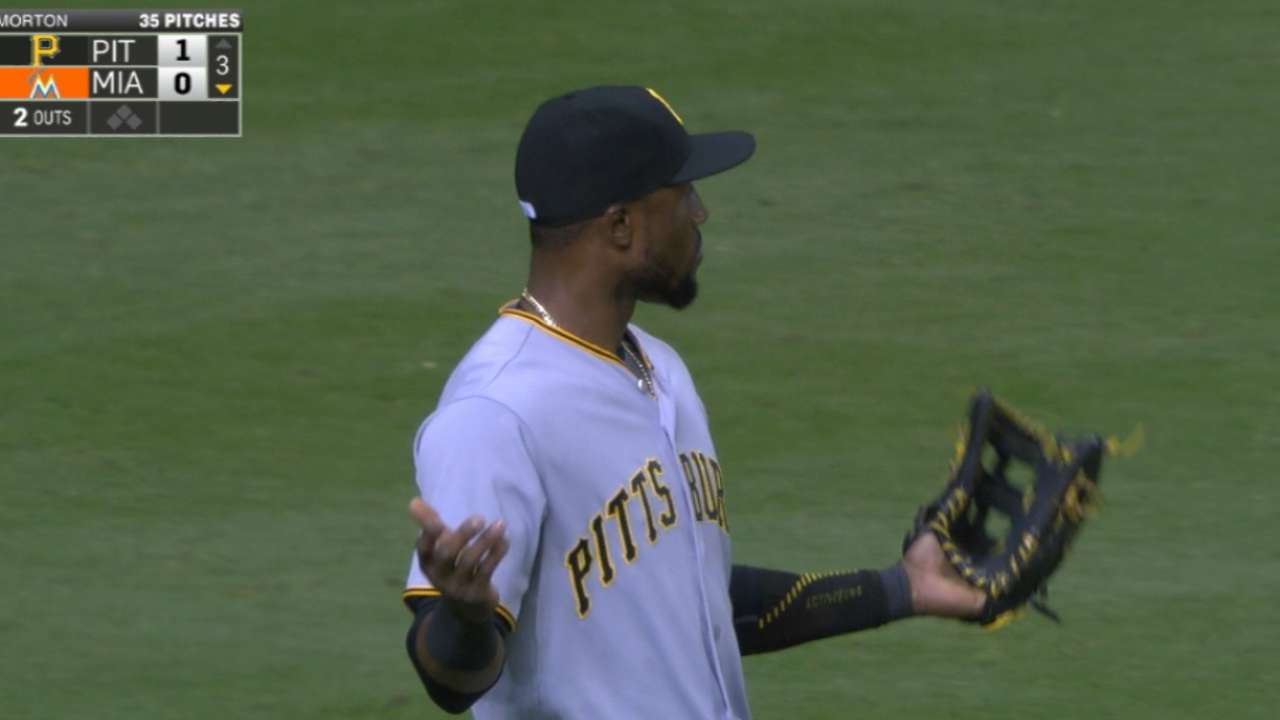 Two innings later, Gregory Polanco caught Hechavarria's fly ball to right and unleashed a perfect throw to third baseman Aramis Ramirez, who tagged out J.T. Realmuto.
Adam Berry is a reporter for MLB.com. Follow him on Twitter at @adamdberry. This story was not subject to the approval of Major League Baseball or its clubs.