Rays weigh options with injuries to Jennings, Casali
Outfielder feeling knee pain while catcher strains left hamstring on homer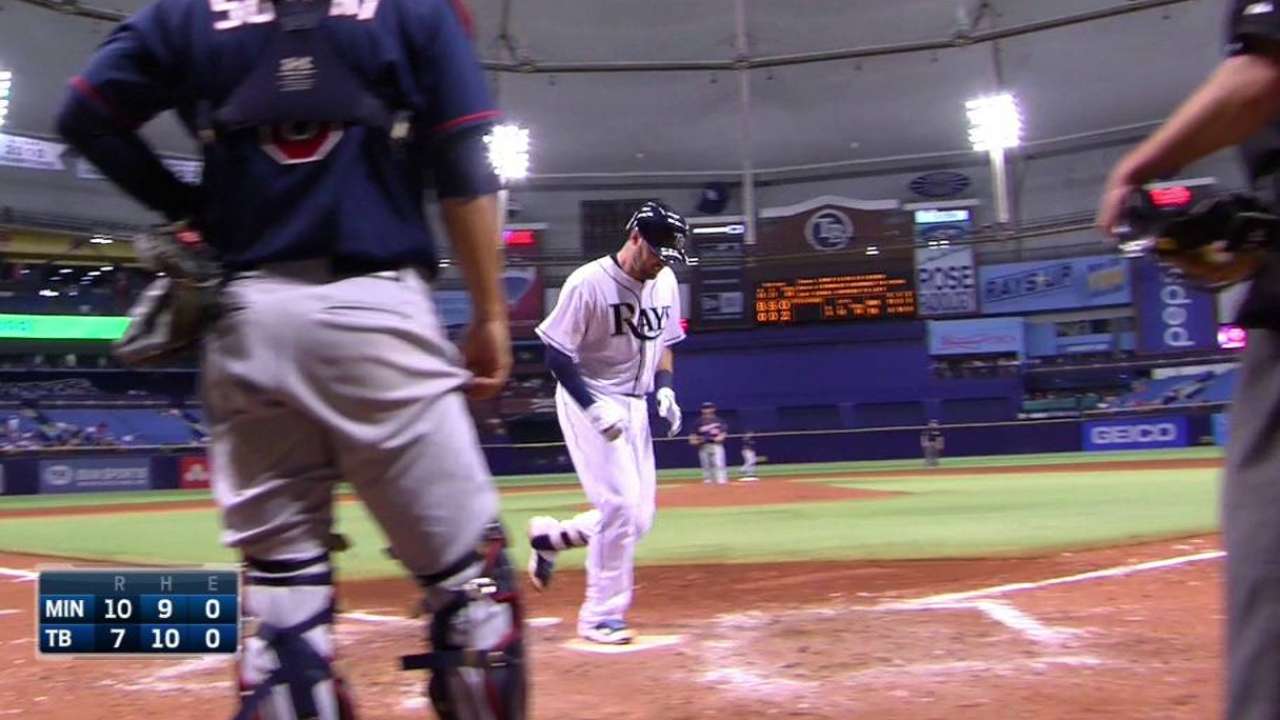 ST. PETERSBURG -- You know it's not a good night when one of your hottest hitters goes down while rounding the bases after hitting a home run.
But that's what happened to catcher Curt Casali during the Rays' 11-7 loss to the Twins on Tuesday night at Tropicana Field.
The Rays also had to remove outfielder Desmond Jennings due to a bruised left knee, leaving the team with a puzzle they must solve by the start of Wednesday night's game against the Twins.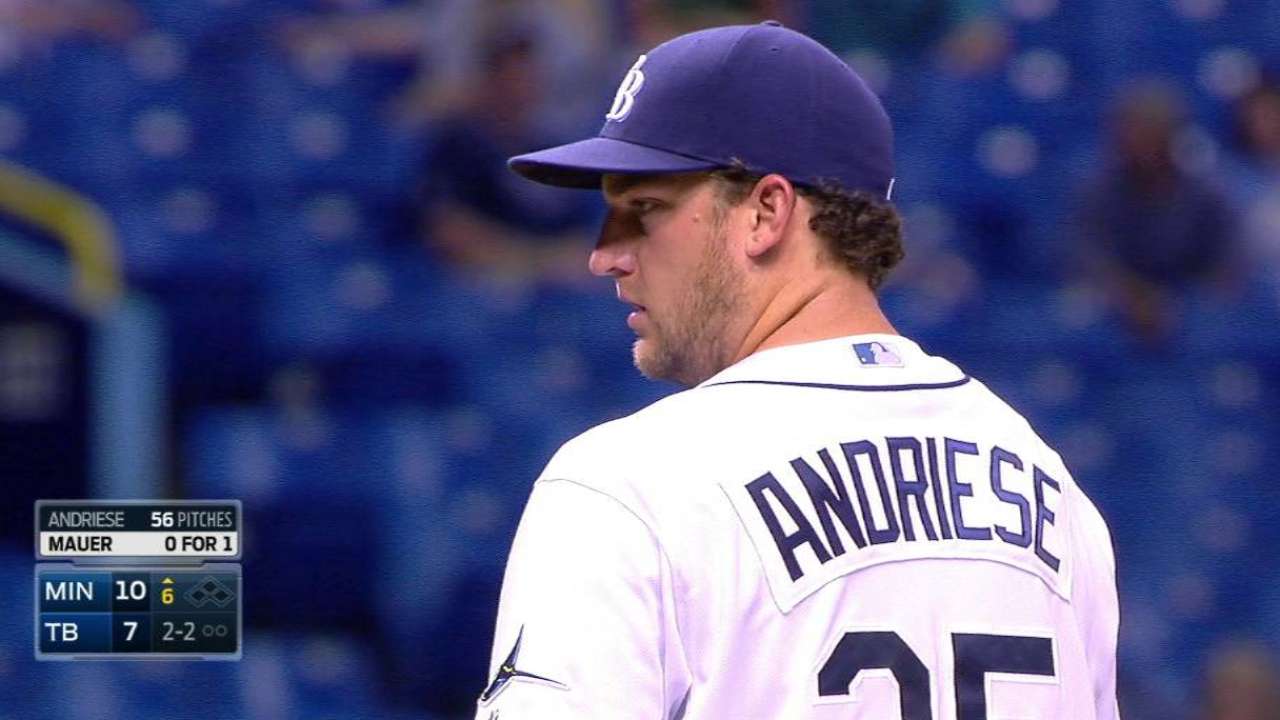 "Curt, strained [left] hamstring," Rays manager Kevin Cash said. "He'll be looked at by doctors tomorrow. We won't have any real information until tomorrow morning. And then, Desmond, in Oakland, he slid at second base. Kind of banged his knee up and I think probably maybe the combination of the flight, the off-day, all of that, it swelled up a little bit on him and became pretty irritating."
Of the two injuries, Casali's will likely dictate that a move be made since Rene Rivera is the only other catcher on the Rays' 25-man roster.
The most likely candidates to take Casali's place if indeed he goes on the disabled list would be J.P. Arencibia or Luke Maile, who currently are Triple-A Durham's catchers.
Arencibia, who has Major League experience, is hitting .227 with 22 home runs and 65 RBIs for the Bulls. Maile , who has never played in the Majors, is hitting .207 with five home runs and 26 RBIs.
Casali's injury occurred in the fifth after he hit his 10th home run of the season with two outs in the inning. When he rounded first he appeared to favor his left leg. He then took a long trip around the bases before finally reaching home with the Rays' seventh run.
"It was weird, it was really weird," Casali said. "...I felt fine going to first base. I was going pretty fast and it just started getting tight on me as soon as I hit the bag it didn't go very good going around the bases."
Casali admitted to having trouble circling the bases.
"I didn't want to injure it worse than it already was," Casali said. "I tried to take it as slow as I could. I knew I had to get around the bases somehow. Just unfortunate timing."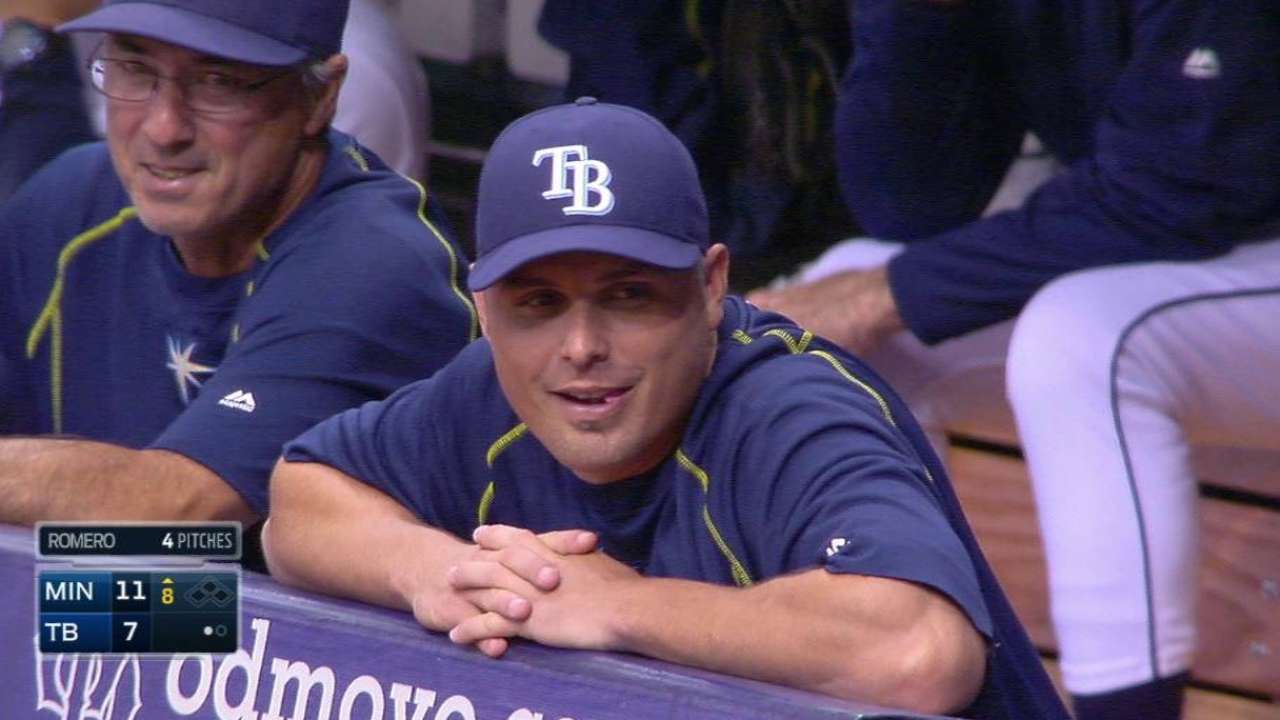 Casali has nine home runs since the All-Star break, which ranks first among American League catchers. Nine of his last 17 hits have been home runs. Since his June 13 recall, his 10 home runs lead the team.
"It's pretty disappointing," Casali said. "We'll know more tomorrow about the extent of what's going on there. I've been feeling really good at the plate and behind the plate. For something like this to happen, it stinks. ... And on top of a loss, it's not a good day."
Casali iced his leg after leaving the game without anything positive to report.
"It's still tight," he said. "It hasn't progressed any. So I'll get an MRI tomorrow and then I'll know more and then you guys will know more as well."
Jennings was replaced in left field with Daniel Nava following the Rays' turn at bat in the third.
Jennings was reinstated from the 60-day disabled list on Aug. 14 after missing most of the season with left knee bursitis.
If Jennings had to make a return trip to the DL, likely candidates who might return to the team include Richie Shaffer and Joey Butler.
Bill Chastain is a reporter for MLB.com. This story was not subject to the approval of Major League Baseball or its clubs.