Rivera inducted into Little League Hall of Excellence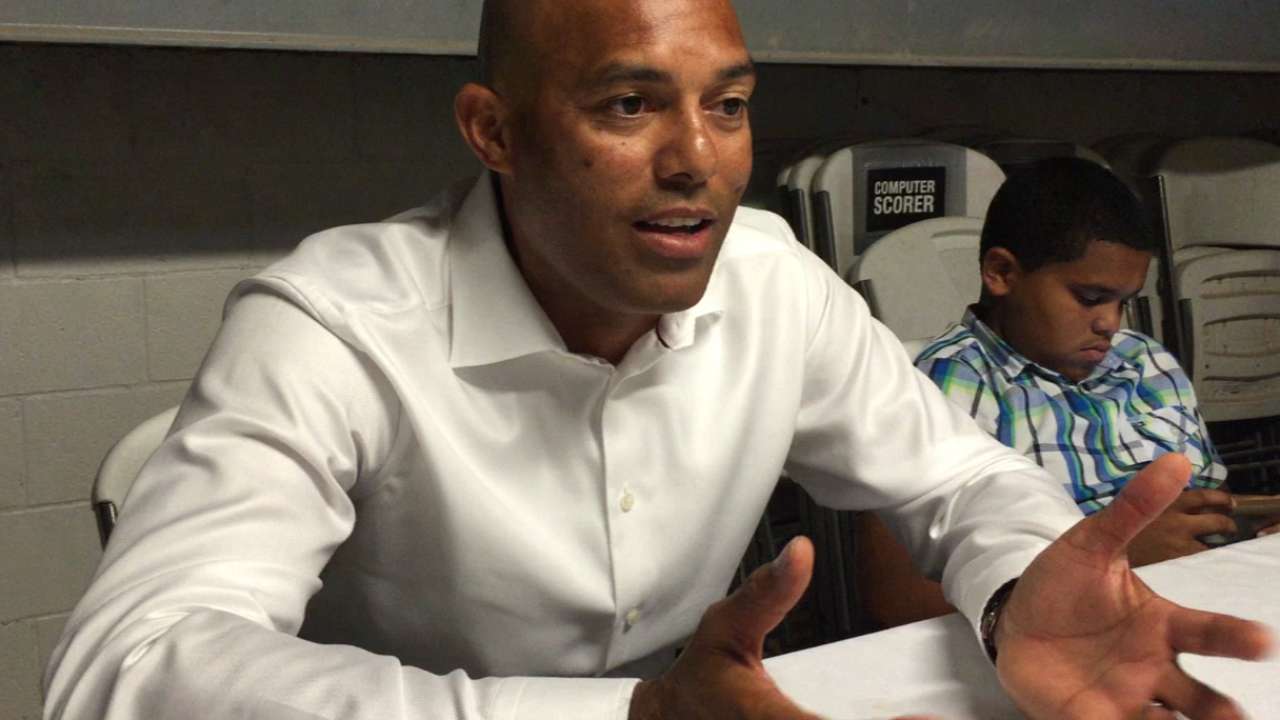 SOUTH WILLIAMSPORT, Pa. -- Retired Yankees great Mariano Rivera can add one more accolade to his resume. On Tuesday, in the midst of the Little League World Series, MLB's all-time saves leader was inducted into Little League's Hall of Excellence, an honor that recognizes on-field leadership, career success and the ability to make a difference in people's lives.
He stopped short, however, of agreeing that this was a good time to teach his famed cut-fastball.
"Not yet," Rivera said with a laugh. "It's hard to teach, because for me it wasn't taught. These kids do well with what they're throwing. At this age, they should focus on fastball, fastball, fastball. It doesn't have to be right over the plate. The plate has corners, and if they learn how to use them, they're two or three steps ahead of the rest."
Rivera grew up in Puerto Caimito, Panama, and by the age of 16, he was working on his father's commercial sardine fishing boat, while playing both baseball and soccer whenever he could.
"The fishing boat was a tough job, so my biggest advice to these kids is to stay in school," Rivera said. "In baseball, anything can happen and there goes your career. But if you study, you have something that helps you take care of your family."
Rivera, of course, went on to become a role model as a Major Leaguer. He set the all-time saves mark with 652, was a five-time World Series champ and a 13-time All-Star -- all after honing his craft on the fields of Panama.
"I played on my first Little League team when I was 7 or 8, for my school," he said. "We never had anything like this, but I could always play."
As 11- and 12-year-olds poured their hearts and guts into this year's Little League World Series, Rivera served as a reminder that it's more than just performance in sports for which they should strive. Yes, he was at his best when everything was on the line -- as evidenced by his career 8-1 record and 0.70 ERA in the postseason -- but being a role model off the field had a lot more to do with his Hall of Excellence selection than his statistics. His Mariano Rivera Foundation serves as a youth-oriented program to advance education, health, social and economic development in local communities, according to its website.
There was no representation from Panama in the field of 16 squads in Williamsport this year -- although eight teams from the country have reached the LLWS in the past -- but after coming out onto the field at Lamade Stadium to Metallica's "Enter Sandman," Rivera did have some good company in former Yankees teammates Gary Sheffield and Mike Mussina. Sheffield played in the LLWS for the Belmont Heights Little League of Tampa in 1980, and was in town on Tuesday making appearances with the sunglasses maker Oakley. Mussina grew up in nearby Montoursville, is a LLWS regular and was last year's Hall of Excellence enshrinee.
Mariano Rivera walks out to Enter Sandman, then tosses a strike. Just like his @Yankees days. https://t.co/5dDd2Z315f

- Little League (@LittleLeague) August 26, 2015
Past inductees run the gamut of career talent, including Bruce Springsteen, Kevin Costner, Dick Vitale, stock car driver Kyle Petty, Vice President Joe Biden, President George W. Bush, Chris Drury (the NHL star who won a LLWS in 1989) and Krissy Wendell (who, in 1994, was the first female player to start in the LLWS at catcher).
"This honor goes right up there with the all the rest," Rivera said. "This town, and baseball here, are amazing. I remember always being glued to the TV this time of year, especially when my country Panama was in it.
"The facilities are great. I only played on a field this nice when I was in the big leagues. Here, you give kids the chance to become passionate for the game and the opportunity to dream."
Mike McCormick is the editorial director for Major League Baseball. This story was not subject to the approval of Major League Baseball or its clubs.