Marshall feels grateful after brush with tragedy
Righty visits D-backs for first time since being hit with line drive in head while with Reno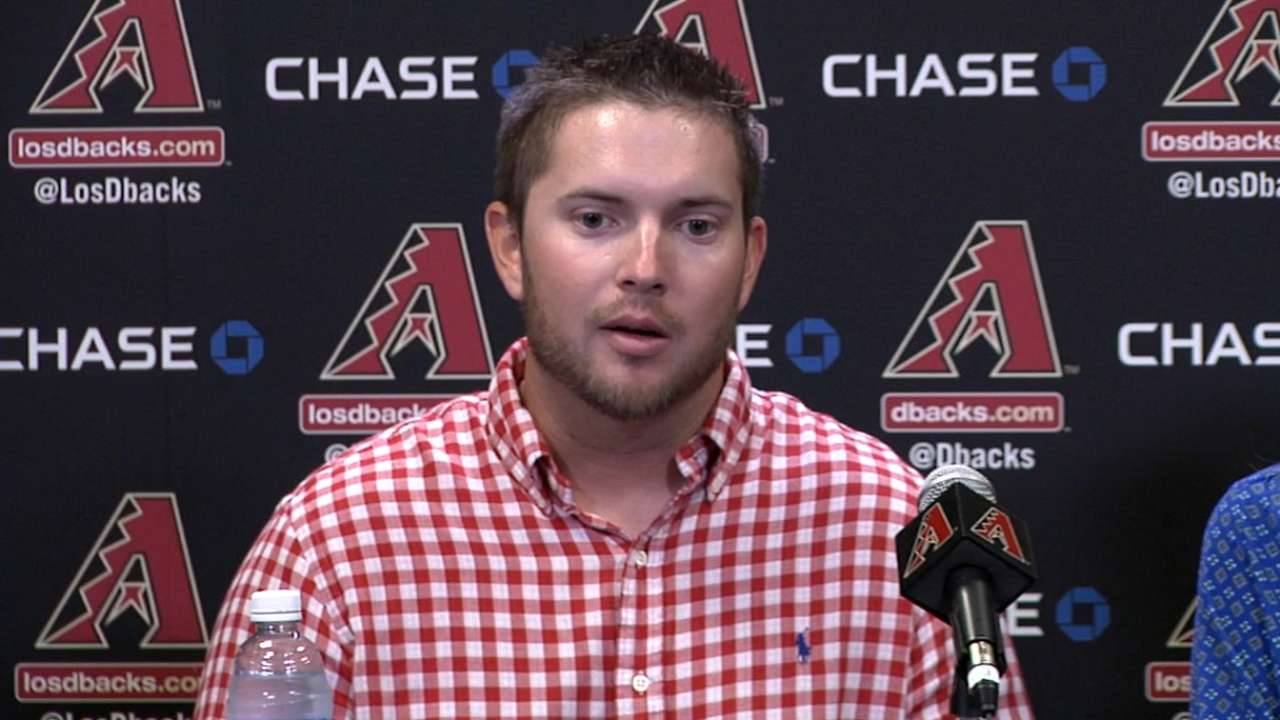 PHOENIX -- Three weeks ago, there was serious question as to whether D-backs right-hander Evan Marshall was going to live through the night after being struck in the head by a line drive while pitching for Triple-A Reno.
On Tuesday, though, he walked into the D-backs' clubhouse for the first time since the injury and received hugs from his teammates.
And yes, he's trying to convince his doctors that he can make a return before this season is over, even though 2016 seems more likely.
"The focus of therapy right now is brain recovery and making sure everything is back to baseline, and then the focus will shift to returning him back as an athlete, which he wants to have happen as quickly as possible," said Dr. Christina Kwasnica, who is overseeing Marshall's rehab at Barrow Neurological Center in Phoenix. "It's remarkable that we are even having this discussion, or talking about those kind of things three weeks after what happened."
After being struck in the head on Aug. 3 in El Paso, Marshall was rushed to UTEP's University Medical Center and had to have surgery to reduce the swelling in his brain. Every moment counted at that point because the longer the swelling remained, the more his brain was being damaged.
It was that night when Marshall's wife, Allie, was informed just how serious Evan's injury was.
"They didn't know if he was going to make it through the night," Allie Marshall said, her voice cracking. "The doctors in El Paso and the staff for the Aces, they saved my husband's life. I was terrified, I was absolutely terrified. We're going on two years of marriage, and I've known this kid for six years and suddenly you're told that you may lose your spouse."
Marshall was hospitalized in El Paso for a week before being transfered to Barrow, where he spent another week before being released to continue his rehab on an outpatient basis.
"I'm blessed and thankful because the speed that everyone acted is honestly what allowed me to wake up and remember who I was," Marshall said. "I had some symptoms. The left side of my body was a little slow because I got hit on the right, and I was slurring my words. It was scary. I didn't like it. It's been amazing the care I've received."
While initially his recovery may have been slow, Marshall has made great leaps forward, so much so he is pushing Kwasnica to allow him to return to the mound in September.
However, Kwasnica said that if everything goes well, a more likely time frame would be next season. The pair have begun to discuss ways to protect Marshall's head for his eventual return.
"I told her that the season has six weeks left and don't bet against me," Marshall said. "Getting hit is just this hurdle, this obstacle, and being a competitor it's a challenge and every step of this process it feels like I've competed my way to getting better because I've really had to work hard."
Steve Gilbert is a reporter for MLB.com. Read his blog, Inside the D-backs, and follow him on Twitter @SteveGilbertMLB. This story was not subject to the approval of Major League Baseball or its clubs.