Duo get chance to work out with Sox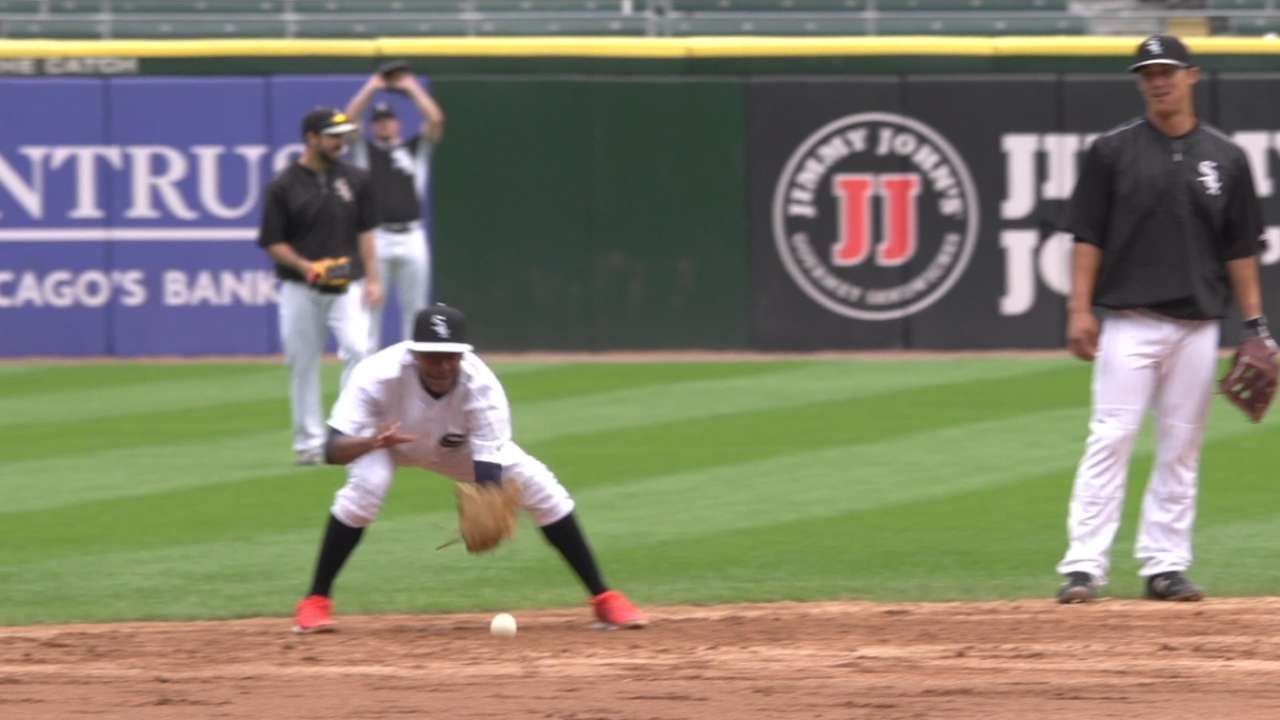 CHICAGO -- When Tommy Washington and Jordon "Jojo" Rogers showed up at U.S. Cellular Field on Tuesday afternoon, they thought a simple workout in front of perspective colleges was on the agenda.
But these two participants from the White Sox Amateur City Elite youth baseball program instead received a major surprise as part of the organization's seventh annual Serve Week, which was formerly known as Charities Week. Washington and Rogers had the chance to work out with White Sox players and do everything but take batting practice.
They wore White Sox uniforms, had their own locker and had an experience they will never forget.
When your warmup partner is Alexei >>> #SoxServe pic.twitter.com/VWEX8Hp26c

— Chicago White Sox (@whitesox) August 25, 2015
"I was just happy and feel blessed to do all of this," said Washington, whose father is part of the U.S. Cellular Field grounds crew. "I didn't know this was going to happen, that I was going to get to play with them."
"Just trying to do something they will remember for the rest of their life," said White Sox director of youth initiatives Kevin Coe of the special experience for these players. "I think they are more in shock with the whole experience. When I asked them how this is, they said it's unbelievable."
Washington will be a junior at Harlan Academy and currently has a 3.2 GPA. He has participated in the White Sox Inner-City Youth Baseball program, the RBI program and the ACE program. He also was selected to participate in the Area Code Underclass games in California earlier this month.
Rogers will be a sophomore at Simeon Career Academy and has a 2.7 GPA. He started as a freshman on the city championship team.
This duo went through a pregame workout as supervised by White Sox director of conditioning Allen Thomas. They took flips in the indoor cage and then had the chance to show their defensive skills while taking a little infield. They met players ranging from Alexei Ramirez to Carlos Sanchez to Adam Eaton.
When asked why Washington and Rogers were chosen for this honor, Coe delivered the simple answer of "because they deserved it."
"Doing something like this kind of getting the feel for, getting their feet wet, it motivates them to work harder," Coe said. "But they grew up in White Sox baseball."
Chris Sale was a player previously met by Washington through the ACE program, although he didn't see the White Sox ace Tuesday. With a broad smile, Washington said that he would have liked to take a few swings against the seemingly un-hittable southpaw to complete his experience.
"I would, and no, I wouldn't be scared," said Washington of facing Sale. "The ACE program has taught me a lot. They kept me on my game about what I'm supposed to be doing."
White Sox Serve Week continues through Sunday with daily events. More information can be found at whitesox.com/soxserve.
Scott Merkin is a reporter for MLB.com. Read his blog, Merk's Works, follow him on Twitter @scottmerkin and listen to his podcast. This story was not subject to the approval of Major League Baseball or its clubs.