MLB.com Columnist
Mike Bauman
Emotional win may be Angels' turning point
Weaver says outburst meant to fire up slumping Halos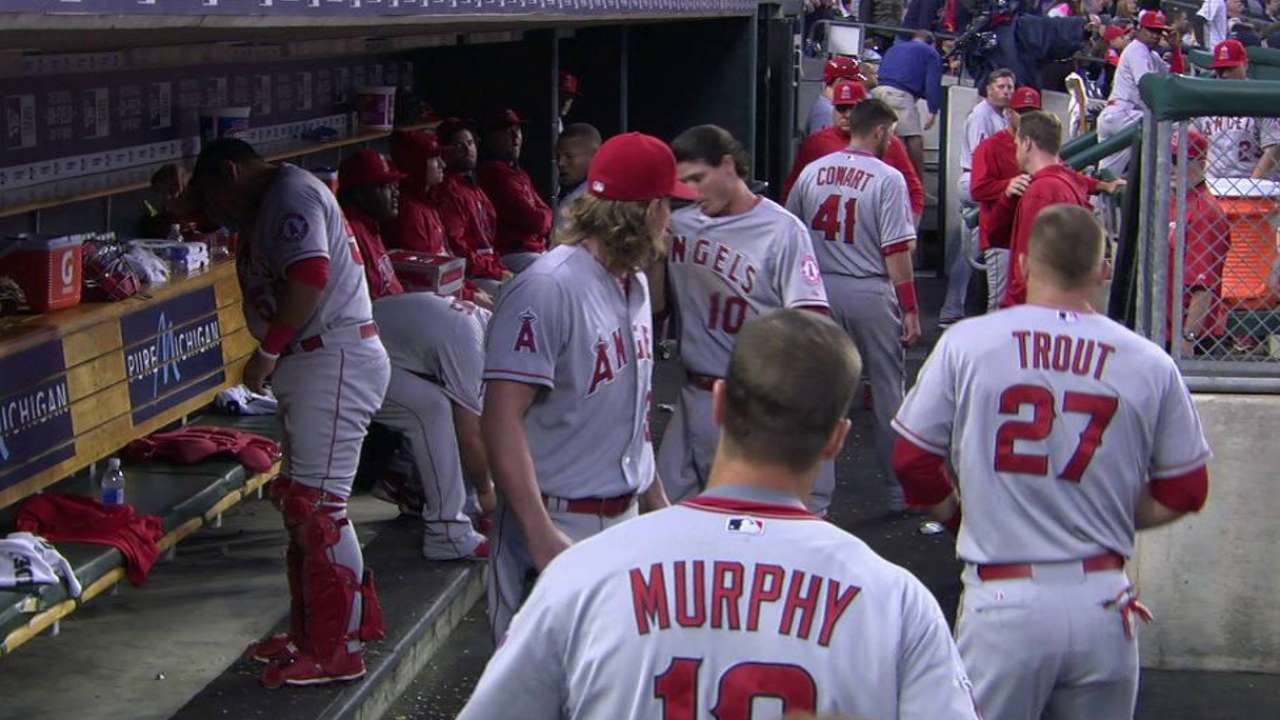 DETROIT -- For those who spent the past month asking the question: "The Angels have to be better than this, don't they?" Tuesday night, yes, they were better.
The Halos weren't close to perfect, but they did generate considerable offense and they received some invaluable work from their bullpen. An emotional outburst from starting pitcher Jered Weaver seemed to help more than it hurt. It all added up to an 8-7 victory over the Tigers.
The Angels had gone 9-21 over their past 30 games, in the process not only falling out of the lead in the American League West, but falling behind in the race for an AL Wild Card spot as well.
But Tuesday night, at Comerica Park, this did not appear to be a club in anything like a hopeless situation. In fact, it looked like a club still capable of going somewhere and doing some good in the 2015 campaign. This is what can happen when you score eight runs after averaging 2.9 runs over the first 24 days of the month.
It went like this in the first inning: Walk, single, Albert Pujols' 554th career home run. Pujols is one behind Manny Ramirez, who holds 14th place on the all-time list. The Halos eventually scored a fourth run in the inning. This outburst came against Alfredo Simon, who had pitched a one-hit shutout in his previous start, against the Rangers.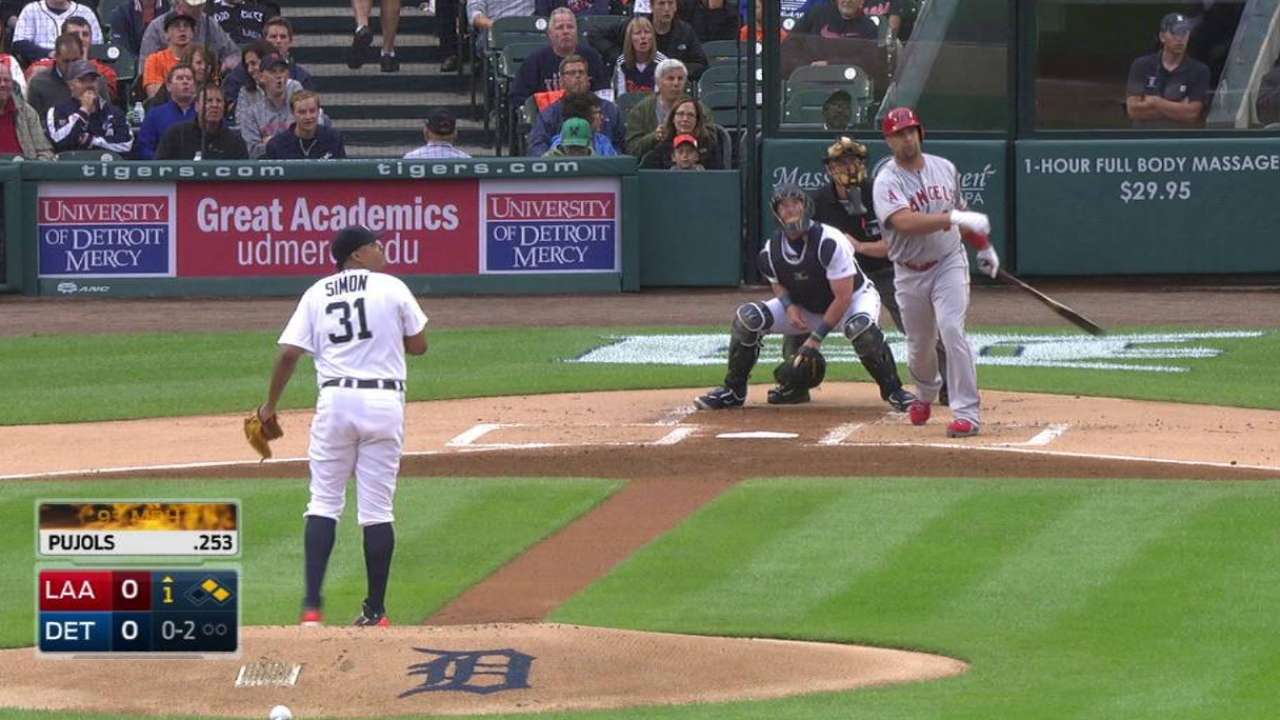 But the Angels temporarily gave up the lead, and part of the reason was not making a play that should have been made. With one on and one out in the third, what appeared to be an eminently catchable fly ball fell for a double between Mike Trout in center and right fielder Kole Calhoun. Weaver, who had been working well to that point, hit Jose Iglesias with a pitch to load the bases with Miguel Cabrera coming up. Almost as a matter of course, Cabrera doubled, clearing the bases. The Tigers tied the game before the inning ended.
"Mike lost it in the lights when he was tracking it, and then Kole got in the picture and there was a miscommunication," manager Mike Scioscia said of the fly ball that wasn't caught.
Weaver said that his subsequent emotional display in the dugout was not aimed at Trout and Calhoun.
"It wasn't directed toward the guys in the outfield at all,' Weaver said. "It was just more trying to get the guys fired up, trying to get guys motivated. I haven't really been that vocal this year. It's been obviously not the way I wanted my season to go.
"But we're in the mix of a playoff race and we've got to play good baseball to get to where we need to be. I talked to Mike and Calhoun and said: 'Hey, that wasn't directed toward you guys individually, it was just trying to get guys motivated to get through the rest of the season.' Those guys in the outfield have taken away more runs than they've given up for me, so I would never show guys up in that regard, never want to show my teammates up."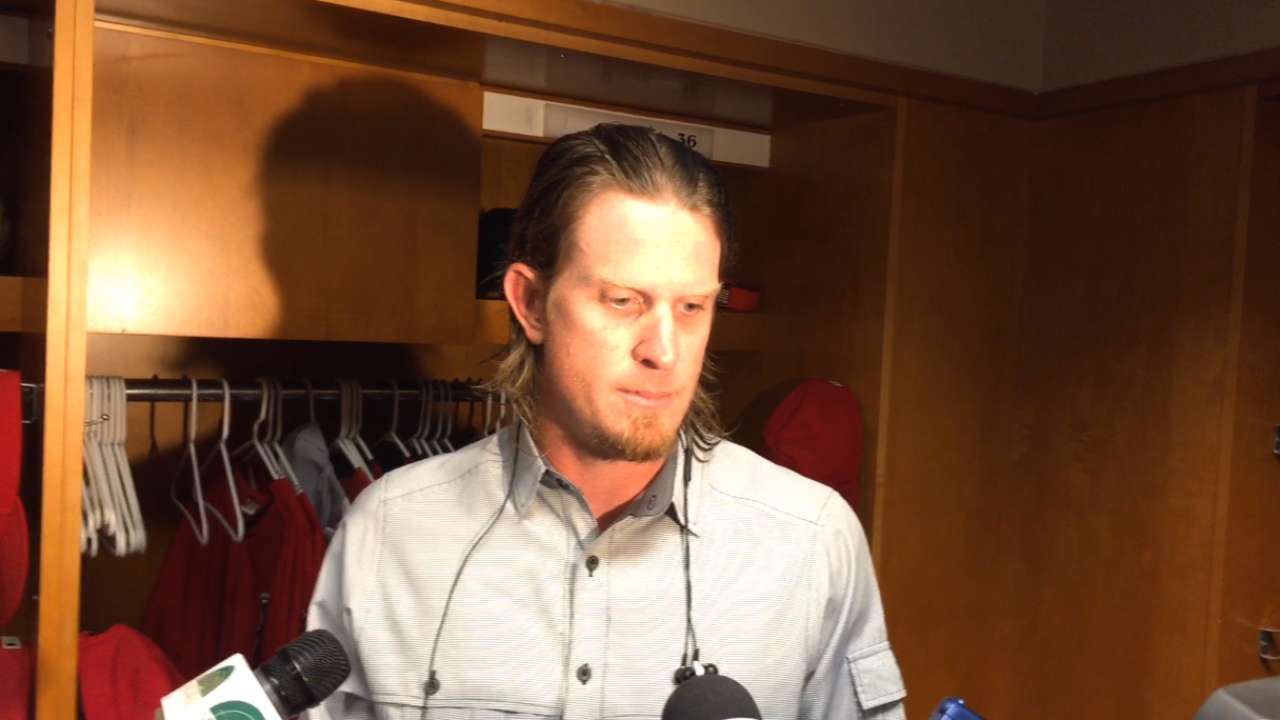 After taking another four-run lead, the Angels had to hang on as the Tigers chipped away at that margin. Detroit hasn't been tearing it up lately, either, going 15-25 over its past 40 games.
Still, you take encouragement where you can find it in these trying times. Both setup man Joe Smith and closer Huston Street entered the game one out earlier than usual, with Street finishing with a four-out save.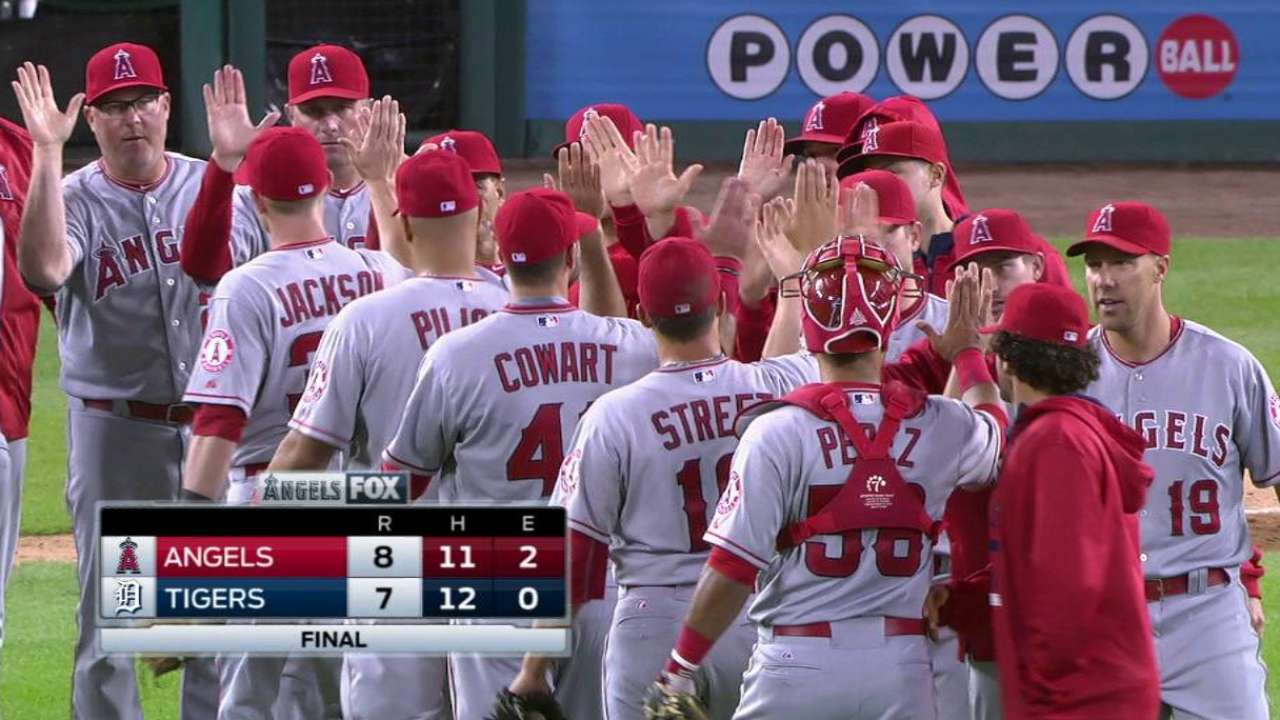 "Our bullpen, can't say enough about them, these guys were already stretched," Scioscia said. "Those guys got it done. They saved it for us."
The Halos' offense had its own breakthrough.
"Obviously, Albert got us off and running, but I think we did a lot of things [offensively]," Scioscia said. "We ran the bases well, got our sac bunts down when we needed, hit with runners in scoring position. We moved runners well, did a lot of things. Good sign."
This is a club not dramatically changed from the one that had the Majors' best regular-season record at 98-64 last season. This is also the club that went 17-3 over a 20-game stretch that ended in late July. But they encored from that with a 9-21 record over the next 30 games. Maybe Tuesday night's victory was a turning point.
They could be better. They should be better. Why? Trout, the best player in the game by several objective measurements, is having the worst month of his career. The record says that Trout will produce like Trout for the rest of the season, and that will be a major boost.
The Angels should also be better offensively when third baseman David Freese returns to the lineup. He is on a rebab assignment following a broken right index finger. One way or another, the Halos remain convinced that they can get to the necessary level of play.
"We need to start playing better baseball," Weaver said. "Obviously, we've been slumping a little bit, but we're a better team than what we've shown."
Mike Bauman is a national columnist for MLB.com. This story was not subject to the approval of Major League Baseball or its clubs.