Wild night by Simon a dubious achievement
Tigers starter rare pitcher to allow three runs on wild pitches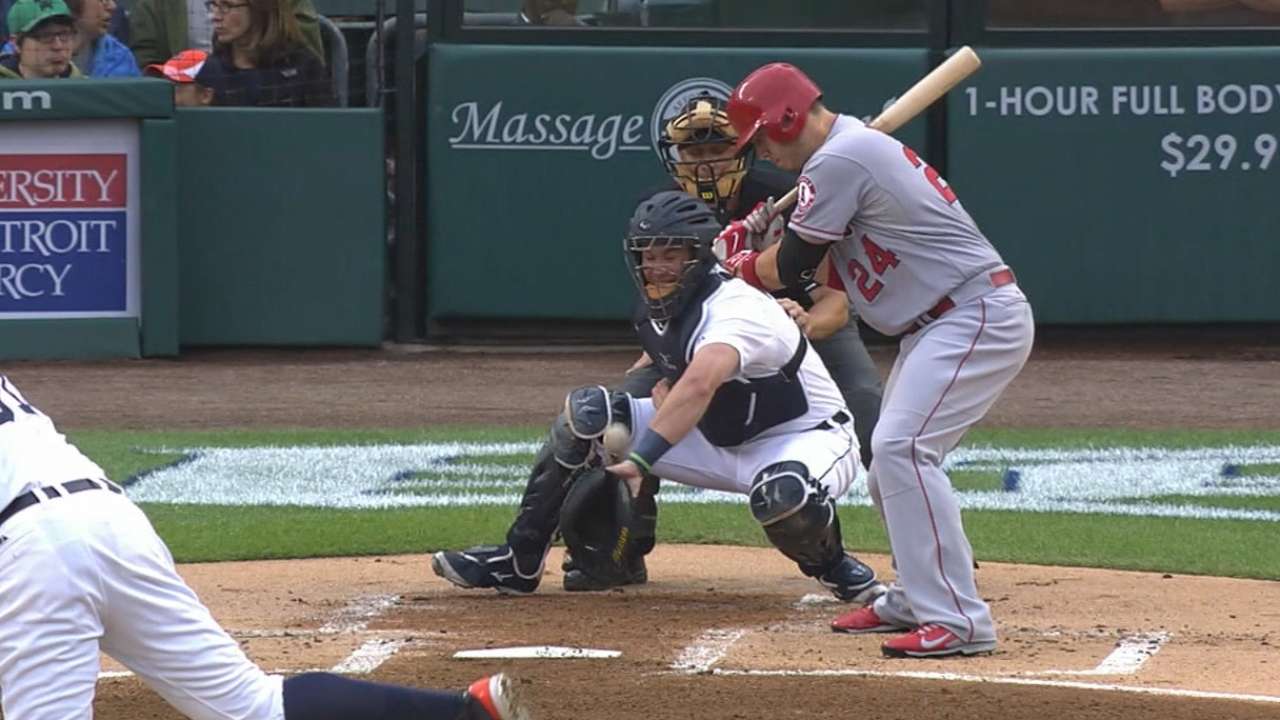 DETROIT -- The Tigers were hoping Alfredo Simon's one-hit shutout last week could set up a late-season bounceback. On Tuesday, it was his pitches that bounced, or in one case sailed, that doomed him at inopportune times.
It was a wild outing, to be sure, and it proved too much for the Tigers to overcome in an 8-7 loss to the Angels at Comerica Park. In terms of wild pitches, it was a rarity.
Though the Angels roughed up Simon for eight runs on nine hits over 4 1/3 innings, a share of that damage was self-inflicted. Three Angels runs came in on three different wild pitches, something a Major League pitcher has done just twice since 1974.
As well as Simon and catcher James McCann worked together five days earlier, they looked at times like they weren't on the same page Tuesday, from wild pitches to an uneven pace.
The first wild pitch came at the tail end of a four-run opening inning. McCann lined up inside for a fastball, but Simon threw a 93-mph pitch that bounced off home plate and over McCann's glove as he lunged for it. The ball bounced off the backstop, but McCann didn't have a play at the plate as David Murphy dashed home.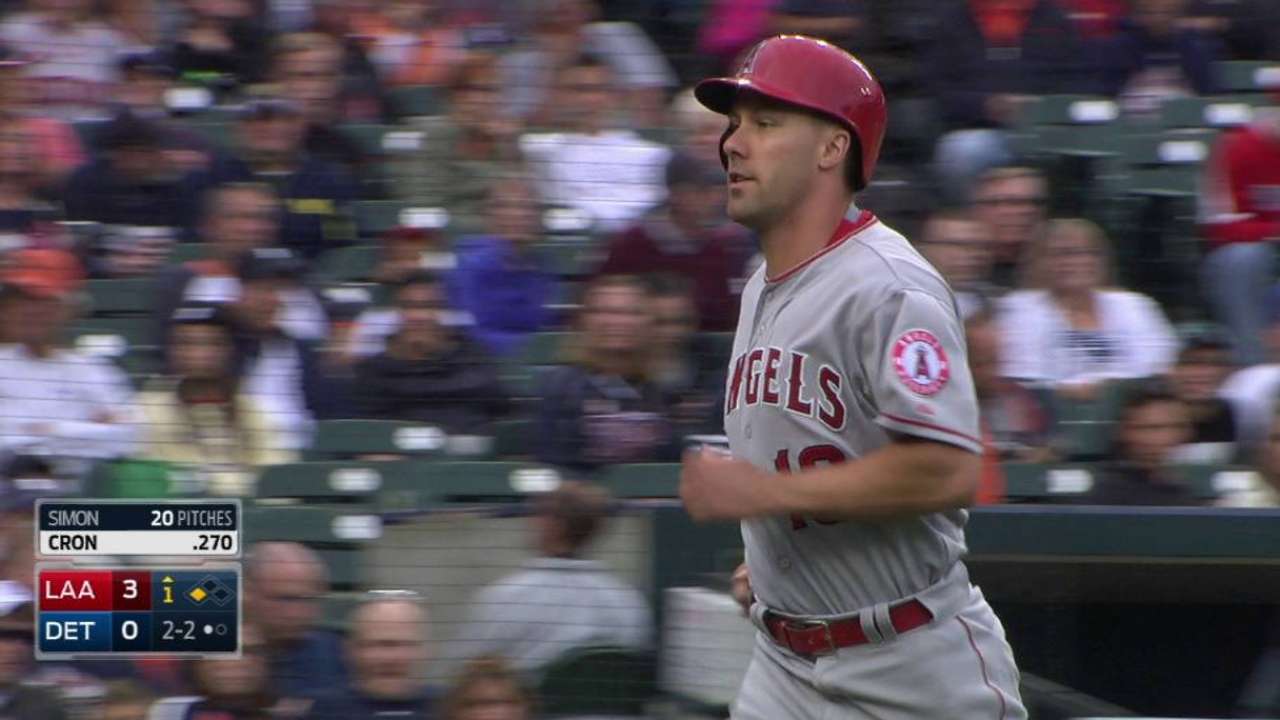 The Tigers tied it up in the third, but the Angels retook the lead for good with two in the fourth. The go-ahead run came in on a walk, but with runners at the corners and nobody out after back-to-back singles. Simon's 3-1 pitch to catcher Carlos Perez was a hard splitter that dove outside. McCann got his body in front of it, but the ball bounced between his legs and rolled to the backstop as Erick Aybar crossed the plate.
"I tried to throw the split down," Simon said. "He tried to block it. He was trying to do his job. That happens in the game. Nothing you can do."
Aybar also scored on the third wild pitch, plating a run in the fifth that turned out to be the difference in the game. With a 1-2 count on Kaleb Cowart, McCann lined up inside at the knees, possibly looking for the fastball. Simon threw an offspeed pitch that tailed off the plate and off McCann's mitt as he scrambled to adjust. Though the ball didn't bounce, the play was scored as a wild pitch given how far off the plate and away from the McCann the pitch ended up.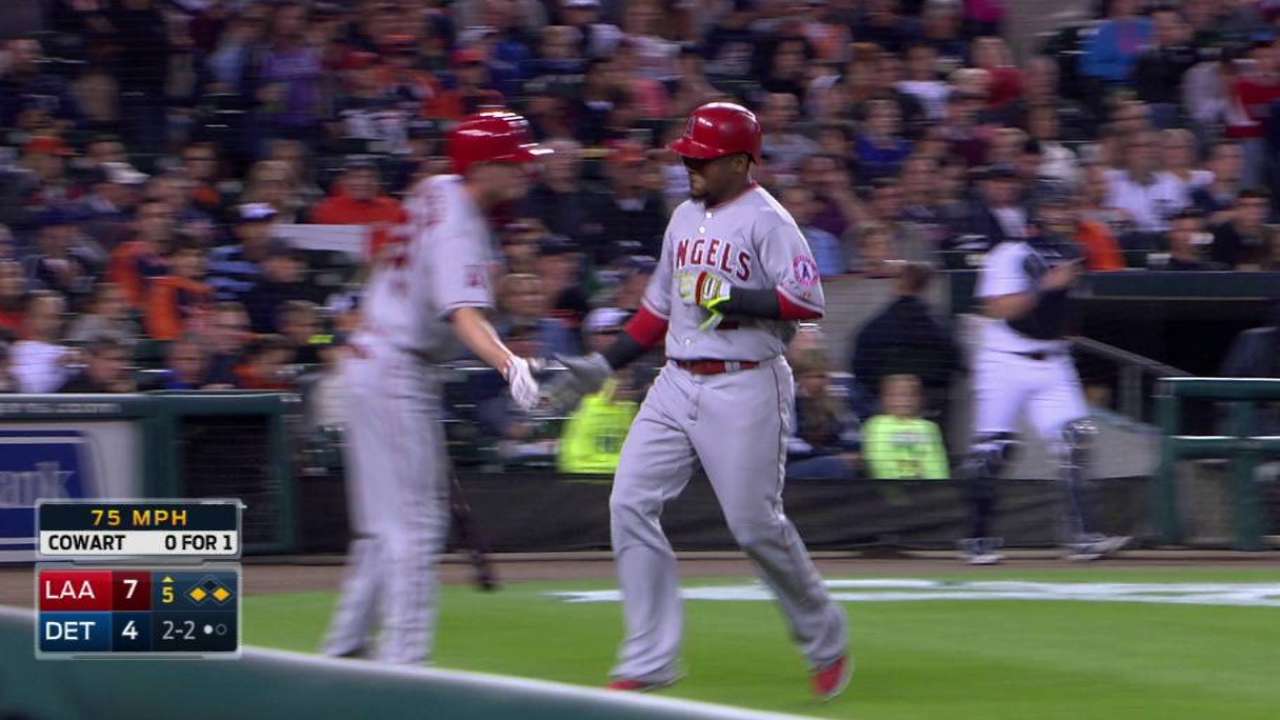 Simon became the first Tigers pitcher with three wild pitches in a game since Rick Porcello did it against the Giants on July 3, 2011, according to research on baseball-reference.com. Porcello also hit three batters in the game, but won with seven innings of one-run ball. Simon became the 10th pitcher in Tigers history with three wild pitches and four walks, last reached by Dontrelle Willis on Sept. 21, 2008.
In terms of wild pitches plating runs, however, Simon's performance was much more rare, accomplished by just two other pitchers in the last 41 years according to STATS. Sergio Santos did it in a relief appearance for Toronto on April 17 of last year, scoring three Minnesota Twins. Former Texas Ranger Rob Bell did it in a start on Aug. 18, 2001.
Simon now has 11 wild pitches on the season, the most by a Tiger in a season since Porcello and Max Scherzer threw 12 each in 2011. Simon ranks third in the league, trailing Tampa Bay's Nathan Karns and the Angels' Garrett Richards.
Jason Beck is a reporter for MLB.com. Read Beck's Blog, follow him on Twitter @beckjason and listen to his podcast. This story was not subject to the approval of Major League Baseball or its clubs.