With new perspective, Kensing thrilled to be back in bigs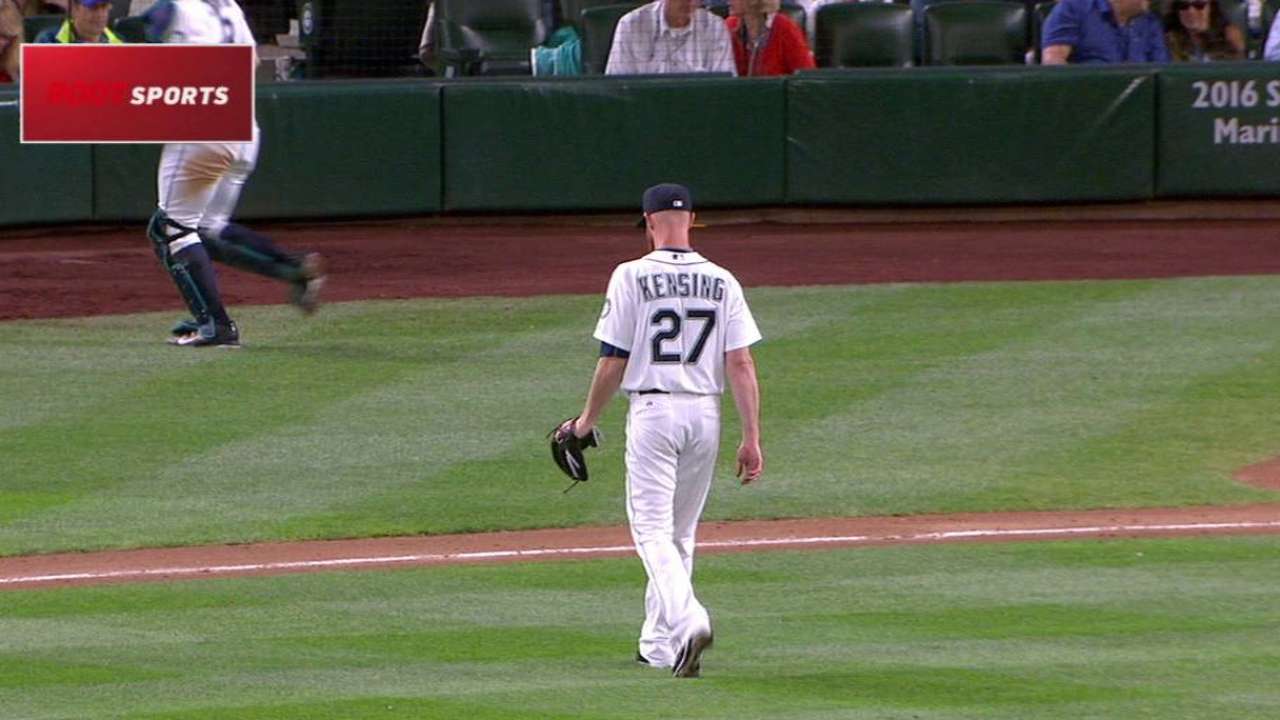 SEATTLE -- Logan Kensing has added a veteran right-handed presence to the Mariners bullpen after being promoted from Triple-A Tacoma on Sunday. But beyond that, the 33-year-old brought something else. Something called perspective.
After breaking into the Major Leagues at 21 with the Marlins in 2004, Kensing threw in 135 games over the next six seasons. But bone spurs in his right elbow resulted in two surgeries that wiped his 2010 season. After that, he made it back to the big leagues for just one game -- a two-out relief appearance for the Rockies in 2013 -- before being called up on Sunday by the Mariners to bolster a bullpen thinned by injuries, trades and poor performances.
What does it mean to be back in the Majors after that much time?
"It means a lot to me," Kensing said. "But more importantly, we had a kid four months ago -- three days after Opening Day -- and for me it was more important to get back to the big leagues even if it was just for a day, just so I could say I played big league baseball while he was around.
"When you're younger, you don't think about the end. You get to the big leagues at 22 or 23 and think, 'I'm going to be here forever.' And it doesn't turn out that way. But things start happening in your life where you get married and have kids. And for me, that was a milestone that I wanted more than anything, just for him to be able to say, 'My dad was a big league ballplayer, and I actually saw it.' He might not be able to remember it, but..."
Young Levi Kensing will need to be told about how his dad gave up a home run to Adam LaRoche, the first batter he faced at Safeco Field, before retiring the next three batters. But the proud papa soaked up every second of his Major League return.
"That's the ultimate goal," he said. "That's why we all play the game. And that's why some of us just keep playing. There are other jobs out there and you can do other stuff, but at the end of the day you know your window of opportunity is always shrinking, even if you're good. So you just give it everything you've got until you can't go any more."
What would the Texas native do if he wasn't playing any longer?
"I have no idea," he said. "That's the hardest question ever. I ask it all the time, especially in the offseason. I like the game, I wouldn't mind coaching, but it does take a lot away from your family life. When I find that answer, I'll let you know."
Kensing does know what he wants to do now. He wants to keep giving it his best shot, keep adding friends in the game and memories that will last a lifetime.
He recalls being a rookie in Florida, when he made three starts, and being pulled aside by Al Leiter and told he needed to develop a changeup.
"I thought, 'I don't need a changeup. I'm going to throw it by people,'" he said. "It takes you a while to acknowledge that you were wrong, he was right, and this is what I needed to do."
Kensing, who was Tacoma's Pitcher of the Year last season, says he's still working on perfecting and trusting that pitch in tight situations. Because one of the many things he's learned is Major League hitters get paid a lot of money to hit fastballs.
"I gave up my first big-league home run to Moises Alou," he said. "I remember watching him on TV when I was a little kid and my dad was saying, 'This is the best fastball hitter I've ever seen. So I see him standing in the box and [Marlins catcher] Mike Redmond put down fastball. And in my head, I'm like, 'Uh oh.'
"That ball left the yard, and I thought, 'Wow. I made it," Kensing said with a laugh. "There's just so many guys with such great talent, you can't help but respect what they do and how they play the game. It's not easy, I know that. The guys that get here and stay here, you tip your hat to 'em."
Greg Johns is a reporter for MLB.com. Follow him on Twitter @GregJohnsMLB, read his Mariners Musings blog, and listen to his podcast. This story was not subject to the approval of Major League Baseball or its clubs.