Hanley will try transitioning to first base
Struggling in left, could make move before end of year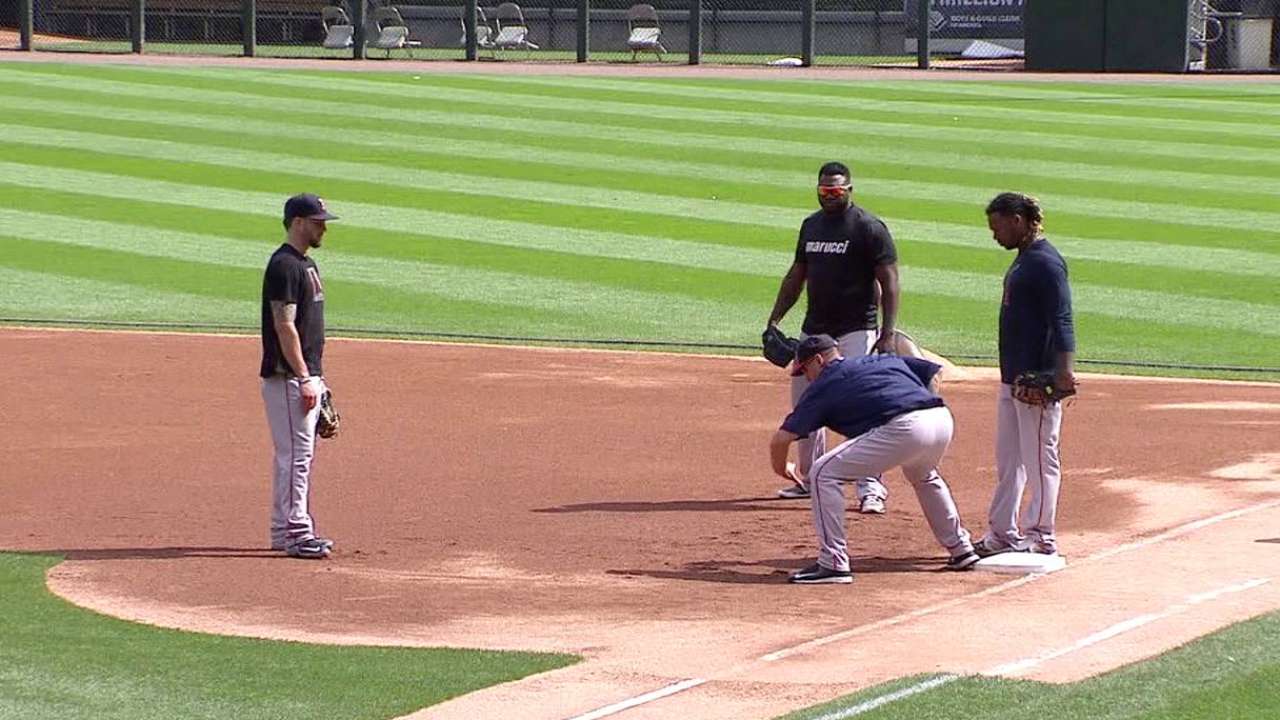 CHICAGO -- The Red Sox will spend the coming days working with Hanley Ramirez on a transition to first base, and the hope is that the slugger can settle into that spot for 2016 and beyond. Ramirez even left open the possibility he could debut at first sometime before the current season ends.
Under the tutelage of infield instructor Brian Butterfield and teammate David Ortiz, Ramirez did some work around the bag at first several hours prior to Tuesday night's game against the White Sox.
When Ramirez signed a four-year deal with the Red Sox in November, he committed to moving to left field after playing shortstop for nearly his entire career.
Two things have changed to make the Red Sox and Ramirez alter that course. For one, Ramirez has struggled in left field, both in terms of mobility and fielding the ball cleanly. The second is the emergence of the young trio of Mookie Betts, Jackie Bradley Jr. and Rusney Castillo individually and collectively.
"I was thinking, yeah we're a way better team with me on first and with Jackie and Mookie and [Castillo] in the outfield," Ramirez said. "Hopefully we can do it and they can keep doing what they're doing -- playing great outfield and keep hitting, because we're going to need that."
Tuesday was the first step toward Ramirez becoming Boston's starting first baseman.
"Chalk talk," said Butterfield. "We did a little bit of drilling -- breaking from the position, slow motion, getting to the bag, proper footwork, getting to an anchor and being able to adjust to the throws. Nothing on ground-ball work. Nothing throwing. Just glove action, what he should do with his feet, what he should do with his glove."
For now, Ramirez will remain in left field. Whether or not he plays a game at first in 2015 depends on how smoothly the transition goes.
"It's a soft schedule," said interim manager Torey Lovullo. "We're going to make some adjustments based on what Butter sees. We're not going to rush and say that there's a firm date he's going to be in a game. There's a lot of information.
"It's going to be a crash course, and for him to play in a Major League game at first base, Hanley has to be 100 percent comfortable. He's going to tell us when that is. If he's not, we're looking to see what we can do for 2016. That's the whole idea. We want to make sure we have everything in order for this team to move forward today, tomorrow and in the future."
Ramirez seemed enthusiastic about switching positions for the second time in less than a year.
"Just the footwork, that's what we did today," said Ramirez. "Find the bag with your left foot and go from there. It's going to take a little adjusting. The other question is, 'Am I going to play there this year?' Maybe yes. Why not? If I feel good, I'll go out there. I'm not scared. I'm born for this and I can play, and I'm really happy to be in the lineup."
The Red Sox first broached the subject to Ramirez about switching to first a few days ago, sometime after Dave Dombrowski was hired as president of baseball operations.
"We just decided collectively that it would be a good thought to pursue it and just see what it looks like," Lovullo said. "It was day number one today. Hanley is going to give us a lot of that input. He's going to tell us what's going on and it's going to be a collective effort."
"I think it's going to be a good challenge, because I think with me at first, we're going to have a better team on the field, competing every day," Ramirez said. "I can't wait to be on first. It's going to be a good challenge."
Ian Browne is a reporter for MLB.com. Read his blog, Brownie Points, follow him on Twitter @IanMBrowne and listen to his podcast. This story was not subject to the approval of Major League Baseball or its clubs.