DeJesus relegated to playing off bench
Veteran outfielder has not been producing at the plate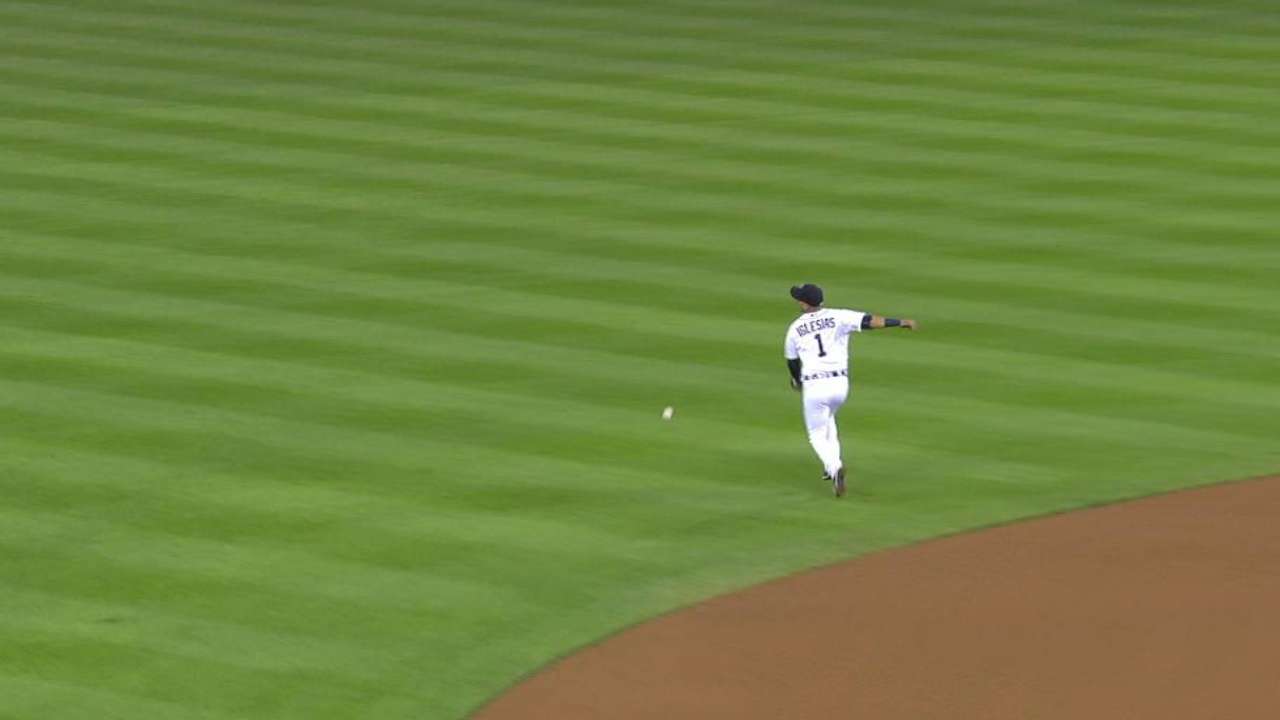 DETROIT -- David DeJesus struggled upon moving to Southern California and the Angels, scrounging for whatever offense they can muster these days, couldn't afford to wait.
Now DeJesus does most of the waiting.
Brought in as the left fielder and leadoff hitter against right-handed starters, DeJesus has been confined to the bench for the better part of a week now. He's started just one of the Angels' last eight games and has been out of the lineup for each of the last three, all against right-handers. He pinch-hit for Grant Green and delivered an RBI single in the fourth inning of Tuesday's 8-7 win over the Tigers after Green exited with right-knee discomfort.
"It's part of the game," said DeJesus said of not playing much lately. "You want to get your hot guys out there, especially at this time in the season."
DeJesus certainly wouldn't qualify. The 35-year-old left-handed hitter had one hit in his first 21 at-bats after being acquired from the Rays for Minor League pitcher Eduar Lopez on July 28 and has a .111/.184/.133 slash line in 49 plate appearances with the Angels.
"I was giving my best out there on the field," DeJesus said. "It just wasn't working."
Now C.J. Cron (.966 OPS since the start of July) is basically the everyday designated hitter, pushing David Murphy (.281 batting average with the Angels) to left field against righties. Shane Victorino is the left fielder against lefties.
"I can't let the pride inside of me take over that, because I can be a guy who could take it the other way, just stumbling around, showing these young guys here that I'm sitting in my sorrows," said DeJesus, whose contract holds a $5 million club option for 2016. "But I don't want to be that guy. I want to be that guy who's going to be an encouraging, uplifting guy. Even if I'm there or I'm not there, I want to be the same guy every day."
Alden Gonzalez is a reporter for MLB.com. Follow him on Twitter @Alden_Gonzalez and listen to his podcast. This story was not subject to the approval of Major League Baseball or its clubs.