Hamilton rehabbing slower than expected
Reds outfielder yet to return to baseball activity while nursing shoulder sprain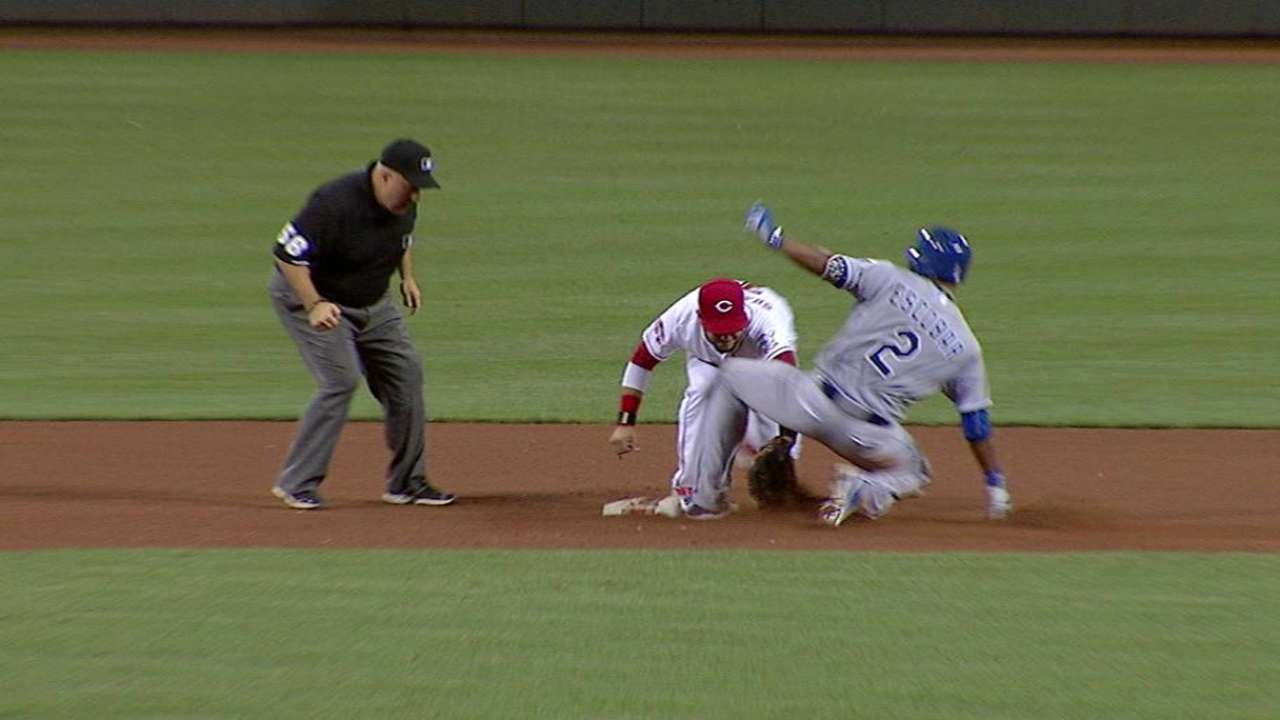 CINCINNATI -- When they placed him on the 15-day disabled list last week, the Reds initially hoped center fielder Billy Hamilton would make a speedy recovery from a sprained capsule inside his right shoulder. On Tuesday, Hamilton's target return date was still questionable.
Hamilton, who went on the DL Aug. 19 and can be activated on Sept. 3, has yet to return to baseball activity, but he is still rehabilitating.
"He has periods of time throughout the day where he's still in the shoulder brace. It would not suggest there is a near return," Reds manager Bryan Price said. "It looks like it's going to be a while before baseball activities start, let's put it that way."
Hamilton was injured on Aug. 18 vs. the Royals trying to make a diving play on an Alcides Escobar drive to right-center field. Although injured on the dive, he still stopped the ball on one hop and managed to throw out Escobar at second base in a fantastic play.
"I just started moving it around yesterday and doing a few exercises," Hamilton said. "The next few days, I'm going to get the sling off and see where it goes from there. I don't know exactly what the process is going to be after I get the sling off or whatever, but hopefully I can start moving it around."
With four games to go in 2014, Hamilton missed the final few days of the season after he suffered a concussion while making a catch against the center-field fence.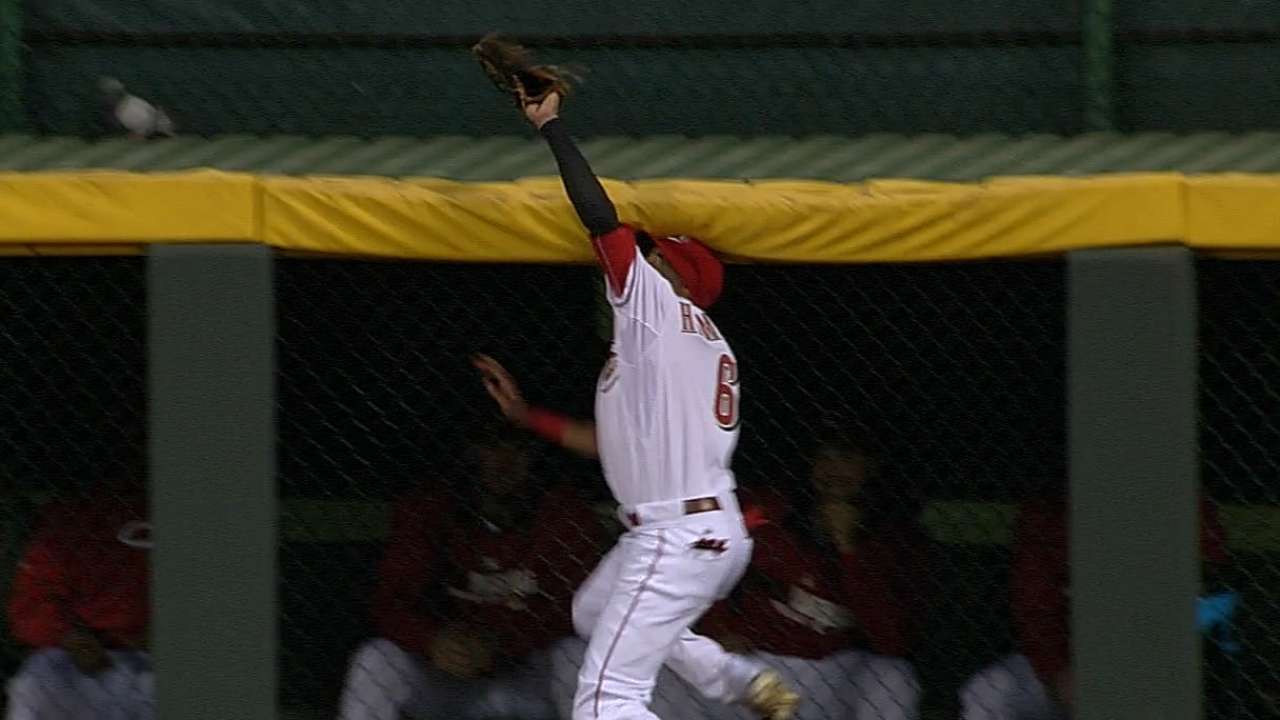 Just like that play, Hamilton had no regrets about giving up his body again to do something positive defensively.
"They say if you're going to get hurt, you want to get hurt trying to make a good play at least, so at least something good happened out of it," he said. "It was one of those where I want to go all out, no matter the situation, no matter how the team's playing, no matter how many games we're back, no matter the score during the game. We can be down 10 runs and I'm still going to dive for that ball and try to make that play. If I had a chance to do it again, I'd try to make the same play."
Hamilton, 24, is batting .226/.272/.290 this season, with 54 stolen bases in 107 games. While it's been a struggle at the plate, he still hopes to finish the year.
"I'm pushing, there's no doubt in my mind that I want to be back out there," Hamilton said.
Worth noting
• The Reds' bench is shorthanded as outfielder Brennan Boesch is dealing with a deep bone bruise in his right ankle. Boesch, who fouled a ball off of his ankle on Saturday, has been on crutches and in a protective boot.
• Lefty pitcher Tony Cingrani exited his Sunday start for Triple-A Louisville after three innings because of shoulder discomfort in his throwing arm. A diagnosis wasn't yet known.
"It doesn't sound like it's anything significant, but it could affect his next time through the rotation," Price said.
Mark Sheldon is a reporter for MLB.com. Read his blog, Mark My Word, follow him on Twitter @m_sheldon and Facebook and listen to his podcast. This story was not subject to the approval of Major League Baseball or its clubs.