CC: Stint on DL should be enough for knee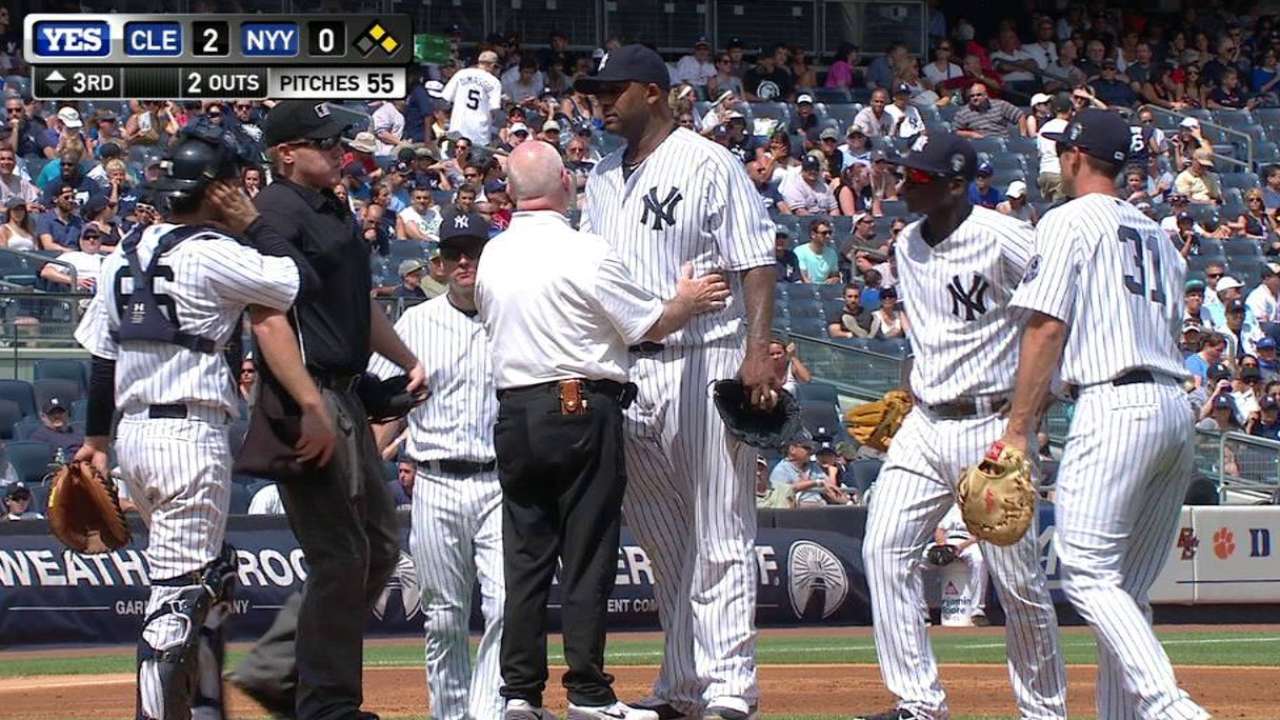 NEW YORK -- CC Sabathia thinks he can be back in action in September. The left-handed pitcher got a second opinion on his right knee Tuesday at Hospital for Special Surgery, and was relieved when Dr. Answorth Allen didn't have any new updates.
"It's just arthritic," Sabathia said. "It's just a bad knee, like we knew. I think getting this rest will help."
Sabathia went on the 15-day disabled list Monday after exiting his Sunday start against the Indians in the third inning with a sharp pain in his right knee. He's no stranger to difficulties with his right knee, as he had season-ending surgery on it in 2014 and has had it drained twice already this season.
But Sabathia seemed hopeful that he would be able to return to the Yankees on Sept. 8, the day he will be eligible to come off the disabled list.
"Maybe after the 15 days. I feel like that'll be enough," Sabathia said. "As long as I keep my arm sharp, throwing in a chair like I did last year, [throwing] on a knee and stuff. Wait and see what they have planned, what the Yankees have planned."
Sabathia said that in a few of his previous starts before Sunday, he put everything on the line and threw as hard as he could regardless of what that meant later with the knee. In turn, his velocity went up, but on Sunday, the pain reached an unbearable threshold.
Despite the injury, Sabathia had no regrets in pushing himself. He didn't tell Yankees manager Joe Girardi, but Girardi said Tuesday that had Sabathia informed him of that plan, he would have given him the green light to do so.
"The one day he came on the seventh day, he was throwing 93, 94 [mph] and I was like, 'Whoa' -- that sort of thing," Girardi said. "The next two starts, [Sabathia's velocity] was higher than the starts before that, and I was like, 'He's letting it go,' but we saw what happened to his knee."
Girardi is also hopeful Sabathia will be back by September. Now in his 15th Major League season, Sabathia has been a starter for his entire career. Not once has he made an appearance in relief.
Asked Tuesday if that's something he would consider, Sabathia seemed to at least be open to the possibility.
"Helping this team in any way I can is what I'm here to do," he said. "If that means pitching out of the bullpen, then it is what it is. I'm not here to make that decision. That's not for me to make. If I'm healthy enough, I know I can start on any team. Let them make the decision."
Girardi said the Yankees will decide later what role Sabathia will fill. For now, the main priority is getting him healthy again and finding a way to let him still throw his hardest, while staying healthy.
"That's the one thing that we're trying to figure out. Is there something that we can do different or is there something that he can do different to where if he goes the max effort, [the knee] doesn't kind of get inflamed and start to hurt and keep him from doing what he needs to do?" Girardi said. "I'm sure we'll try a number of things as we move forward."
Grace Raynor is an associate reporter for MLB.com. This story was not subject to the approval of Major League Baseball or its clubs.