Ryan realizes dream by getting on mound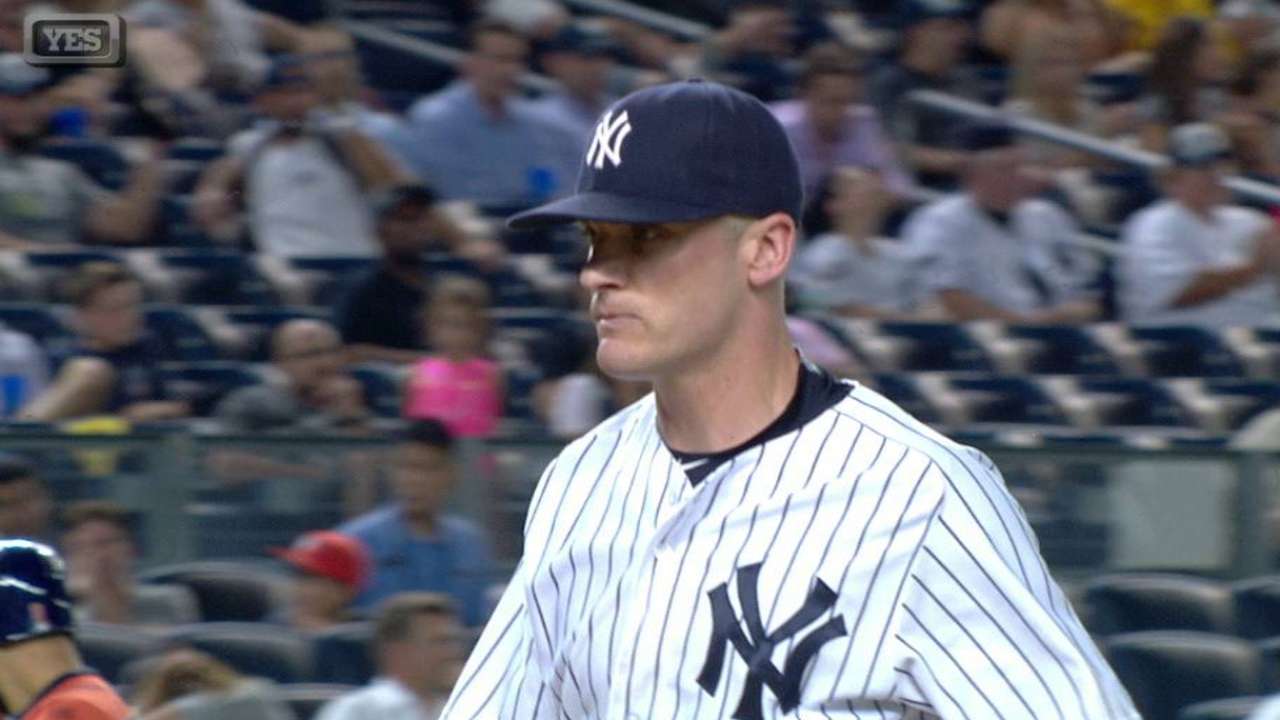 NEW YORK -- There was a part of Brendan Ryan that tried to maintain some seriousness. The Yankees had just been thumped, 15-1, by the Astros, the clubhouse was a quiet one, and this was by far their worst loss of the season.
But there was another part of Ryan who smiled, who laughed, and who let his outgoing personality shine through as he spoke about his first pitching performance of his Major League career Tuesday night, something he'd always hoped would happen one day.
The infielder took the mound in the eighth inning of the blowout after having played both second base and right field earlier in the game. He pitched two scoreless innings, hitting 86 mph on his four-seam fastball.
"I feel like I can't be that happy or anything, because we just got our butts kicked," Ryan said. "But, kind of was a bucket-list moment. Take it for what it's worth."
Ryan hadn't pitched since his senior year of high school, when his outing with Notre Dame High School, in Sherman Oaks, Calif., helped earn his team a state championship berth over Ridgecrest Burroughs.
He still remembers that day vividly.
"Three innings. Shut piece. Windy game, but got the 'W,' " he quipped. "Got us to state championship. That's my pitching claim to fame."
When Yankees manager Joe Girardi approached the energetic infielder about the possibility of pitching in an effort to save the bullpen, Ryan had zero reservations in taking the ball. Laughing, he told reporters that his wife sees him rehearse nearly every night, so Tuesday was a dream come true, of sorts.
"They didn't have to recruit," Ryan said. "I remind them almost every day. If the moment comes, I'm more than ready."
Ryan's two scoreless innings are the longest by a Yankees position player since Rocky Colavito's performance on Aug. 25, 1968. Ryan retired his final five batters and became the second Yankees position player to pitch this season after Garrett Jones took the mound in May against the Rangers.
For Girardi, Ryan's appearance served one purpose.
"You have Michael Pineda coming back tomorrow off an injury, and I didn't really want to go to our bullpen at that point anymore," Girardi said. "[Ryan] threw strikes. I told him just make sure you don't overthrow, and I thought he did a good job of that, too, not overthrowing.
Ryan lamented that he didn't earn a strikeout, but beamed at the fact that he got to face his old roommate, Colby Rasmus. Ryan and Rasmus were in the Cardinals' organization together.
Rasmus even swung and missed at one of Ryan's pitches, which perhaps was the highlight of his night.
Other than the dismal result of the game, there was just one thing missing on Ryan's end.
"I feel like I just cut the mustache like two days too soon," he said. "That would have really felt right out there, you know?"
Grace Raynor is an associate reporter for MLB.com. This story was not subject to the approval of Major League Baseball or its clubs.