Running remains biggest issue for Teixeira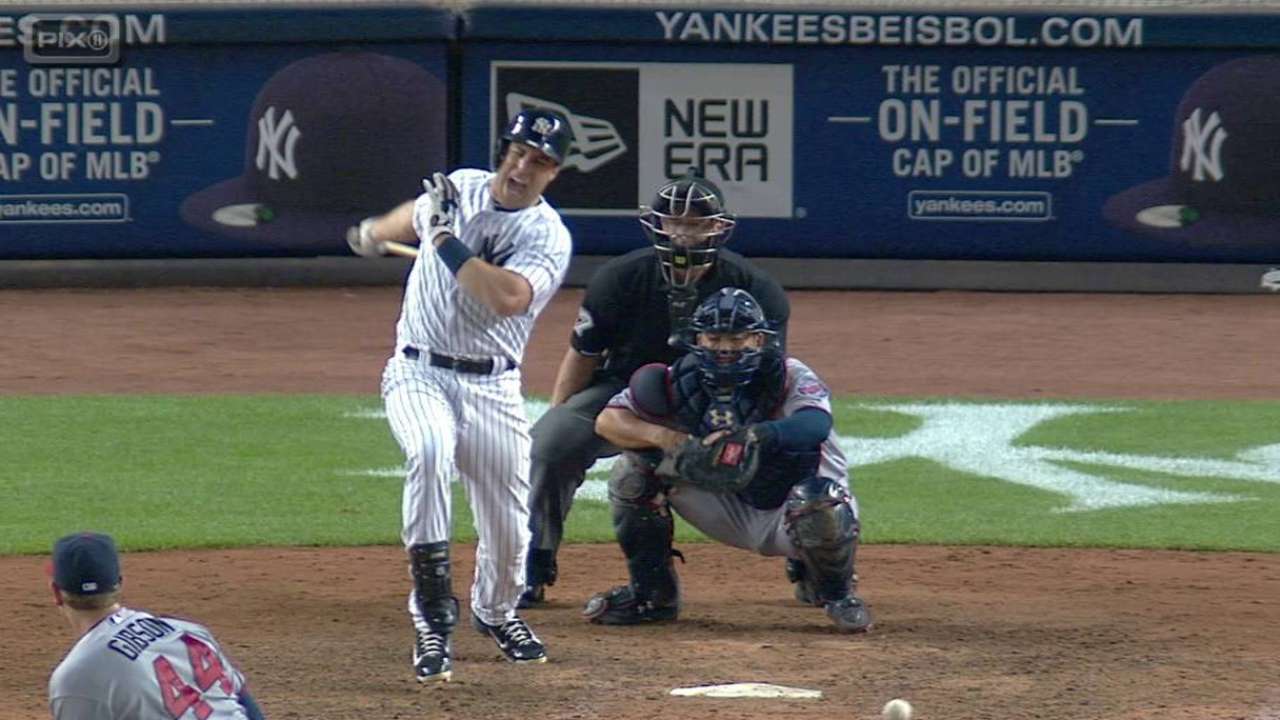 NEW YORK -- Mark Teixeira said that because of a painful bone bruise on his right leg, he would much rather hit the ball over the wall than have to run out a grounder. He was not exaggerating, as the Yankees learned in the fourth inning of Tuesday's 15-1 loss to the Astros.
Hobbled for a week after fouling a ball off himself, Teixeira returned to the lineup on Tuesday but showed that he still isn't about to set any land-speed records. Teixeira slowly jogged on a groundout to shortstop, finishing 0-for-3 before being removed due to the lopsided score.
"That's all I've got. I ran as hard as I could," Teixeira said. "Unfortunately, like I said, I told you guys yesterday, running is kind of the issue. That's all I've got."
Teixeira expressed doubt that he would be able to play in Wednesday's afternoon matinee against Houston, but said that he does not believe playing on the injury will make it any worse.
"That's why I'm playing," Teixeira said. "If this is a muscle pull, I'm not playing today. But it's a bone bruise that just has to heal. It's kind of a pain, not being able to run, but I'm not going to hurt anything by going out there and playing."
Yankees manager Joe Girardi said that he had no issue with Teixeira playing at less than full capability.
"I'm OK with that," Girardi said. "We'll see how he is tomorrow. I can't tell you that he's going to play tomorrow, but we thought that we would get him out there tonight. He wanted to play. He said, 'I'm not 100 percent running,' and I said, 'That's OK, give us what you've got.'"
Greg Bird, rated as the Yanks' No. 4 prospect by MLBPipeline.com, seems likely to be back in the lineup on Wednesday. Bird, 22, is batting .237 (9-for-38) with two homers and six RBIs through his first 11 big league games.
Girardi also said that he could find ways to use Bird in the near future, with the Yankees traveling to Atlanta on Friday to open a three-game Interleague series.
"I think that looking in Atlanta, obviously there's pinch-hit possibilities there," Girardi said. "If you decide to give [Alex Rodriguez] a day off, maybe you DH Tex. If you give Tex a day, [Bird could play first base]. We have a long stretch coming up."
Bryan Hoch is a reporter for MLB.com. Follow him on Twitter @bryanhoch, on Facebook and read his MLBlog, Bombers Beat. This story was not subject to the approval of Major League Baseball or its clubs.