MLB.com Columnist
Roger Schlueter
Stats of the Day: Mets dial up historic power
NL East leaders set franchise mark with eight homers; Bryant's milestone 20th homer a walk-off for Cubs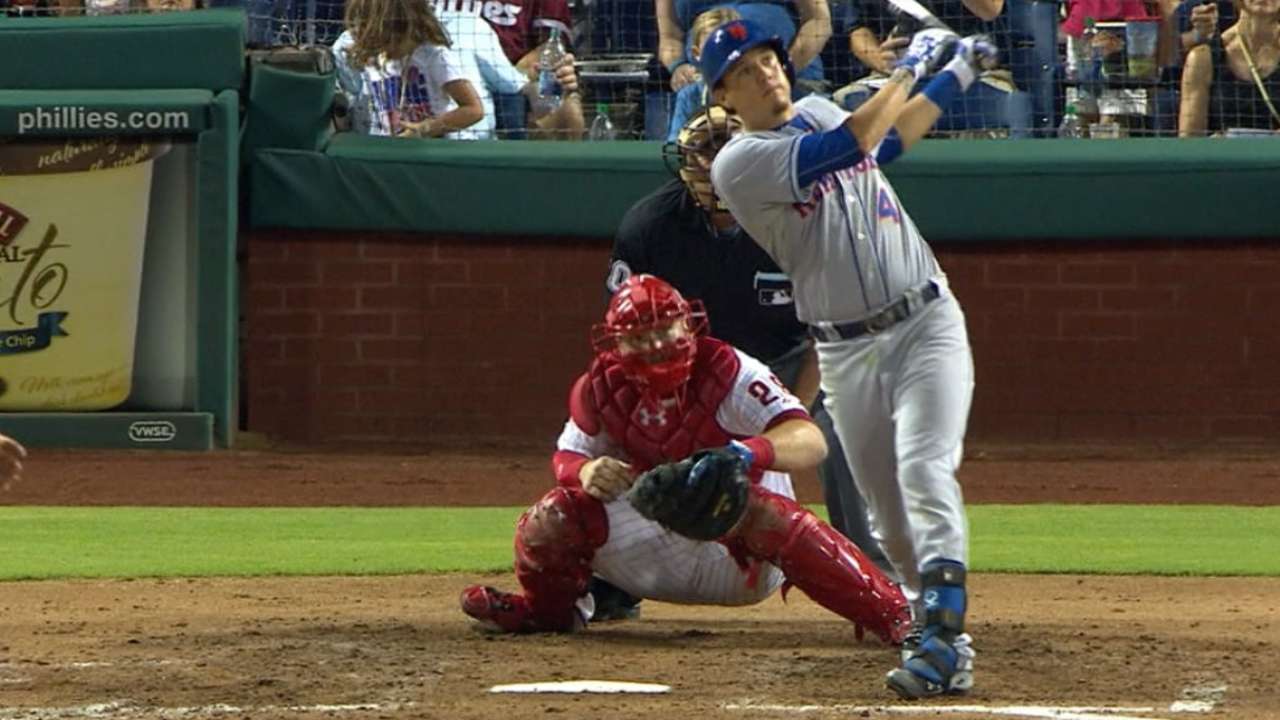 Here are five interesting items from around the big leagues on Monday ...
• The Mets set a franchise record with eight home runs as they pummeled the Phillies, 16-7. The previous record of seven had been set on April 19, 2005, also against the Phils. The Mets added seven doubles to set a new team record with 15 extra-base hits. The previous record of 13 had been set on Aug. 24, 2005, 10 years to the day.
Wilmer Flores (two homers and a double), Michael Cuddyer (two doubles and a home run) and Daniel Murphy (two doubles and a home run) each had three extra-base hits as the Mets became just the second National League team since 1962 to have three players reach that mark in a game. On May 15, 2001, the Brewers' Ronnie Belliard, Richie Sexson and Jeromy Burnitz each contributed three extra-base hits in a 14-10 win over the Phillies.
The Phils added three home runs of their own as the two teams tied the NL record for combined home runs. It's the fifth time an NL game has seen 11 combined long balls, joining Pirates-Reds (Aug. 12, 1966), Cubs-Mets (June 11, 1967), Cubs-Reds (July 28, 1967) and Cubs-Phillies (May 17, 1979).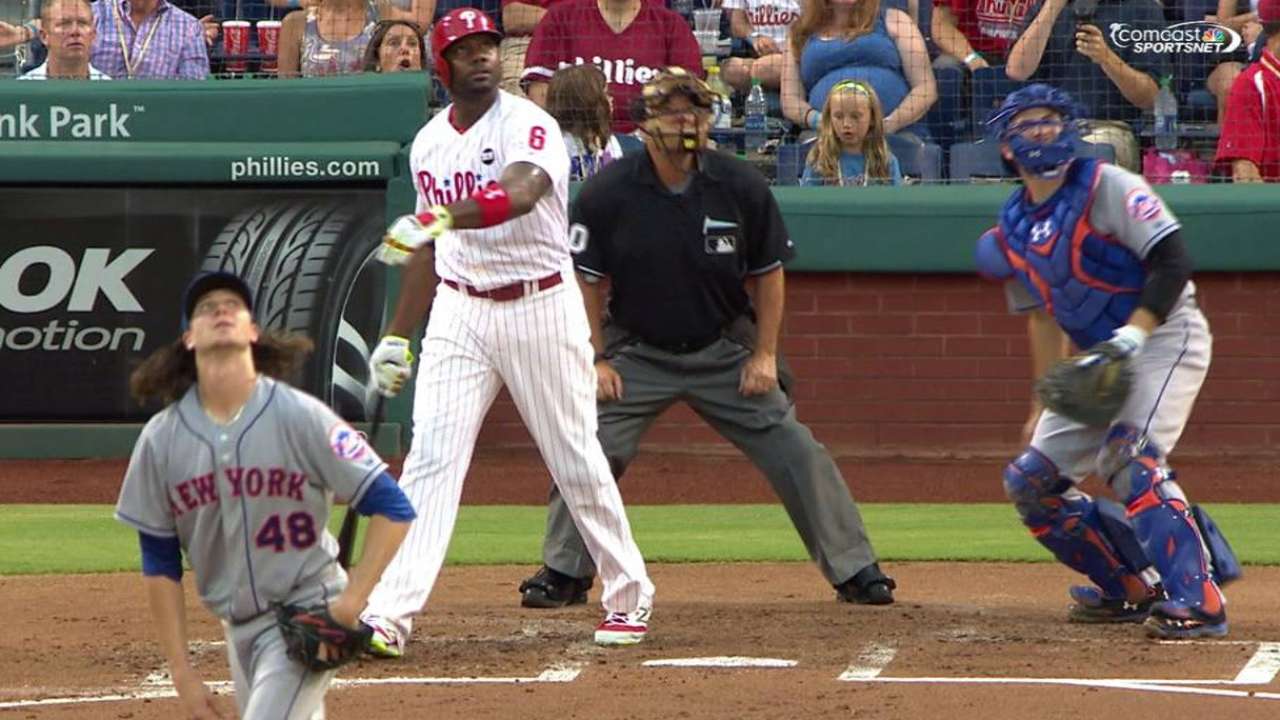 • The Mets lead the NL this month in home runs, with 38. New York last had 38 in the month of August in its debut 1962 season. In the record night, Flores hit his 13th and 14th homers of the year. Flores has started 28 games at second base (he was at second for this one) and 78 at shortstop. He is one of 15 players in baseball history to have at least 25 games at both second and shortstop and to hit at least 14 long balls. Damion Easley had 27 while doing this for the 1998 Tigers, with those 27 the most for any player.
• In Chicago, Kris Bryant's 20th home run of the season -- a walk-off shot in the bottom of the ninth -- gave the Cubs a 2-1 win over the Indians. Bryant is fifth Cubs rookie to belt 20 home runs, joining Billy Williams (25 in 1961), Walt Moryn (23 in '56), Geovany Soto (23 in 2008) and Tyler Colvin (20 in '10). Bryant is the also first Cubs player to reach 20 home runs in his debut season (the previous high had been Mandy Brooks' 14 in 1925) and the 20th rookie third baseman to hit 20 home runs, and the first since Evan Longoria in 2008. Al Rosen -- with 37 in 1950 -- holds the high mark. Bryant is the seventh third baseman to hit 20-plus long balls in his rookie season, joining Ryan Braun (34 in 2007), Longoria (27 in '08), Eddie Mathews (25 in '52), Eric Hinske (24 in '02), Bob Horner (23 in '78) and Ray Jablonski (21 in '53).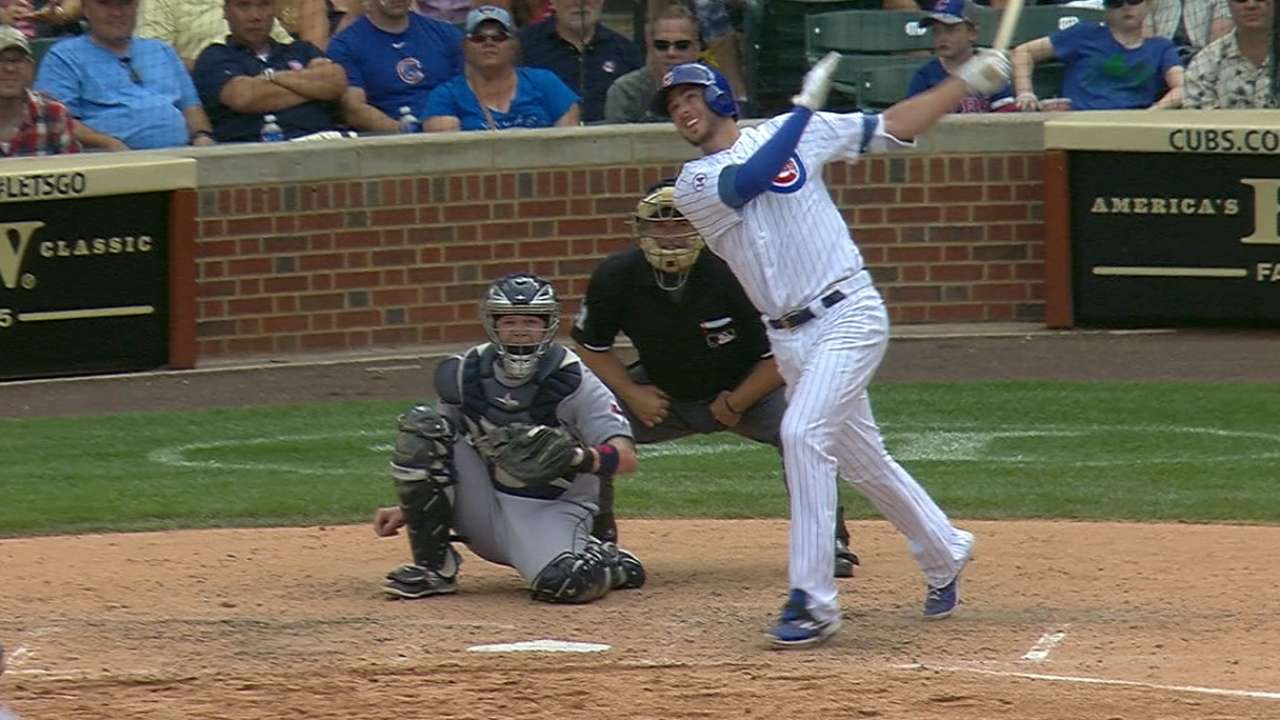 The Cubs improved to 17-4 (.810) in August. The last August in which they produced a winning percentage of at least .800 came in 1906, when they went 26-3 (.897). They also notched their 12th walk-off win of the year, their most in any season in the expansion era.
• Before Bryant's blow, Corey Kluber fired off 7 2/3 innings of one-run ball and fanned 11 with no walks. Kluber has four career games with double-digit strikeouts and no walks, which give him more than any other Indians pitcher since 1914. Before Monday, he had been tied with Sonny Siebert, Sam McDowell and CC Sabathia.
• Nick Markakis collected his 30th double of the year to help the Braves to a 5-3 win over the Rockies. Markakis has hit two home runs this season, and Randy Winn is the last right fielder to finish a season with at least 30 doubles and no more than two home runs, with 33 and two in 2009. Before Winn, no right fielder had done this since Johnny Wyrostek (31 and two) in 1951.
Milestone watch for Tuesday
• Jose Bautista needs one home run for his fourth 30-homer season with the Blue Jays. Only Carlos Delgado (eight) and Joe Carter (four) have had at least that many.
• Manny Machado has 99 career doubles. With his milestone 100th, he would become the 18th player to reach 100 through his age-22 season. There are three active players who have done this: Alex Rodriguez, Mike Trout and Ryan Zimmerman.
Roger Schlueter is a contributor to MLB.com. This story was not subject to the approval of Major League Baseball or its clubs.