Fifth inning gets out of hand for Iwakuma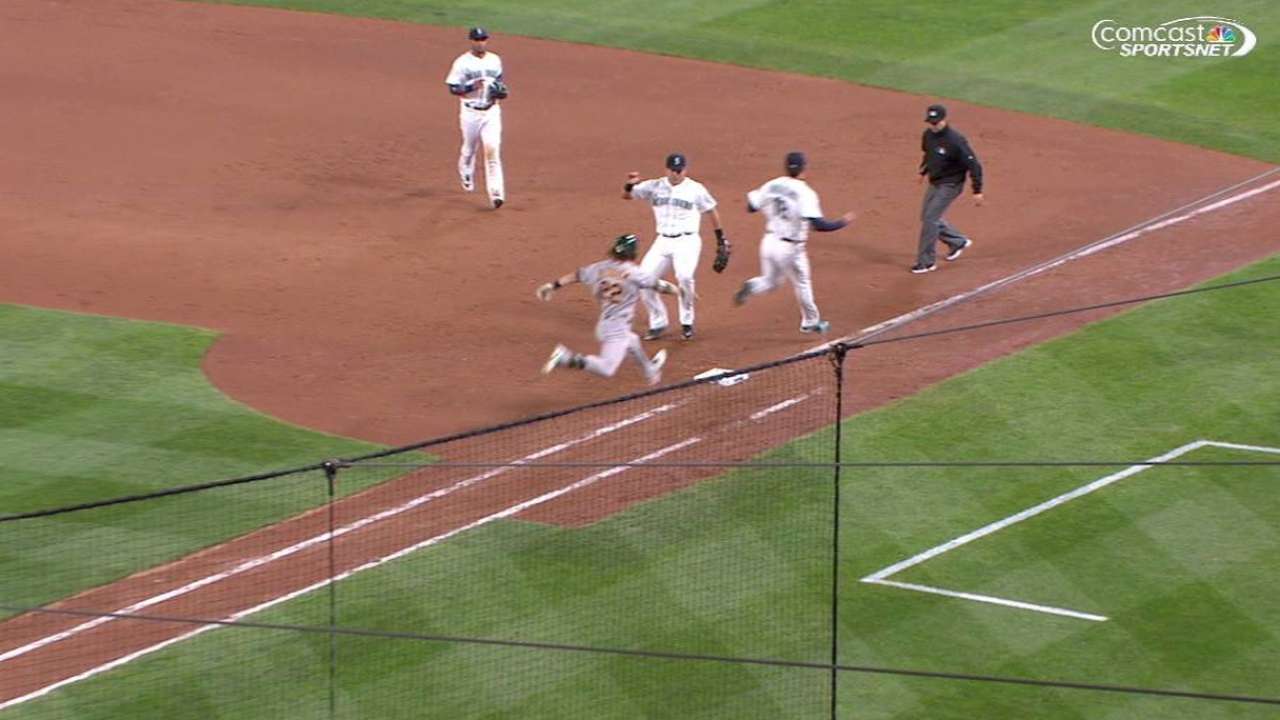 SEATTLE -- When last seen in Safeco Field, Hisashi Iwakuma was twirling the first no-hitter of his career and celebrating his finest moment in the Major Leagues. But things can change in a hurry in baseball and Iwakuma was roughed up for seven runs in the fifth inning Monday as the A's rallied for an 11-5 victory in his first home appearance since that historic gem.
For a while, it looked like Iwakuma was headed for another outstanding start. He glided through four innings with just one baserunner on a infield single by Brett Lawrie in the second. But things went south in a hurry in the fifth.
Stephen Vogt led off the frame with a bloop double to left on a ball Mark Trumbo couldn't get to and opened the doors for all that followed.
"It just seems to be one of those that I miss by a matter of a foot or two," Trumbo said. "It felt like the slide, worst case I'll knock down and hold him. But it bounced up a little higher and caromed off."
Iwakuma still had two outs and the bases loaded when Billy Burns and Mark Canha laced two-run doubles to cut Seattle's lead to 5-4.
Josh Reddick then hit a chopper to first baseman Jesus Montero, who waved off Iwakuma at the bag and kept the ball himself, but was beaten to first by Reddick as Canha raced home to tie the game at 5.
When Danny Valencia followed with a two-run homer, that was it for Iwakuma. The seven runs were the most he's allowed in one inning and equaled the most he's allowed in a game in his four seasons in the Majors.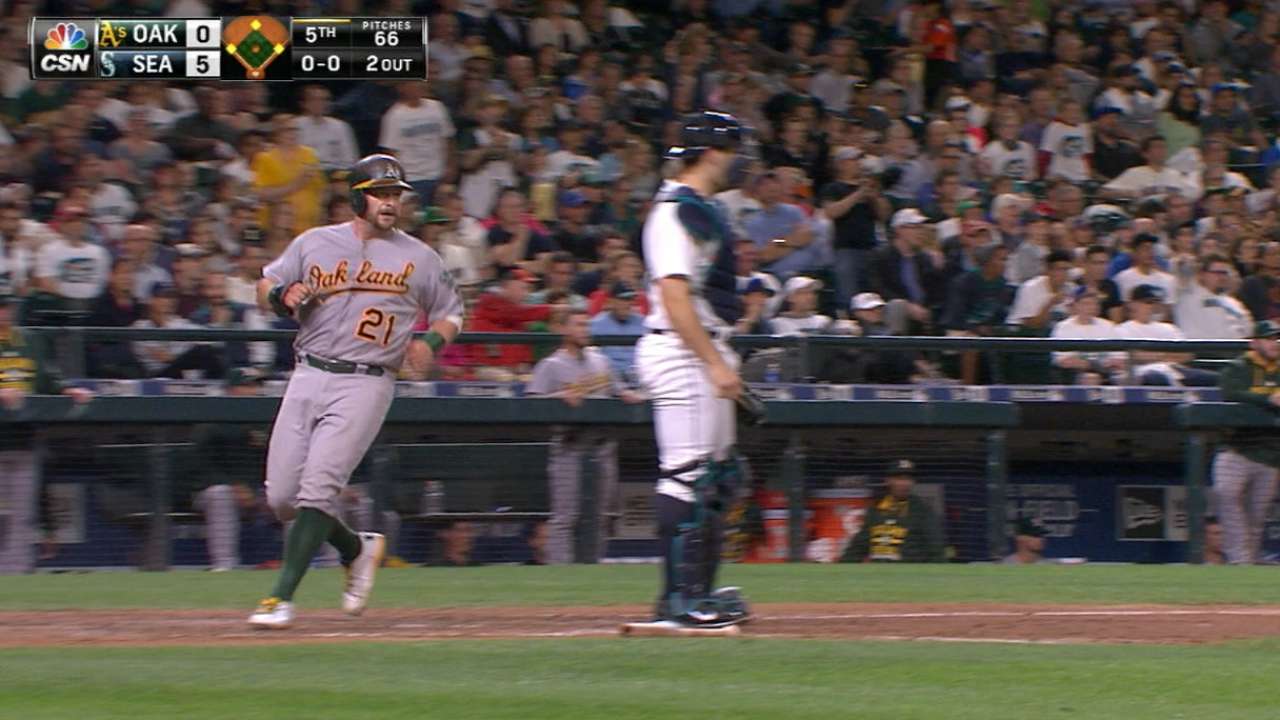 Manager Lloyd McClendon felt the first hit of the inning would have been a single, but Trumbo played it into a double with his sliding attempt. The one that hurt, he felt, was Montero's mental miscue that was credited as a single for Reddick.
"It got out of hand," McClendon said. "He had two outs and a man on first and second and they scored seven runs. He still should have been out of the inning probably 5-4. Montero didn't quite get that play right at first base and that hurt us quite a bit. That just opened up the floodgates a little bit."
"That was a tough play right there. Tough, very tough," said Montero, in his first season at first base in the Majors. "I tried my best and he beat me in a race to step on the bag. Next time out you just got to throw the ball to Kuma.'"
Iwakuma was 3-0 with a 1.71 ERA in his previous four starts in August, but saw that streak end with his shortest start this season.
"I kind of lost my balance in the fifth inning," said Iwakuma. "I didn't start off too well in the bullpen but I was able to make pitches when I needed. In the fifth inning they got to some of the pitches that were up in the zone. I wasn't able to command a lot of my pitches, too, in the fifth and they took advantage of that."
Greg Johns is a reporter for MLB.com. Follow him on Twitter @GregJohnsMLB, read his Mariners Musings blog, and listen to his podcast. This story was not subject to the approval of Major League Baseball or its clubs.