Lopez among 10 top prospect performers Monday
Brewers No. 9 prospect hurls his seventh consecutive quality start for Double-A Biloxi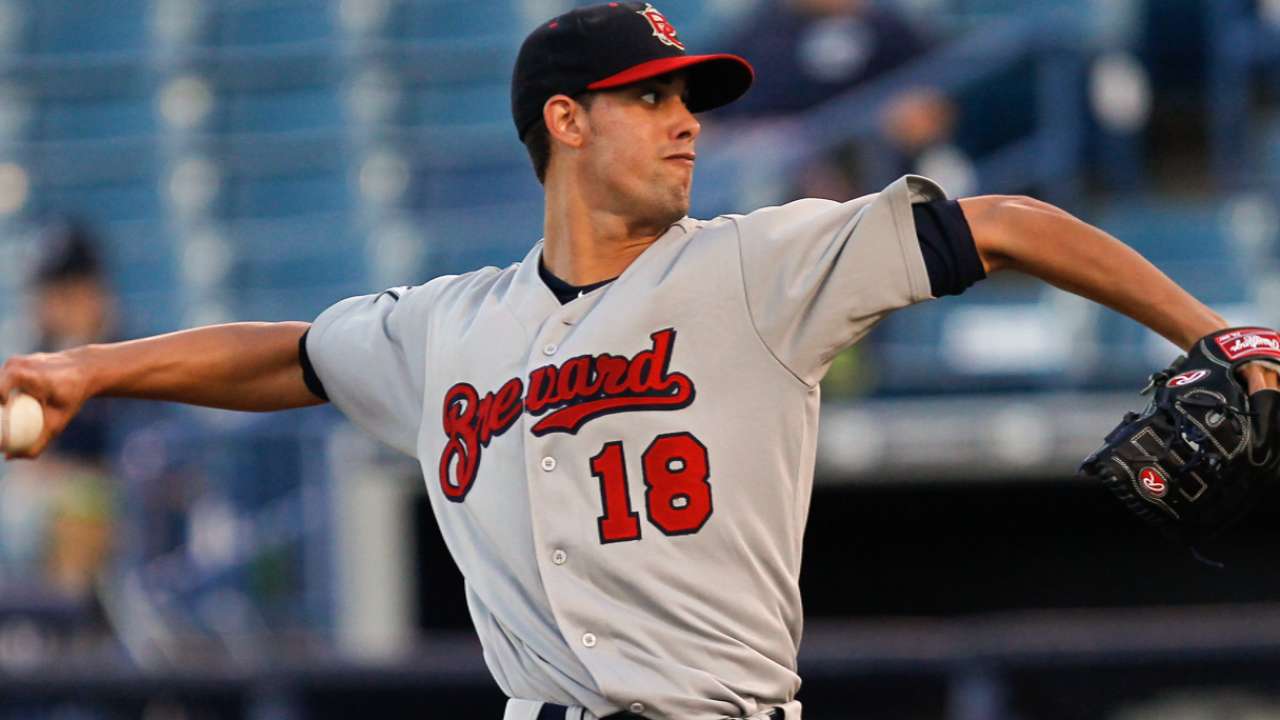 Many Minor League fans are by now familiar with Double-A Biloxi's plight this season. Formerly based in Huntsville, Ala., the Brewers affiliate played nearly two months' worth of games on the road while their new stadium was under construction.
With no home to return to, the Shuckers had few constants. But Milwaukee's No. 9 prospect, Jorge Lopez, did his best to bring stability to his nomadic squad.
The 22-year-old right-hander went 3-2 with a 3.38 ERA in 10 starts before Biloxi finally put down its roots at MGM Park on June 7 and he hasn't cooled off since.
Monday night, Lopez allowed one run in six innings of work that included six strikeouts against one walk. It was his seventh straight quality start and his 14th in his past 15 outings. His only misstep during that span? A 5 2/3-inning, two-run effort on July 13 that still earned Lopez a 'W' over Tennessee.
While he earn a win in Biloxi's 2-1 triumph over Mobile on Monday, the Puerto Rico native trimmed his ERA from 2.32 to 2.29 and improved his K/BB line to 134 against 50.
The rest of the 10 best performances from top Minor Leaguers
• Astros No. 1 prospect (No. 24 overall) Alex Bregman is on an absolute tear for Class A Advanced Lancaster. This June's No. 2 overall pick this went 2-for-6 with his third Minor League homer and he has now hit in 10 straight games, bumping his average from. 261 to .318. Bregman has three straight multi-hit performances, and six in his past seven games. The 21-year-old shortstop has registered a two singles, a double, a triple and homer in the past two nights.
• D-backs No. 1 prospect (No. 10 overall) Dansby Swanson came through with his fourth straight multi-hit game for Class A Short Season Hillsboro. The No. 1 overall pick in this June's Draft finished 2-for-4 with a triple and his 10th RBI of the season, which was the only run the Hops could manage in a 5-1 loss to Tri-City. Swanson began his pro career 0-for-6 after recovering from a concussion he sustained from to a pitch that hit him in the face during a simulated game earlier this summer. He's since improved to .289/.340/.578 with nine extra-base hits in 11 total games.
• Marlins No. 27 prospect Ivan Pineyro threw a career-high eight frames for Triple-A New Orleans, allowing just three hits while striking out five batters and holding the Las Vegas lineup scoreless. A 23-year-old out of the Dominican Republic, the 6-foot-1 right-hander scored his first 'W' since getting promoted on Aug. 8. "When you go to Triple-A, your first start you're feeling a little nervous and he wasn't sharp that day," Zephyrs pitching coach John Duffy told MiLB.com. "We just did a little work in between starts and kept doing the same thing. It's helped him out to get a little more consistent with his delivery and he's been able to keep the ball in the bottom of the strike zone."
• Phillies No. 1 prospect (No. 5 overall) J.P. Crawford helped lead Double-A Reading's offensive charge on a night that also featured clutch hits from No. 4 prospect (No. 60 overall) Nick Williams and No. 18 prospect Andrew Knapp. The squad's top prospect finished 3-for-5 with two runs, a triple and two RBIs, and has registered three multi-hit games in his past five contests. Williams had a strong night at the plate in the Fightin Phils' 11-5 triumph over Altoona, going 4-for-6 with his fourth homer since being traded from the Rangers organization at the Trade Deadline. Knapp didn't record as many hits as his teammates, but he came away from a 1-for-5 night with a three-run homer and five RBIs. The dinger was his 10th for the Phils, and he's hitting a blistering .381/.431/.682 with 51 RBIs in 45 games at the Double-A level.
• Reds No. 22 prospect Gavin LaValley helped Class A Dayton pull out a 15-inning win by going 3-for-8 with two runs, a double, homer and three RBIs. Dayton and Lake County combined for nine runs between the top of the 14th and the top of the 15th, with LaValley registering an RBI in both innings. The third baseman has been on a roll as of late -- he's collected five multi-hit games in the past seven -- and stands at .270/.344/.363 with 26 doubles, four homers and 49 RBIs for the Dragons.
• Rockies No. 1 prospect (No. 9 overall) Brendan Rodgers went 2-for-4 with his third homer for Rookie Level Grand Junction. The No. 3 overall pick this June, Rodgers has four multi-hit games in his past six outings, and is batting .258, the highest his average has been since July 21. The shortstop turned 19 years old earlier this month and has notched 17 RBIs in 32 games for the Rockies.
• Twins No. 5 prospect (No. 86 overall) Nick Gordon owned the basepaths for Class A Cedar Rapids in a 23-3 blowout win over Peoria. The speedy shortstop finished 3-for-6 with four runs, a double and two RBIs, and has scored seven runs in the past two games. The younger brother of big league base stealer Dee Gordon, the 19-year-old has swiped 24 bags for the Kernels this season and he's hitting .276 with 27 extra-base hits and 55 RBIs.
Alex M. Smith is a reporter for MLB.com. This story was not subject to the approval of Major League Baseball or its clubs.