Polanco continues hot streak in win over Marlins
Outfielder tallies four hits for the first time in 2015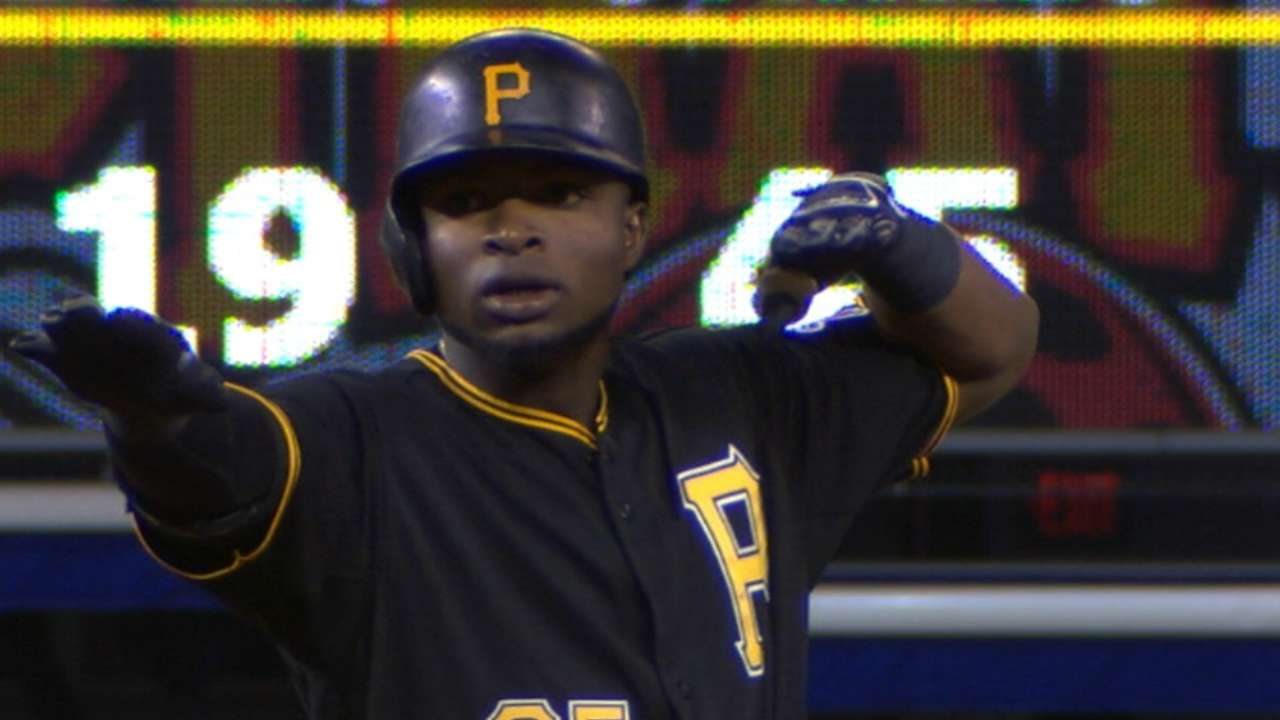 MIAMI -- The last time the Pirates came to Marlins Park, Gregory Polanco announced his presence with authority. He swatted five hits in one night, ripped a game-winning homer and tortured Miami's pitching all series. It was perhaps the best Polanco has looked at the big league level -- until now, that is.
Polanco started hitting in early July and hasn't stopped since. He kept raking Monday night in his return to Marlins Park, piling up four hard hits in the Pirates' 5-2 win.
Polanco recorded his first four-hit game of the season. The only other time he's reached that mark? That came in this ballpark on June 13, 2014, his fourth Major League game, when he went 5-for-7 and hit a 13th-inning homer to beat the Marlins.
He's gone 13-for-22 in four games at Marlins Park, but the venue has nothing to do with his success. Polanco is simply more confident in his ability and more comfortable with his swing.
He has shown that for seven straight weeks now, recording a hit in 35 of his last 42 games. During that stretch, he's raised his average from .231 to .267 and his OPS from .630 to .733.
"Hitting with a lot of confidence," Pirates manager Clint Hurdle said. "Playing with a lot of confidence."
That confidence has helped Polanco hit the ball with authority. Working with Pirates hitting coach Jeff Branson, Polanco has focused on keeping his swing tight and staying strong on his back leg.
"When you stay on your backside, you can hit the ball hard," Polanco said. "Every day in the cage, that's what we talk about."
He put that work into action Monday night. His leadoff double to right-center field in the first inning flew off his bat at 107 mph, according to Statcast™'s tracking technology. His fifth-inning double to left came with the same exit velocity.
Polanco scorched a ground ball in the third inning as well, reaching safely as Marlins second baseman Dee Gordon couldn't quite handle the two-out, 113-mph shot off his bat. Polanco came around to score on Andrew McCutchen's two-run double, giving the Pirates an early lead.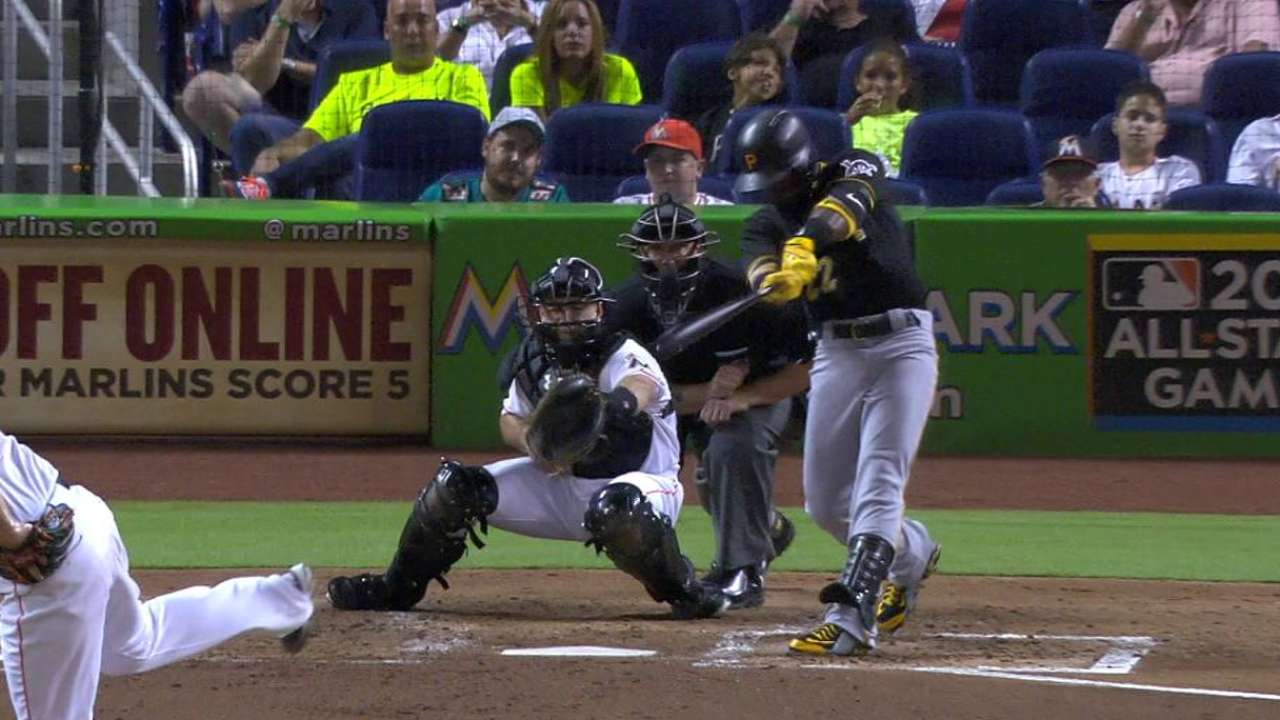 Polanco delivered again in the eighth inning, knocking a ground-ball single back up the middle to score Sean Rodriguez from third base. That ball left Polanco's bat at 103 mph, according to Statcast™.
That gave Polanco four hits, all of them screaming off his scorching hot bat faster than an Aroldis Chapman fastball.
"I feel like I got my timing and all that. I've got it now, and I feel really good right now," Polanco said. "I've been feeling very good lately. I'm just trying to stay like that."
Adam Berry is a reporter for MLB.com. Follow him on Twitter at @adamdberry. This story was not subject to the approval of Major League Baseball or its clubs.