Kelly evolving from thrower to pitcher
Right-hander mixing repertoire better to keep hitters off balance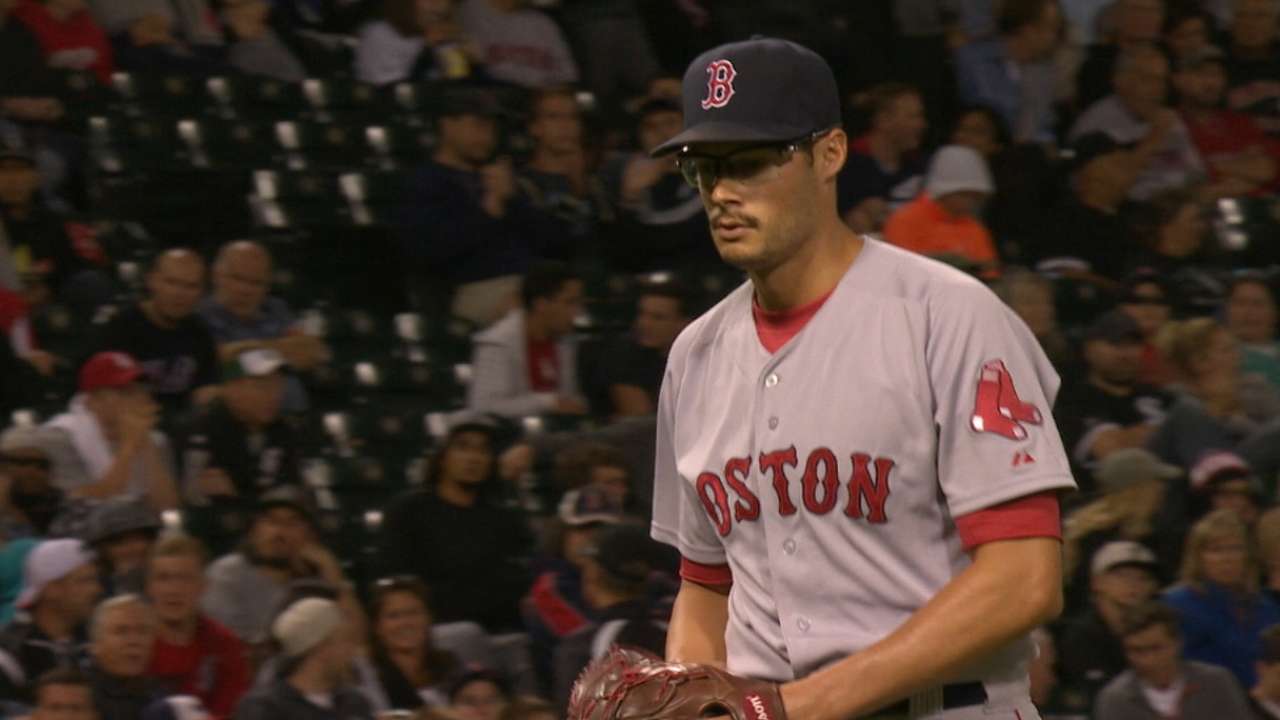 CHICAGO -- Though Joe Kelly retired the leadoff man in his first four innings on Monday night against the White Sox, Red Sox pitching coach Carl Willis most enjoyed watching the righty in the fifth, after he gave up a leadoff double.
A few weeks back, that extra-base hit would have likely led to a sequence of bad events for Kelly, who was not minimizing the damage.
But the righty, who led the Red Sox to a 5-4 victory in the opener of a three-game series in Chicago -- has turned a corner in gratifying fashion.
"After the leadoff double, he gets a shallow ball and then two ground balls and the runner is stranded," said Willis. "Earlier on in the season, that's the inning that has the possibility of leading to something. He didn't try to shift gears and do more. He stayed within himself and managed the damage. That's pitching."
Kelly pitched one of his finest games of the season, trying a career high with 7 1/3 innings while allowing five hits and two runs. He walked one, struck out four and recorded 14 groundouts.
Kelly (7-6, 5.18 ERA) has won his last five starts. He's been magnificent the last three starts, allowing three runs over 19 1/3 innings.
Blessed with an arm that can pump 98 on the radar gun, Kelly has often struggled to put that heater where he wants. And that, in turn, made his secondary stuff less than useful.
Of late, Kelly has gotten ahead with the fastball and nicely mixed in the changeup, curve and slider.
What has changed?
"Just the comfort level," said Kelly. "I typically can throw [the secondary stuff] for strikes. I like throwing what the catcher throws down and not really thinking too much out there. I'm not trying to read too many swings or anything. Getting on the same page as [Ryan] Hanigan, him making me throw those offspeed pitches -- otherwise, I wouldn't be shaking to them. It's a good mix. We have a good thing going right now. We're on the same page. It's fun to see him think back there. I'm throwing whatever he calls."
This is all a big difference from earlier in the season, when Kelly was so lost he found himself back at Triple-A. Meanwhile, fans and media alike were clamoring for the Red Sox to send him to the bullpen.
"He's learning to pitch," said Willis. "I think sometimes for a guy, when you look at the velocity that he's generated, you kind of get deemed as power or electric stuff. Still, you have to pitch. You have to change speeds. He's learning to do that very well."
In that fifth inning Willis glowed about, Kelly threw two straight changeups to get the flyout from Carlos Sanchez. He got Tyler Flowers on a first-pitch changeup. After starting Tyler Saladino with a curve for a strike, Kelly came back with three straight fastballs to end the inning.
"He's doubling up his secondary stuff, sometimes tripling up with his secondary stuff, and that's a key for him," said Red Sox interim manager Torey Lovullo. "A big league hitter can get wood on a bullet. Joe throws a 95, 97, 99-mph fastball, and if you know it's coming, you know these guys are going to attack it. He's able to show there's a quality secondary pitch there and keep everybody off balance."
Last time Kelly faced the White Sox, it wasn't pretty. He opened the night by giving up triples on two straight pitches and lost, 10-8. That night -- July 27 -- was the last time he lost.
"I threw a first-pitch curveball tonight," Kelly said. "That set the tone a little bit."
Ian Browne is a reporter for MLB.com. Read his blog, Brownie Points, follow him on Twitter @IanMBrowne and listen to his podcast. This story was not subject to the approval of Major League Baseball or its clubs.