Rox nearly turn gifts into game-changing rally
Braves nab Blackmon at home to end 8th-inning threat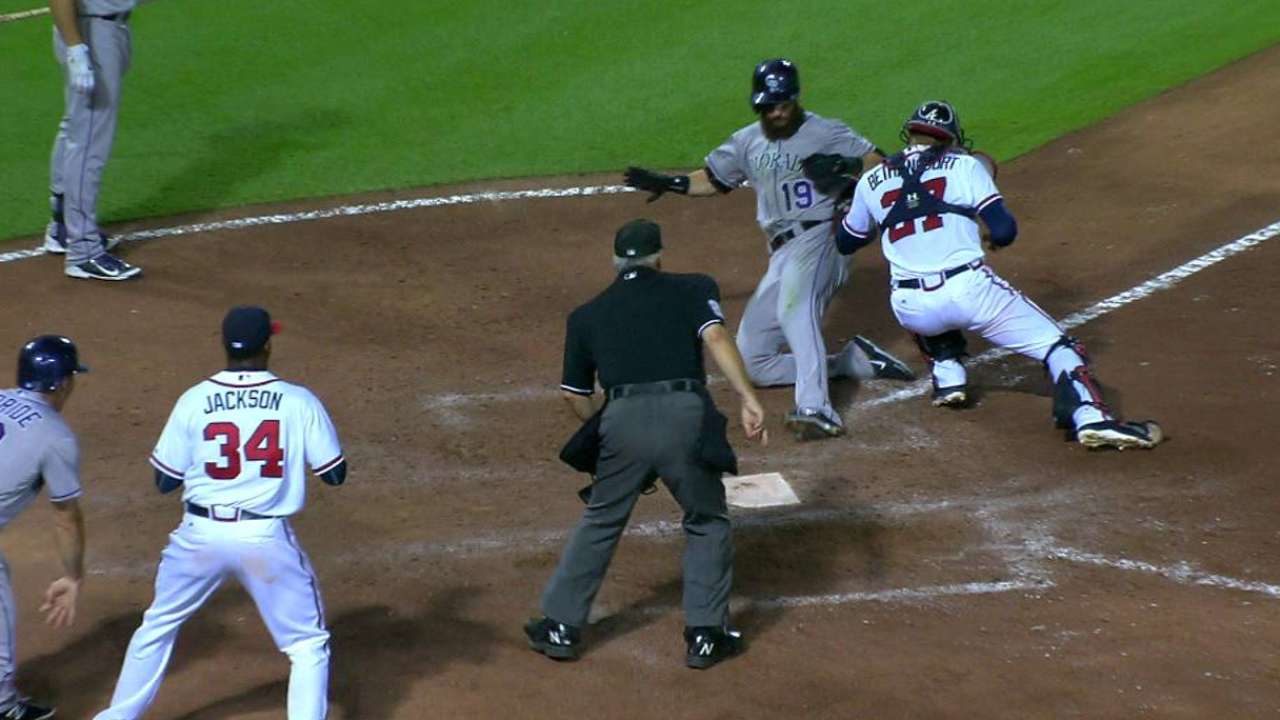 ATLANTA -- When you're going like the Rockies are going this season, you press any advantage you might have. And so, in the eighth inning of a close game Monday night against the Braves, third-base coach Stu Cole didn't hesitate to wave a runner home. Unfortunately for Colorado, when you're going like the Rockies are going ... well, you know how that ended up.
The Rockies, on the road after a homestand they'd rather forget, dropped their fourth straight game Monday night, a 5-3 loss to the Braves that could have turned out the other way with just a smidgen of luck.
"It seems like things like that happen when things aren't going well," center fielder Charlie Blackmon said after the Braves snuffed out Colorado's eighth-inning rally. "But that's the game."
The Rockies entered the eighth down 5-2, struggling to get anything going off starter Julio Teheran after two early solo home runs from Blackmon and first baseman Ben Paulsen. But when pinch-hitter Matt McBride looped a one-out single off the right-handed Teheran, Atlanta manager Fredi Gonzalez went to his bullpen -- a 'pen that has one of the worst ERAs (4.28) in the National League.
Colorado got men to second and third with two outs on a couple of gift plays by the Braves. The first was a bunt from Blackmon that may have turned foul but was fielded anyway by third baseman Adonis Garcia, resulting in a hit.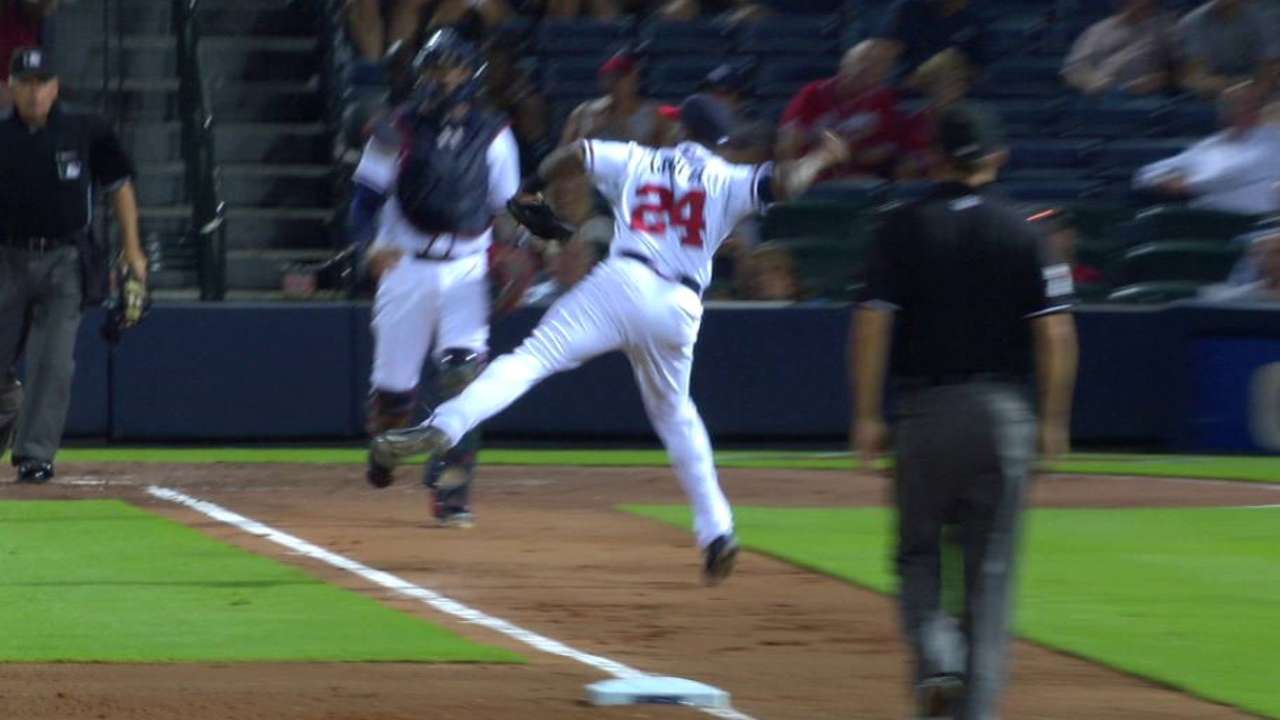 The second gift was on a potential double-play comebacker to reliever Edwin Jackson, who turned it into only one out, retiring Jose Reyes at first base.
That brought the potenial tying run, in replacement outfielder Brandon Barnes, to the plate.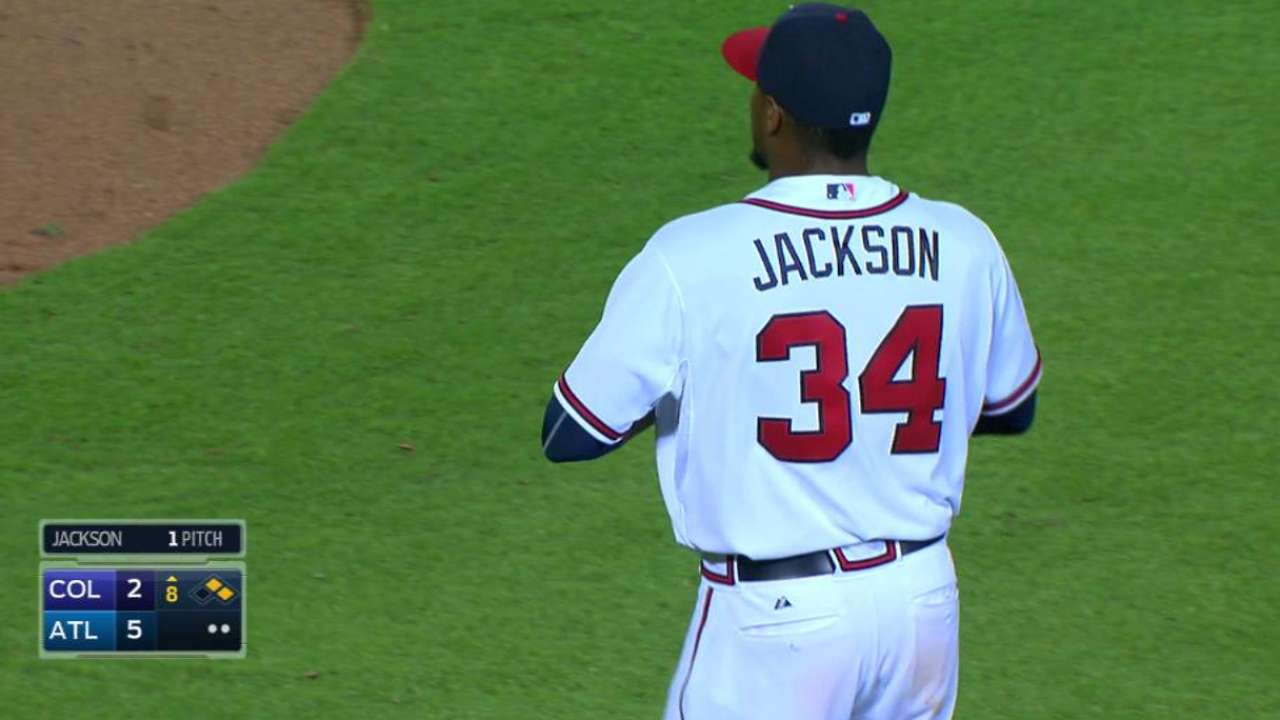 Barnes -- who entered in the fifth inning for Carlos Gonzalez (knee soreness) -- smoked a ball to left field, scoring a run. And then Blackmon came charging around third.
Make it, and the potential tying run is likely at second base with slugger Nolan Arenado at the plate.
Michael Bourn, a defensive replacement in left field, threw a two-hop strike to catcher Christian Bethancourt to pinch Blackmon at the plate in a play that was challenged by replay and confirmed. Inning over.
The Rockies went 1-2-3 in the ninth against closer Arodys Vizcaino.
"I thought it was a good call by Stu. Bourn made a real good throw. He had to, to get Charlie," manager Walt Weiss said. "Charlie runs real well, cuts the corners real well. Bourn just made a real good throw, and Bethancourt made a real good tag."
Blackmon, too, was fine with the decision to go. He liked his chances as he bolted from second.
"My focus was to get a good lead, a good secondary lead, and then he hit the ball, and I was gone. I was off," Blackmon said. "He hit it pretty hard, so I knew there was a chance for it to be close. But we have to put pressure on their defense in order to win games. They just did everything right."
In a season like the Rockies (49-74) are having, some might consider playing it safe in a situation like that, holding the runner at third and bringing the potential go-ahead run to the plate. Especially when the next batter is Arenado, who has 30 home runs. Instead, the Rockies, coming off a 2-7 homestand, went for it.
"You really feel that's not a good place to make an out," Blackmon said, "but I'm probably sending the guy, too. I think in that situation, chances are with a play at the plate, you probably get a chance for the [tying] run to move to second more often than the guy getting thrown out. So, it was just a good baseball play by them."
John Donovan is a contributor to MLB.com. This story was not subject to the approval of Major League Baseball or its clubs.