Castillo breaks loose opposite fellow Cuban
Red Sox slugger taking advantage of regular at-bats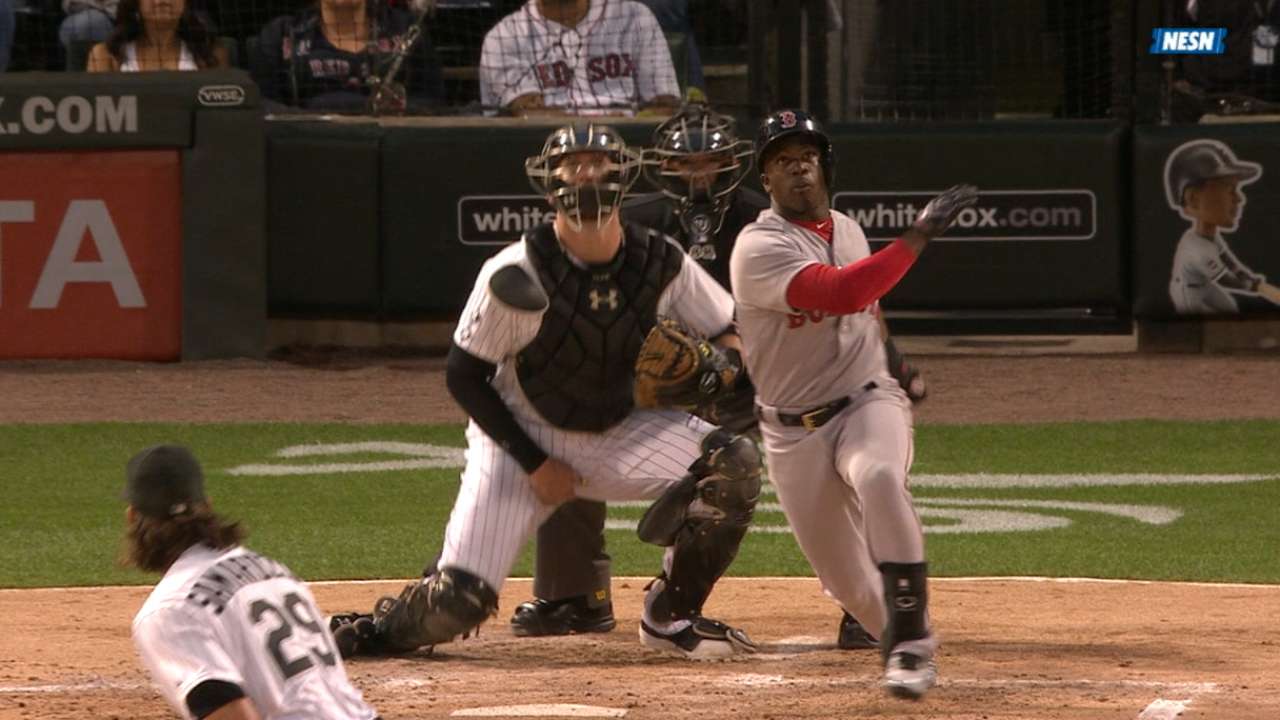 CHICAGO -- It has often been speculated that the biggest impetus behind the Red Sox signing Rusney Castillo was that they came in second to the White Sox on another fine Cuban player, Jose Abreu.
Once Abreu quickly turned into a star for the White Sox, the Red Sox cringed at not ponying up a little more money.
When Castillo came along last year, they were not to be denied the next Cuban hitting prospect, winning that bidding war with a seven-year, $72.5 million deal. For a while, it looked like an over-reaction as Castillo struggled to stay healthy and even carve out a role in Boston's crowded outfield.
Of late, however, that decision has been looking better and better, never more than in Monday's 5-4 victory over the White Sox when Castillo drove in all five of Boston's runs.
After Abreu dumped a solo homer over Castillo's head in right in the bottom of the first, a rebuttal didn't take long.
In the top of the second, Castillo hit an absolute missile for a three-run shot to straightaway center. The blast, according to Statcast™, traveled an estimated 411 feet from home plate at a speed of 104 mph.
That was Major League power -- the kind Abreu has been demonstrating to White Sox fans for two seasons.
"To the furthest part of the ballpark," said Red Sox interim manager Torey Lovullo. "He stayed on the ball. It looks like it was a slider; something up in the zone that was not a fastball, and the ball jumped off of his bat and it gave us a 3-1 lead. We're playing downhill baseball because of one swing of the bat. It's a credit to him and it's a credit to all the hard work."
When the Red Sox traded Shane Victorino on July 27, the biggest reason was for Castillo to be able to get more playing time.
"Yeah, I mean, I feel a lot more comfortable with more and more reps," Castillo said. "I feel like I'm finally getting into a rhythm. Thankfully, I've finally gotten a chance to play, so it's definitely helped."
In August, Castillo is hitting .391 with two doubles, two triples, three homers, 18 RBIs and a 1.051 OPS.
Lovullo's biggest challenge is to rotate four outfielders (Castillo, Hanley Ramirez, Mookie Betts and Jackie Bradley Jr.) into three spots.
"This guy's been dynamite," Lovullo said of Castillo. "He's responded to a lot of the challenges. He's been coming on as of late, letting his game speak for itself. There's an ease and a rhythm to his game as well. I think there's some general overall confidence."
Ian Browne is a reporter for MLB.com. Read his blog, Brownie Points, follow him on Twitter @IanMBrowne and listen to his podcast. This story was not subject to the approval of Major League Baseball or its clubs.