Tandem in left proves all right for Braves
Gomes' offense, Bourn's defense fuel slide-ending victory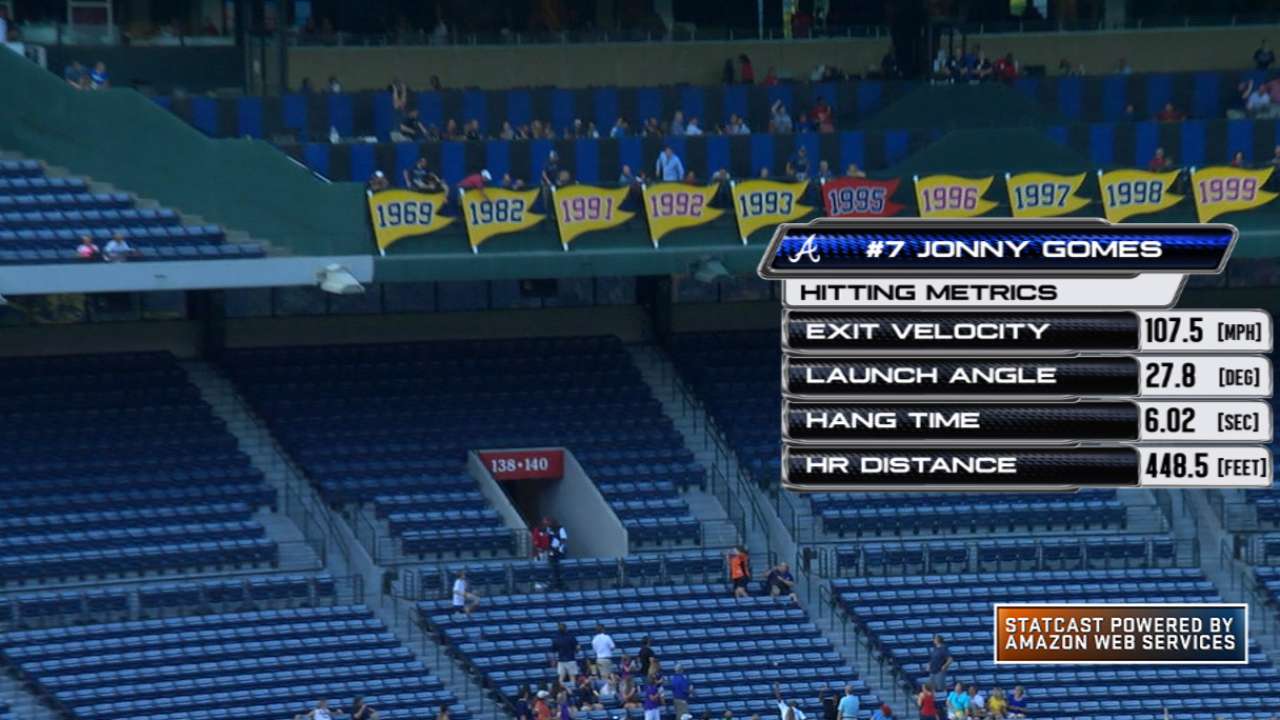 ATLANTA -- It's getting a little crowded in left field for the Braves, but that's not a bad thing.
On Monday night at Turner Field, left field was the difference, as Jonny Gomes started and had a huge night at the plate, then Michael Bourn came in for defense in the eighth and made a key play to help preserve the Braves' 5-3 win over the Colorado Rockies. The win ended Atlanta's season-high seven-game losing streak.
"That's the blueprint these days with platoon," said Gomes, who finished the night 2-for-4 with a homer and three RBIs -- he'd come into the game with one homer and four RBIs in August. "We showed both sides of it today."
"It went both ways," agreed Bourn, who recorded his third outfield assist of the season, short-circuiting the Rockies' eighth-inning rally. "Jonny had a great night tonight, he had a homer and three RBIs. That's a big night. He hit the ball well and hats off to him."
Gomes' big night started in the bottom of the first, when he launched a 2-1 pitch from Rockies left-hander Jorge De La Rosa (7-6) into the second tier of seats in left field. The two-run shot, a no-doubter, gave Atlanta a 2-1 lead. Colorado center fielder Charlie Blackmon had led off the game with a solo shot off Atlanta starter Julio Teheran (9-6).
Gomes put the distance of the blast in perspective.
"As Hank Aaron said, it's how many, not how far," he said.
While the distance may not have meant much to Gomes, the timing of the blow gave Teheran a much-needed morale boost.
"That was big," said Teheran, who raised his record to 7-1 at Turner Field by matching his season high of 7 1/3 innings (he also did it June 6 vs. Pittsburgh). "Whenever you've got the lead, that's when you feel more confidence. Even if they tied the game in the second inning [on Ben Paulsen's homer], I was really focused and I knew they were going to give the lead back to me."
Braves third baseman Adonis Garcia did that, crushing a solo homer to dead center in the fourth, giving Atlanta the lead for good. Gomes added insurance, grounding an RBI single to center in the fifth and right fielder Nick Markakis drove in Atlanta's final run with a one-out double in the sixth.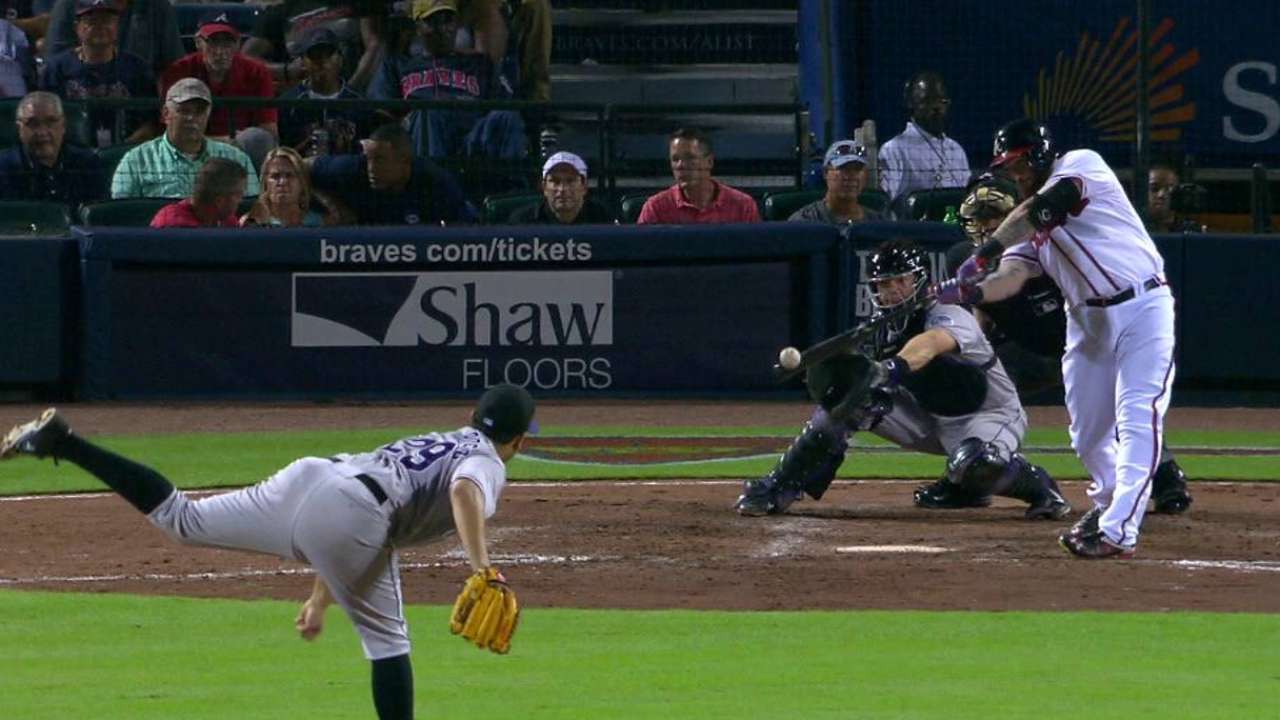 Gomes gave the credit for his RBI single to Freddie Freeman, who pulled a grounder to first to move runner Cameron Maybin to third base. Maybin had led off the inning with a double.
"Freeman getting the runner from second to third allowed me to get that RBI," Gomes said. "It was good all the way around."
Left field was good all the way around when Bourn entered the game for defense to start the eighth.
After Teheran allowed a one-out single from pinch-hitter Matt McBride, Ross Detwiler relieved and gave up a bunt single by Blackmon on a ball Garcia charged and bare-handed although it appeared it might roll foul. Edwin Jackson relieved Detwiler and made a great stop on a rocket through the box by Jose Reyes, choosing the safe 1-3 putout. With runners on second and third and two out, right fielder Brandon Barnes singled to Bourn.
"I just tried to get to the ball as quick as I can. That way the runner is not past the bag when I make the throw," Bourn said. "I came up and threw it through the cutoff man and it got a good hop to the catcher and he made the play. It was a great tag that Christian [Bethancourt] made. He got good position on the plate and made that play and it helped us to win the game."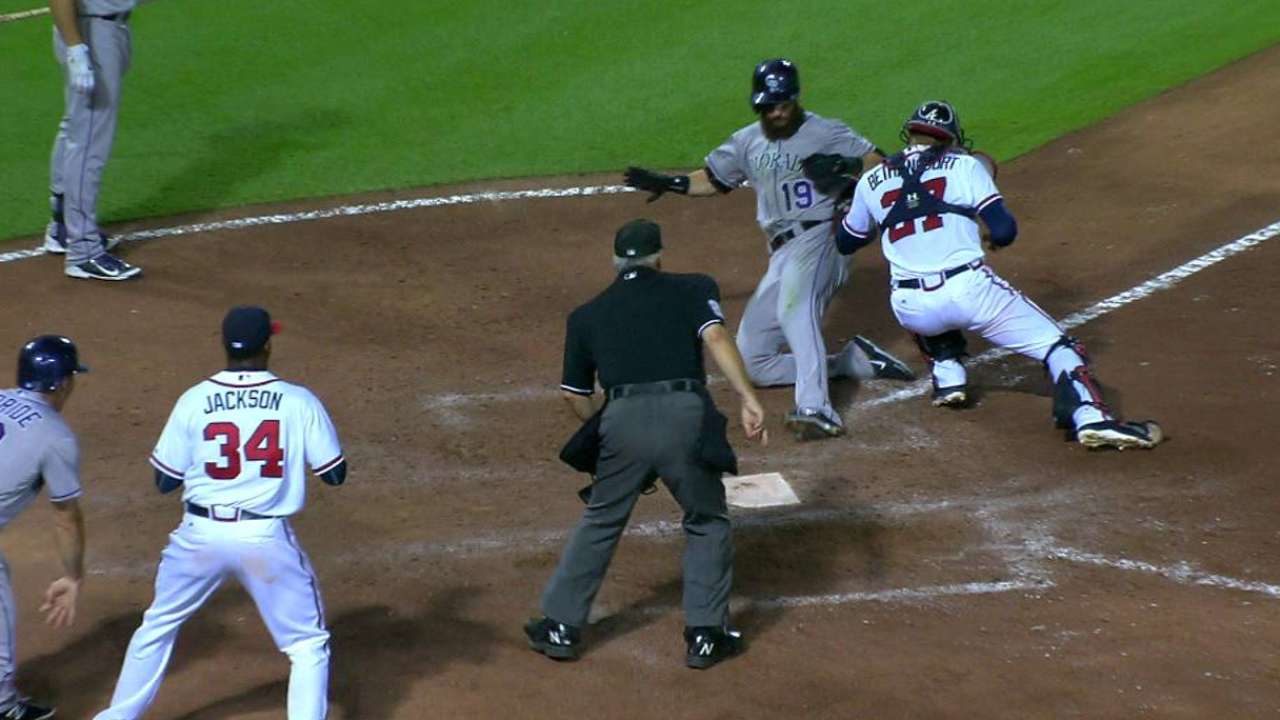 The call was challenged by Colorado manager Walt Weiss, but after a review, the out was confirmed and the Braves' streak-breaker basically was sealed.
"You can't lose the value of slapping hands with each other when the game's over," Gomes said. "That's what it's all about. It was good to get a win."
Jon Cooper is a contributor to MLB.com. This story was not subject to the approval of Major League Baseball or its clubs.